During 25 years of primary care practice, Lauren Abbate, MD, has always been driven to provide the best health care she can to everybody. So it bothered her when, at her downtown Boston practice, a patient who is transgender couldn't find an endocrinologist to manage his hormone therapy. It bothered her when other patients told her of being questioned about their genitalia when seeking treatment for unrelated conditions like bronchitis.
She decided she needed to do more to meet the needs of her transgender patients and spent a year researching the issues.
"Many have been so deeply offended so many times, that they stay home and suffer through their health conditions rather than seek treatment," Dr. Abbate says.
"It opened my eyes to the perspective of the transgender community and changed my attitudes," explains Dr. Abbate, who is part of a grassroots movement of clinicians, administrators and other staffers who are determined to make Massachusetts General Hospital a more welcoming and affirming place for patients who are transgender.
Expanded Services
Mass General's Department of Medicine has launched a Transgender Health Program and, on the hospital's main campus, opened a clinic dedicated to adults who are transgender. In addition to primary care services and hormone management, staff help patients navigate health insurance issues and coordinate care with other Mass General specialists, such as mental health professionals and surgeons.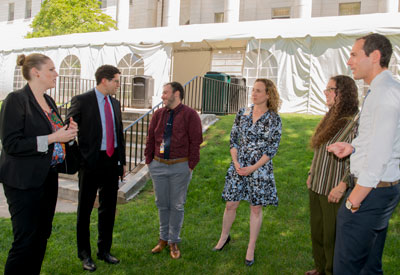 "This is part of an effort among Mass General primary care providers to expand access here for the trans community," says internist Robert Goldstein, MD, PhD, who sees patients in the new clinic and is medical director of the Transgender Health Program. "We want to have more Lauren Abbates."
During his residency at Mass General, Dr. Goldstein helped compile and publish primary care guidelines for lesbian, gay, bisexual and transgender patients for the Department of Medicine. Now he focuses his practice on caring for the trans community.
An Ambitious Effort
The clinic is a step toward a more ambitious effort to create a comprehensive, multidisciplinary outpatient practice serving adult and pediatric patients who are transgender. That will require significant philanthropic support. In the meantime, supporters are building momentum and expanding upon what's already in place.
"We see it as a social justice and patient care imperative," says Joan Sapir, a Mass General senior vice president involved.
"It comes down to a doctor and patient working together on the patient's health without any judgment."
For more than a decade, Mass General's LGBT Employee Resource Group has advocated for the health needs of the transgender community. The Department of Medicine — which encompasses 10 clinical divisions — has invested in this effort. Its residency and fellowship curricula include transgender medical training.
In addition to Dr. Goldstein, the driving forces behind these efforts are pediatrician Ariel Frey-Vogel, MD, and psychiatrist Alex Keuroghlian, MD, MPH, a national authority on transgender health. The three are instrumental in creating a network and directory of Mass General physicians with expertise in such care.
Welcoming Environment
Language used to refer to and speak with transgender patients is a key issue. It was part of the training that Dr. Abbate and the entire staff of her practice received. She learned how to draw out this information with new patients in the exam room. It's then entered into Mass General's medical records system so everyone can use the correct name and pronouns, be it the person answering phones or other clinicians.
People who are transgender have a gender identity or expression that differs from the gender assigned to them at birth. So someone may want to be addressed as Sara, for example, even if it says Bruce on her birth certificate. Or maybe Sara doesn't identify as either a man or a woman and may want to be referred to as "they/them," such as those who identify as "non-binary."
Dr. Abbate was also trained so she can provide therapy to patients taking hormones to transition from female to male, or vice versa. Dr. Goldstein will also provide this service in the Department of Medicine's clinic.
All Mass General staff will soon be participating in an online class that features content Dr. Keuroghlian developed on creating a welcoming environment. Clinicians and registration staff throughout the hospital will receive training in collecting gender identity information.
"There's a need for more primary care doctors who are willing to educate themselves and provide competent, compassionate management of patients who are transgender," Dr. Abbate says. "It comes down to a doctor and patient working together on the patient's health without any judgment."
For more information about how to support transgender health initiatives at Mass General, please contact us.