Researchers at Massachusetts General Hospital have devised an innovative, two-step process to treat a deadly form of brain cancer.
Glioblastoma is a common and aggressive form of brain cancer that killed U.S. Senators Ted Kennedy and John McCain.
Using an advanced immunotherapy tool, known as CAR-T cells, to enter the brain and emit a second potent therapy called BiTES, Marcela Maus, MD, PhD, and her team at the Mass General Cancer Center's Cellular Immunotherapy Program have successfully treated glioblastoma in mice and are ready to test the method in human trials. The researchers are seeking funding for the next step.
Glioblastoma is a common and aggressive form of brain cancer that killed U.S. Senators Ted Kennedy and John McCain.
"We now have a new, next generation therapeutic for treating glioblastoma in a mouse model," Dr. Maus says. "We are eager to start human trials."
"This work represents a significant step forward in the use of new medical technology to treat one of the most challenging forms of cancer," says Daniel Haber, MD, PhD, director of the Mass General Cancer Center.
Breaking Down Barriers
Dr. Maus and her colleagues – including Bryan Choi, MD, PhD, and others from the Mass General Department of Neurosurgery – overcame several barriers to deliver therapy to a glioblastoma tumor. First, they had to penetrate the blood-brain barrier ─ the brain's way of protecting itself from potentially dangerous substances. In addition, the target of therapy on the glioblastoma tumor, EGFR a receptor molecule on the cell surface, is also present in other organs.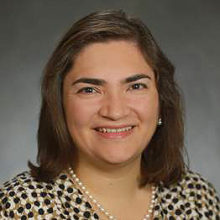 That means that targeting EGFR could be toxic to healthy organs as well as the brain tumor. Lastly, solid tumors, like glioblastomas, have been resistant to CAR-T immunotherapy treatment, which has been successful mainly in blood cancers.
Remarkably, the combination of CAR-T (chimeric antigen receptor T cells) and BiTES (bispecific T cell engagers) addressed all three problems. Maus and her team engineered CAR-T cells to get inside the brain by focusing on a specific type of EGFR that occurs only in some cells of the brain tumor and not in healthy organs. Once inside the brain, the CAR-T cells secreted bridge substances, or BiTES, that target EGFR only in the brain tumor, sparing healthy organs.
It worked. Results published in Nature Biotechnology in July 2019, showed that, after three weeks, more than 80 percent of the mice showed a complete response. There was no evidence of any tumor left.
Philanthropy for Brain Cancer Research
Bringing this two-part therapy to humans will require clinical trials. The primary barrier is funding. "If we receive funding to do a clinical grade trial in humans, we are well equipped to take it to a clinical trial right here at Mass General," Dr. Maus says.
To learn more about glioblastoma treatment and research, or to make a donation, please contact us.