The end-of-year holiday season can be a difficult few months for maintaining exercise habits. Many of us experience increased stress and a lack of time that pushes workouts off the schedule.
 A short exercise program is perfectly OK when time it tight.
Exercise is a highly effective way to reduce stress and stay in good spirits, so it is particularly desirable at this time of year. Fitting in shorter exercise sessions and adding movement to your day is a good way to overcome seasonal challenges.
Optimally, fitness is enhanced through exercise performed for a specific duration and at moderate-to-vigorous intensity. This usually means working longer and harder than is possible during this busy time of year. Therefore, it is helpful to shift expectations about what is optimal.
Holiday Exercise Strategy
A short exercise session is perfectly OK when time is tight, and certainly much better than skipping it altogether. Rather than forgoing exercise because you don't have 30 minutes for a vigorous workout, settle for a brisk 10-minute walk at different times during the day.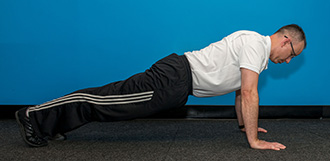 A couple of short walks or stair climbs each day can replace longer cardiovascular sessions at the gym until more time is available.
It's always good to strive for an optimal exercise session but accept a shorter one when necessary.
A compact strength training session can also replace lengthier workouts in the short term.
One good combination of strength and core exercises is the floor plank, chair squats and push-ups. Start with the plank. Raise up into a straight line from ears to ankles with midsection firm and hold for 3 seconds. Lower back to the floor and repeat 6 to 10 times. Follow with a set of 6 to 10 squats followed by 6 to 10 push-ups, rest for a minute or two and repeat for a total of three rounds.
Move Throughout the Day
Adding in extra movement whenever possible contributes to your daily activity total.
Try standing up from your chair at regular intervals or using the furthest restroom from your office to get in extra steps. Consistent activity and exercise sessions (even brief ones) will get you to the other side of the holidays happier and healthier.
Mike Bento
is an advanced trainer at
The Clubs at Charles River Park
and Massachusetts General Hospital. He holds a master's degree in human movement and is certified by the National Academy of Sports Medicine as a corrective exercise specialist and performance enhancement specialist.