A Connecticut girl has honored her late grandfather and raised thousands of dollars for lung cancer research at Massachusetts General Hospital Cancer Center by creating an annual community event she calls "The Amazing Race to Find a Cure."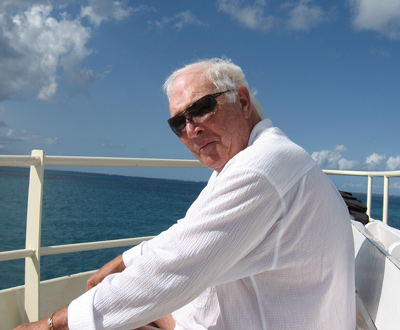 The idea came to Devyn Casey at her 13th birthday party, which included a homemade version of "The Amazing Race," a TV show that has contestants racing among locations, solving clues and performing challenges.
The activity was such a hit among her friends that she decided to try to enlist her entire hometown of Wilton, Connecticut in a fundraiser to both honor her late grandfather, Jack Casey, and the Mass General Cancer Center, where he received his treatment.
"He was all about being positive," Devyn says of her grandfather. "And he loved being the center of attention. We knew he would be the kind of person who would love this kind of thing, with the town gathered together in a positive way to remember him."
Time for Other Families
Her grandfather, who was a small business owner, had only been expected to live a short time after his diagnosis of lung cancer. Instead, with the expert care at Mass General Cancer Center, he lived another four years. The Caseys hope their fundraising and support for the Cancer Center will help other families gain extra time as well.
Dr. Sequist admires Devyn's commitment to fundraising. "She has a vision and a passion beyond her age," she says.
"We all felt the quality and duration of his life were extended through the care of Mass General," says Jayme Casey, Devyn's father. "The care he received allowed Devyn to have a longer relationship with her grandfather. That's something she would like other kids to have."
Lecia Sequist, MD, MPH, the Mass General oncologist who treated Mr. Casey, says Devyn's fundraising is directed to a general fund for lung cancer research, which allows doctors the flexibility to pursue promising developments.
Advancing Lung Cancer Research
Dr. Sequist and the Mass General Cancer Center are changing the landscape of lung cancer treatment for the better by developing new combinations of targeted drug therapies to help shrink tumors.
Over the past 18 months, Dr. Sequist has introduced Devyn to current lung cancer patients, so she can see the impact of ongoing research.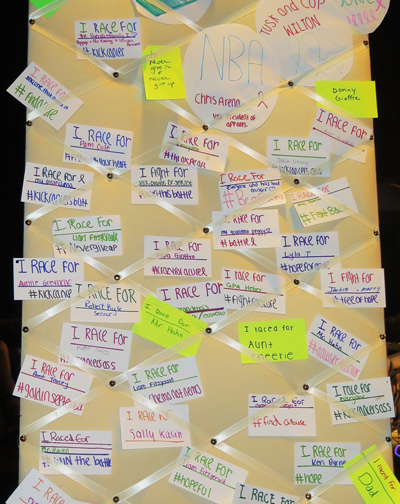 Dr. Sequist admires Devyn's commitment to fundraising. "She has a vision and a passion beyond her age," she says.
To date, through The Amazing Race to Find a Cure, Devyn has raised several thousand dollars from friends and family. In its first year in 2015, the event attracted about 50 youngsters who formed 11 teams to raise $3,500, well over Devyn's initial goal of $400.
Devyn, now a ninth grader, organized the second event in 2016. It attracted 150 participants and raised more than $12,000.
Work Plus Fun Equals Success
The race organized by Devyn was fun but required many planning steps along the way. Devyn's parents selected the 10 clue stops for the race, while Devyn herself recruited volunteers to monitor each clue location. She signed up small business sponsors by walking door to door in Wilton to explain the event to merchants. She also created the race website, set up registration procedures and promoted the race through social media.
The fun for her was participating and watching multiple teams of youngsters, ages 8 to 13, try to decipher the clues, then rush to the locations, never being sure that they were right.
Her parents, Kerry and Jayme, were tasked with inventing the rhyming clues that contestants had to unravel to move through the game stops, such as the local library and football field.
Spreading Out the Success
At the end of the race, everyone enjoyed a pizza party and prizes. The first team to finish won gift cards.
"I know it's a lot of work, but I really do like planning it," says Devyn, who is determined to continue her new legacy.
Devyn estimates she worked at least an hour a day for several months on the event this year. "There were a lot of logistics with it," she says.
Jack Casey, who died at age 71 in 2013, was playful with his eight grandchildren, family members say, and they think he would have loved this kind of event.
The Caseys plan to hold at least one more Amazing Race to Find a Cure next summer, but are considering ways to spread it out among different towns in Connecticut and Massachusetts, so their extended families can participate.
"I know it's a lot of work, but I really do like planning it," says Devyn, who is determined to continue her new legacy.
For more information, or to help support lung cancer research, please contact us.