Because of a rare disease called Frontotemporal Degeneration (FTD), I spend Saturdays on the soccer field as a single mom on the sidelines, watching my son with two sets of parent eyes.
At age seven, Noah is just as likely to be distracted by a butterfly as he is to be strategizing his next play. I cheer and clap, encourage and direct, raising my voice above the crowd, making sure he can hear me. Noah is boundless energy, tumbling with a blur of legs, flashing me a smile that I have seen before, and reveling in the freedom of running and kicking.
After the game, I am ready to greet him with praise and replay each goal. His hand swings into mine as we walk to the car. He looks up at me, cheeks flushed and eyes bright, asking earnestly, "Are we getting ice cream now?"
Noah is always moving forward. His momentum has the power to pull me back to a different soccer field, back to a time when I saw his Dad's eyes full of the same exuberance for what was to come next, a time when the future and FTD were still unknown.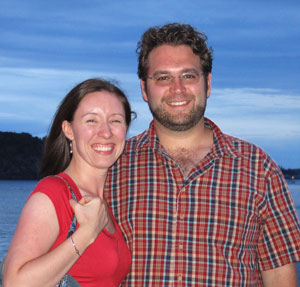 Love Without Limits
My first date with my husband was a late night walk across the Saint Anselm College soccer field in 1998. Too shy to even hold hands, Mike and I sat on a blanket talking for hours, watching the stars and drinking wine. An ambitious young couple, we married just months after graduation. We spent our twenties sharing one old Buick, going to graduate school and planning for a future bright with promise. Jobs turned into careers. Our community in Center Barnstead, N.H., became our home.
Mike was unlike anyone I had ever met. The body of a linebacker encasing a hippie heart. Wild curls framing a mind that held equal passion for continental philosophy and The Simpsons. He bought me single roses on the way home from work on weeknights, made me coffee on Sunday mornings and held my hand in line at the grocery store.
Weeks before our fifth wedding anniversary, we found out that a baby was on the way. We celebrated our family's beginning. Our love seemed to have no limits.
In the end, FTD causes dementia and can make it impossible for the person to function independently, including being unable to speak, walk or swallow.
It was during my pregnancy with our son, Noah, that things began to change. Mike was becoming socially withdrawn and having trouble at work. He rarely wanted to talk. His behavior became erratic and unpredictable.
In September of 2008, I accompanied Mike to his annual physical appointment with his primary care physician. "My husband is acting so weird," I told the doctor. "Does he have a brain tumor?"
She was the first of eight medical and mental health professionals to misdiagnose him. It wasn't until I brought Mike to Boston in February of 2009 that he was accurately diagnosed with FTD.
Explaining the Unexplainable
Frontotemporal degeneration is a progressive neurological disorder that causes damage to the frontal and temporal lobes of the brain. Unlike Alzheimer's disease, where loss of memory is often the first troubling symptom, individuals with FTD may experience difficulties communicating and making decisions. They may also behave in socially inappropriate ways.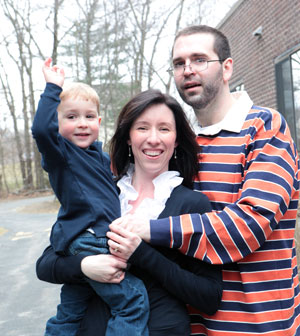 In the end, FTD causes dementia and can make it impossible for the person to function independently, including being unable to speak, walk or swallow. Currently, there is no treatment to slow or stop the progression. A patient's prognosis is terminal. Typical age of onset is between the ages of 45 and 65.
Mike was 29.
Armed with a scientific explanation for what had seemed unexplainable, I sought out the unique expert who had traveled our path before. In the Frontotemporal Disorders Unit at Massachusetts General Hospital, I found what I was seeking: physicians who could name every protein and track each neuron's misfire.
A Test of Strength
During our first appointment with its director, neurologist Brad Dickerson, MD, I watched him examine Mike. Dr. Dickerson held each of his hands to test his strength, made eye contact with Mike and gently placed a hand on his shoulder before remarking, "It must be hard to see him like this." Braced for an observation of scientific fascination, I was taken aback by the empathic critique, answering simply "Yes."
I recognized early on that I wouldn't be able to swim against such a tide of swift and irrevocable change. So, I learned to ride the wave.
Four days after receiving Mike's terminal prognosis, I returned to my office wondering how I would explain all of this to my supervisor. Wondering what this would mean for my ability to work and support my family.
I never had that conversation with my supervisor. I received a phone call that morning from my sister saying that my mother had had a heart attack and died. She was 58 years old.
Mom's passing came with the expected grief and loss, but carried an added complication for our family. During the previous year, our father had displayed a concerning level of forgetfulness and agitation. Cognitive issues were impacting his ability to function at work and at home.
Seventeen days after Mom's passing, doctors confirmed that Dad had Alzheimer's. He was 59.
The Tidal Wave
The morning after my mother's funeral, I woke up early at my parents' home and went down to the kitchen by myself. I stood at the counter next to the stove and thought about how Mom's feet had been in the same spot only a week before. I noticed a sweater hanging over a kitchen chair. Her sweater. She had likely placed it there.
I was suddenly engulfed by the roaring silence that her absence created. The quiet in the kitchen that morning was deafening, reminding me of the way the beach sounds seconds after an angry wave has finished crashing upon shore. I thought of that sound many times in the months and years after Mom's death.
I recognized early on that I wouldn't be able to swim against such a tide of swift and irrevocable change. So, I learned to ride the wave. Instead of letting my circumstance change everything about us, I changed everything about our circumstance.
At the age of 29, I left what Mike and I had built together. I quit my job as an evaluation specialist for New Hampshire's child welfare agency, let our house go to foreclosure and became adept at my new roles as a single parent for Noah and as a caregiver for Mike and Dad. Noah and I moved in with Dad, and I found an amazing neuro-rehabilitation center to care for Mike. I juggled babysitters, home health aides, medical appointments and visits with Mike. My new roles were not easy. I lost 15 pounds without trying, developed chronic hives and was perpetually exhausted.
Despite dementia's looming presence, with time came change. Noah grew taller, bolder and more precocious. Noah's every milestone moved them further apart. Every time he took two steps forward, Mike took two steps back. My love for them tethered us all to a lifeboat for the unchartered waters ahead.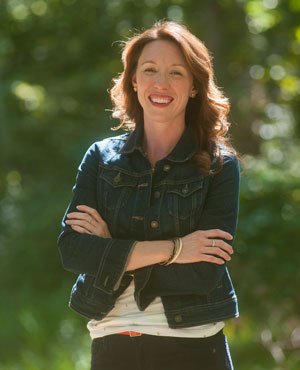 The Weight of Grief
In the months and years that followed, Mike's journey with FTD slowly came to an end. The day before Mike died, I talked to Dr. Dickerson on the phone. In an encouraging voice, he assured me that we were doing everything right.
When Mike left us on April 19, 2012, I felt crushed. This didn't surprise me. I expected the tidal wave of grief to wash over me. What I didn't expect was that I would have the strength to make a choice that would change the trajectory of my grief. A chance to push the limits.
I already knew that Mike was unique, a bright anomaly darkened by an unusual, ferocious disease. What I hadn't fully considered was the fact that his rare and precious personality contained a rare and precious biology. The staff of the MGH Frontotemporal Disorders Unit was there, extending compassion and support to help me make a powerful choice. With their guidance, I was able to help Mike give the gift of brain donation for research. The immeasurable value of Mike's brain presented an exclusive, irreplaceable moment to rewrite our conclusion. It was a change in circumstance for a new beginning.
Power Play
In my office, I keep a book my mother gave me the Christmas I was 16. An inscription scrawled across the inside cover reads:
Katie, I thought you might appreciate the quotes and stories in this book. Some day you will have your own to collect that will give you inspiration. Write them down. We all need to be reminded that love is out there. Love, Mom
Whenever I read it, her confidence in me feels as real as if she had just spoken the words aloud herself. Mom could never have imagined that I would have this story to tell. Yet, her faith in my ability to share my story and make a difference for others was steadfast, giving me courage to keep going.
In my early days of caregiving, I felt isolated and alone. I saw myself as an unwilling member of a terrible private club.
As time passed, I recognized that I was also a steward of a gift that was priceless and precious. The ability to share my story was a powerful weapon against FTD. It connected me with others, and it gave me inspiration to take action. Organizing fundraisers, social media campaigns and educational events felt like more than riding a rising tide. I was steering a new ship.
Sharing My Journey
Today, I am determined to share my journey so that FTD will not have the final word in Mike's life or in our family's story.
FTD took my son's father. It made me a widow at 32. It stole Mike's ability to tell us he loved us.
Today, I am determined to share my journey so that FTD will not have the final word in Mike's life or in our family's story. I am an advocate, educator and fundraiser in the FTD community. I have given presentations at colleges, conferences, hospitals, the Massachusetts State House and on Capitol Hill. I have hosted community dinners and an evening of Comedy for a Cause. This past October, I spearheaded the planning for an inaugural gala to benefit the MGH Frontotemporal Disorders Unit at the Boston Harbor Hotel. We came very close to reaching our ambitious $100,000 fundraising goal.
There have been many important moments. But, my biggest accomplishment didn't happen on a stage or in a ballroom. It was a quiet moment between Noah and me in the car.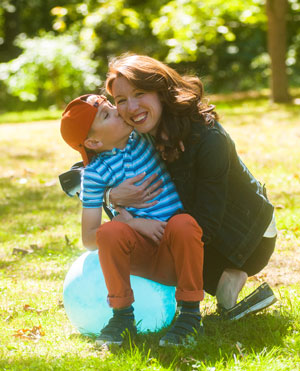 Moving Forward
It was the night of a fundraiser at Crispi's, our neighborhood Italian restaurant. I parked the car and unbuckled my seat belt so I could turn to face Noah. At home, he had been adamant that he would wear "Daddy's favorite color" for the evening. Looking at him strapped into his booster seat, I thought his six-year-old body seemed at once too grown up and very small in an orange button-down shirt and striped tie.
I hoped I had prepared him for what was about to unfold, and I wondered if he really understood the meaning of the night ahead. I asked him, "Noah, why are we here tonight?" Noah's eyes met mine and he said, "We are raising money for a scientist to fix people's brains with FTD."
Many have asked me why I don't move on. Why not leave FTD behind? That has never felt like the right thing to do. Moving on feels like setting something down and not looking back. I see Noah in front of me. I see his future, the brightest light in my skyline, and I know I must carry every moment with us. Unpacking each long hug, belly laugh, and the ocean of spilled tears as accolades of wins and losses. Moving forward without leaving anything in our wake.