Millions of people have chronic or occasional sleep disorders that leave them exhausted and may be related to heart disease, stroke, depression, cognitive decline or diabetes. "Research on sleep disorders also applies to many other areas of medicine," says Matt Bianchi, MD, PhD, who succeeded Jeffrey Ellenbogen, MD, MMSc, as director of the Mass General Sleep Disorders Division in 2012.
Dr. Bianchi is known for his research in understanding how the disruption of sleep architecture — what a typical night of sleep should look like — leads to disorders. By far the most common sleep disorders are sleep apnea, a breathing problem, and insomnia.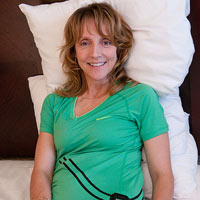 Apnea is treatable, but most people don't know they have it. "Our goal is to develop and improve the diagnostic tools and get people plugged into treatment," Dr. Bianchi says. Untreated, sleep apnea can lead to brain, heart and lung diseases.
Mass General has a world-class sleep laboratory for monitoring patients overnight, but not everyone can travel to Boston. Dr. Bianchi has developed an unobtrusive sleep-monitoring device that can be used at home. Two years ago, as part of a MIT/Harvard course he taught, they invented a shirt that acts like "a blood pressure cuff for sleep." He has shown that the shirt detects sleep apnea with high accuracy and is now studying its use for chronic insomnia.
About 10 to 20 percent of Americans at any given time suffer from insomnia. Often this is related to medication, alcohol or drugs, depression or pain. Mass General's research into brain physiology and brain wave activity will help predict who wakes easily and who remains asleep despite noise and other disturbances. This will help physicians understand why some are prone to insomnia and which medications may offer relief.
Always on the lookout to improve patient care, the division is also exploring the use of telemedicine. Says Dr. Bianchi: "We're excited because we hope with the combination of telemedicine videochat and the home monitoring device, we can better individualize patient care."
The Power of Restful Sleep
"I would begin each day physically and mentally exhausted," says Donato DeNovellis.
Donato DeNovellis, a retired 67-year-old chief financial officer, wakes up refreshed and energetic just about every day. But it wasn't always like this. For decades he experienced chronic sleeplessness and most days felt like his head was in a deep fog. "It was horrific," he comments. "I would begin each day physically and mentally exhausted."
Three years ago, Dr. Bianchi gave him a precise diagnosis and solution for his form of sleep apnea. DeNovellis immediately began experiencing the deep, restful sleep that had eluded him. "It was a godsend," he says.
Not only does he have the energy to travel, work in his yard and socialize, but he now only needs half the medications he used to take to control his hypertension and ulcerative colitis.
Past advice to drink warm milk and reduce stress was of little help. The breathing machine prescribed a decade ago for sleep apnea frustratingly only helped some of the time. Then three years ago, he happened to see Dr. Bianchi at Mass General, who suspected that DeNovellis had a newly identified form of sleep apnea and ordered an overnight sleep test at the Mass General sleep lab.
Suspicions confirmed, Dr. Bianchi switched him to a breathing machine more suited to his sleep apnea. Now Don and his wife — who also has sleep apnea and uses the new breathing machine — sleep blissfully side by side. We may "look like fighter pilots," he quips about the plastic face masks both must wear at night, "but it's well worth it."
Massachusetts General Hospital
Chief, Division of Sleep Medicine
Director, Sleep Laboratory