Finding a silver lining in trying times like the COVID-19 pandemic, clinicians at Massachusetts General Hospital are turning to flexible new federal and state rules to guide patients with substance use disorders (SUD) into recovery and help them stay there.
People with substance use disorders are highly vulnerable to the COVID-19 virus.
People with substance use disorders are highly vulnerable to the COVID-19 virus, says Sarah Wakeman, MD, medical director of Mass General's Substance Use Disorder Initiative. That's why new relaxed regulations are a big step forward in helping doctors and other clinicians at Mass General connect with their patients by telephone and video. The new regulations are also making it easier to prescribe medications that treat SUD, Dr. Wakeman says.
The Mass General SUD Initiative is a sweeping hospital-wide effort to identify patients with addiction and engage them in a recovery plan on their own terms. It employs a system of physicians, nurses, psychologists, social workers and recovery coaches who work with hospitalized patients and people in the community with substance use disorders.
Lowering Barriers to Care
Other medical problems, homelessness, economic distress and stigma all make people with substance use disorders more at risk for coronavirus and more likely to experience severe symptoms. It also increases their risk of relapse or overdose.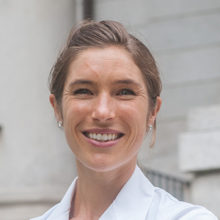 "But the silver lining is that the state and federal governments have relaxed some of the more restrictive regulations that have kept us from being able to offer more flexible care," Dr. Wakeman says. That means better access to medical treatment and counseling.
For example, federal regulations restricting medical and counseling visits by phone or video have been temporarily relaxed. Now, people with substance use disorders who are isolating themselves from the virus can more easily connect with their doctors or other clinicians. Mass General's robust network of SUD experts has quickly transitioned to telephone and video sessions.
Staying Connected
"They say that the opposite of addiction is connection," Dr. Wakeman says. Staying connected with loved ones, with peers and with medical professionals is one of the most crucial aspects of successful recovery.
"They say that the opposite of addiction is connection."
One of Boston's most prominent recovery advocates, Mayor Marty Walsh, emphasized that people in recovery need to maintain their connections during this time of social isolation and should take advantage of options to connect electronically. Speaking at a briefing at Boston City Hall recently, Walsh said addictions, like other medical issues, haven't gone away because of the virus. "The work still has to go on," Walsh said. "Getting people into treatment still has to happen."
Phone or video sessions offer yet another benefit, Dr. Wakeman says. They encourage people who may face barriers to appearing in person at a clinic, because of the stigma of addiction, transportation challenges, or competing priorities, to connect in a more private and flexible way. "This is a real opportunity to engage with people who maybe never would come into the office in person," she says.
Improving Access to Substance Use Treatments
Changes to regulations are creating better access to medications that treat addition. For example, one of the most effective medications used to treat opioid use disorder, buprenorphine, is now available by prescription over the phone. Previously, buprenorphine could only be initiated during a face-to-face office visit with a clinician. And regulations for the opioid treatment medication, methadone, have been temporarily relaxed to allow people to obtain a 14-day supply instead of standing in line every day at a methadone clinic for a single dose.
Dr. Wakeman says she is advocating for these changes to become permanent because they lower the barriers to the most effective treatments.
Overcoming Formidable Challenges
Mass General's SUD initiative is in full swing as the hospital treats a surge of patients with COVID-19. Dr. Wakeman is serving on the Addiction Consult Team to care for patients in the hospital with COVID-19 and who also have substance use disorder. The goal is to help these patients get through their hospitalization, start addiction treatment and transition them to substance use disorder programs in the community.
Mass General's Bridge Clinic is seeing patients by video or phone.
Once patients are ready to leave the hospital, the team often refers them to Mass General's Bridge Clinic, which sees a steady flow of outpatients who stop by for counseling or medication. The Bridge Clinic is now seeing people by phone or video but remains open for face-to-face visits from 1 p.m. to 5 p.m. These hours are for patients who need injectable medications or who otherwise need an in-person visit.
An important part of the Bridge Clinic's role is to help people transition into treatment programs in their communities. But that is more challenging than usual because many programs have closed their doors to new patients to prevent the spread of the virus.
Supporting Local Communities
In neighborhoods where Mass General has community health centers and coalitions with local agencies, the hospital is adapting services to stay in touch with residents struggling with SUD. In Charlestown, for example, the program managers of Addiction and Recovery Services are connecting through virtual meetings and phone. More broadly, in Chelsea where the population is especially vulnerable to COVID-19 because of social and economic disparities, Mass General has a screening clinic to test anyone for COVID-19 regardless of symptoms. The hospital has arranged for hotel rooms so people who test positive can stay isolated if they can't isolate in their homes.
"There are many different ways that our patients are suffering," Dr. Wakeman says, "both in terms of the risk of infection and the economic and social impact of the ongoing pandemic."
To learn more about how you can support Mass General's response to the COVID-19 pandemic, click here.