MassGeneral Hospital for Children (MGHfC) patient Delia Binette concentrates on her pumpkin at the annual Spirit Halloween Superstores party in 2013.
Massachusetts General Hospital welcomes the opportunity to partner with businesses on cause marketing campaigns. Enjoy the benefits of being associated with the esteemed Mass General brand along with the satisfaction of supporting our efforts to improve health care locally, nationally and internationally.
Our team can help you develop a cause marketing program that aligns with the hospital's mission and meets your company's particular goals. Pin-up campaigns and donating a percentage of product sales are just two of the many possibilities we can explore together.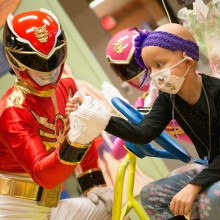 Cause Marketing at Work
Spirit Halloween stores throughout the U.S. and Canada collect money from their customers and vendor partners from the day their stores open until the day they close. All of the money collected is donated to the child life departments at their participating children's hospitals. Since the program started its fundraising campaign, more than $16 million has been donated to over 130 children's hospitals throughout the U.S. and Canada. More than $160,000 has gone to the Child Life Department at MassGeneral Hospital for Children.
For more on Mass General cause marketing programs, please contact us today or get started planning your cause marketing initiative.