Ryan Foley, who is running the 2017 Boston Marathon, couldn't help but feel nervous after learning his father needed a quintuple bypass.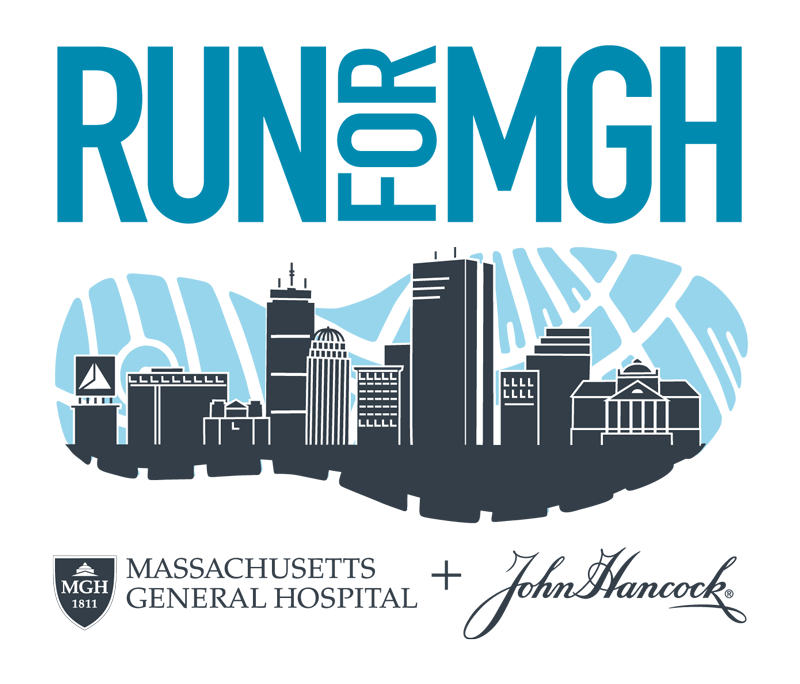 Bill Foley, after all, looked like the textbook picture of great health. He played football at the University of New Hampshire in the 1970s, jogged for years and served as the director of physical education and athletics for Waltham (Mass.) Public Schools. He hardly seemed like a candidate for open heart surgery.
But from the moment Bill entered Massachusetts General Hospital in 2015, doctors and nurses put him and the Foley family at ease with their competence and compassion, Ryan recalls. With Bill now healthy and enjoying retirement, Ryan wants to honor the professionalism of Mass General staff by running the Boston Marathon as a member of the hospital's Emergency Response Marathon Team.
What Can I Do?
"Even before his surgery, I thought, 'What can I do for this hospital?' It's been so good to us," Ryan remembers. "And then I saw some sort of marathon poster on a wall there. It kind of clicked for me then – although it took more than a year to follow through – that maybe that's what I'll do."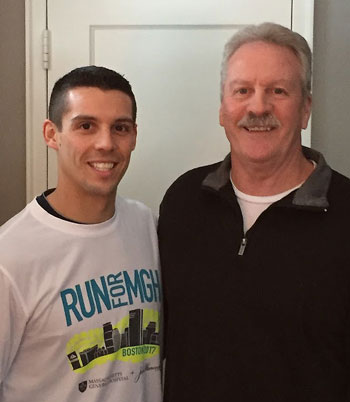 Bill had chest pains on the first night of August 2015 after eating dinner at his home in Waltham. He dismissed it as indigestion, but discomfort continued. He eventually went to nearby Newton-Wellesley Hospital, and later had a stress test. He failed the test and was immediately transferred to Mass General.
Initially, it was believed Bill needed only a stent to keep a coronary artery open, a procedure that would have lasted only a few hours. But Serguei Melnitchouk, MD, MPH, a Mass General cardiac surgeon, reviewed the imaging together with patient's cardiologist, Kenneth Rosenfield, MD, MHCDS, and they both determined that Bill had too much artery blockage and required a quintuple bypass.
A Determination to Live
The news distressed Bill's wife, Jacque, as well as Ryan and his wife, Alicia. It was already an emotional time because Bill's and Jacque's other grown child, Joanna Sudmyer, was preparing to give birth at Newton-Wellesley Hospital. But any worry Bill had while waiting for surgery was surpassed by his determination to live and enjoy a new grandchild.
His mood also brightened when, after learning about Bill's love for sports, nurses moved him to a room with a view of a softball field outside Mass General.
"To sit down with us, well after 1 a.m. and after a long surgery, to explain everything made us comfortable."
Dr. Melnitchouk was meticulous throughout Bill's 9-hour surgery, Ryan says. Near the end of surgery, Dr. Melnitchouk had reservations about Bill's EKG reading and decided to redo one of the bypasses once again just to be on the safer side.
The family learned about this precautionary move after Dr. Melnitchouk sat down with them in his medical scrubs to review the surgery and answer every question, Ryan recalls. "To sit down with us, well after 1 a.m. and after a long surgery, to explain everything made us comfortable. That really made a difference," he says.
Enjoying Recovery and Grandkids
After his release from Mass General, Bill could have stayed at a rehabilitation center closer to his Waltham home, but the thought never crossed his mind, Ryan says. Impressed by his treatment to that point, Bill entered the Cardiac Rehabilitation Program at Mass General's Cardiovascular Disease Prevention Center.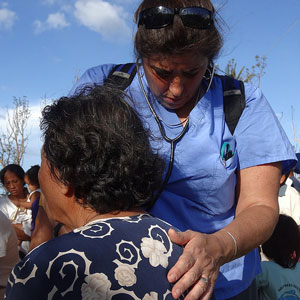 Bill, 62, retired last year and now stays active by providing advice to his successor at Waltham schools. He also has served as a handyman, painting and repairing things at his house and the homes of his children. He no longer runs, instead walking on a treadmill, and avoids unhealthy foods.
But he's committing a lot of time to not just Tucker – the grandson who was born at the time of his bypass – but also a second grandson, Jackson, the first child of Ryan and Alicia.
His Boston Marathon a First
Ryan, 31, also lives in Waltham. He believes he inherited his love of education from his father. That would explain his job as an IT technician for Waltham Public Schools. When he's not working and taking care of Jackson, he prepares for the Boston Marathon, his first official run of 26.2 miles.
More than a year after seeing the marathon poster at Mass General, and more than a year after being impressed by the way the hospital treated his father, Ryan wants to help future patients receive the same care. "I want to do anything I can do to help the hospital," he says.
Please consider supporting Ryan and other runners raising money for Mass General.
John Hancock and Mass General Celebrate 20 Years of Marathon Partnership
This year marks the 20th anniversary of John Hancock's partnership with the Mass General Marathon Program. John Hancock provides Mass General runners with bib numbers for the race.
Since it was formed in 1998, Mass General's Pediatric Oncology Team has raised more than $12 million to support research and child life activities for children with cancer. In 2014, John Hancock worked with the Boston Athletic Association to award the hospital additional bib numbers to create the Emergency Response Team. That effort acknowledged the lifesaving response of hospital personnel following the Boston Marathon bombing in 2013. Since then, that team has raised more than $1 million for the hospital's emergency preparedness and disaster training.
In addition to these teams, runners who obtained their own bib numbers for the Boston Marathon will run for the Miles for Mass General program, which raises funds for hospital programs that are close to their hearts. Programs being represented by 2017 runners include Botswana Oncology Global Outreach, Caring for a Cure, Cystic Fibrosis, Down Syndrome and the Lurie Center for Autism.
To learn more about the Mass General Boston Marathon Program, please visit our website.