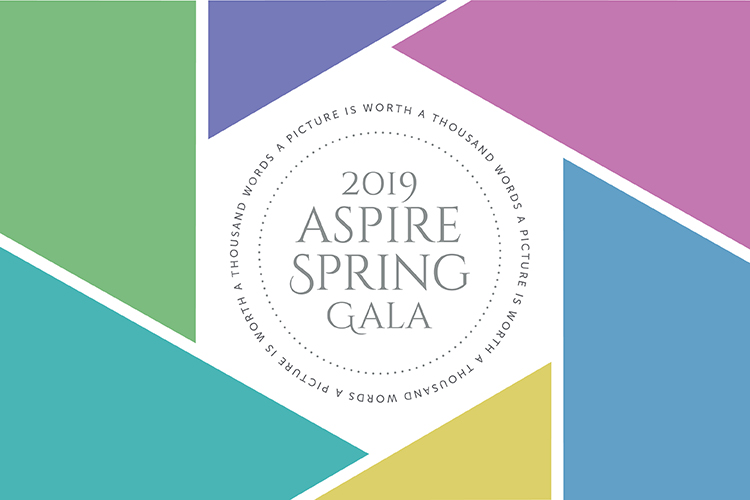 Aspire Spring Gala 2019
Thank you for joining us for the Aspire Spring Gala on Thursday, April 4, 2019. Aspire helps children, teens and adults with high cognitive autism spectrum disorder and related profiles develop the skills necessary to be successful in their communities and workplaces. Your support enables Aspire to expand its internship program, provide financial aid to participants in need, and launch new programs to support young people on the autism spectrum.
To learn more about Aspire, please visit the Aspire program's web site.
2019 Aspire Spring Gala Video: People Matter. Moments Matter.
About Aspire
Helping Children, Teens and Adults on the Autism Spectrum Achieve Success
Aspire is a highly successful, therapeutically-based program that serves children, teens and adults with high cognitive autism spectrum disorder and related social profiles. Additionally, the program supports more than 15 area school districts and conducts workshops serving 700 education and private sector professionals each year.
Aspire works to develop participants' social skills and help them develop greater independence. Individuals on the autism spectrum often have difficulties in the areas of social skills, communication, academic achievement, sensory integration and behavioral regulation. The Aspire approach teaches social and life skills using the 3 S's approach: Social competency, self-awareness, and stress management. This approach not only allows staff to provide individualized coaching and support "in the moment," but also ensures an ideal environment for participants to learn new skills.
At Aspire, we work to help individuals on the autism spectrum achieve their full potential in all aspects of their lives and are committed to serving participants regardless of their economic background.
Aspire Programs

Summer Camp Program, Hale Reservation in Westwood (ages 5-15)
Aspire offers a fun-filled seven-week day camp for children entering first grade through age 15. Designed to model the traditional "summer camp experience," each camp day consists of recreational activities as well as therapeutic interventions.
Introducing Our Aspirational and Visionary Sponsors!


CCC
CCC, together with its affiliates, provides cross-industry solutions to support the vehicle lifecycle. Founded in 1980, CCC's solutions and big data insights are delivered through the CCC ONE™ platform to a vibrant network of 350+ insurance companies, 24,000+ repair facilities, OEMs, hundreds of parts suppliers, and dozens of third-party data and service providers. Annually, over 24 million estimates and 16 million repairs are processed on CCC's products and services, and CCC also provides access to car-related services for millions of consumers via carwise.com. Additionally, Auto Injury Solutions Inc. – a CCC company – provides customizable, end-to-end, casualty solutions to auto insurers for the handling of first and third-party claims. The collective set of CCC's solutions inform decision-making, enhance productivity, and help customers deliver faster and better experiences for end consumers. Learn more about CCC at cccis.com.




Copart
Copart, Inc., founded in 1982, is a global leader in online vehicle auctions. Copart's innovative technology and online auction platform links sellers to more than 750,000 Members in over 170 countries. The company offers services to process and sell salvage and clean title vehicles to dealers, dismantlers, rebuilders, exporters and, in some cases, to end users. Copart sells vehicles on behalf of insurance companies, banks, finance companies, charities, fleet operators, dealers, and individual owners. With operations at over 200 locations in 11 countries, Copart has more than 125,000 vehicles available online every day.




Enterprise Leasing Co.
Enterprise Rent-A-Car is an ongoing American success story. Our guiding principles, and humble beginning, revolve around personal honesty and integrity. We believe in strengthening our communities one neighborhood at a time, serving our customers as if they were our family, and rewarding hard work. These things are as true today as they were when we were founded in 1957.Today, our massive network means Enterprise is the largest transportation solutions provider. Beyond traditional car and truck rental our mobility offering expands to car sharing, ride sharing, car sales and fleet management. We're in over 85 countries with more than 7,600 locations. What does this mean to our customers? We're there when you need us, with award-winning customer service. Whether you need a replacement vehicle, a ride to work or a weekend getaway- Enterprise is the one place to go for all of the places life takes you.




ExamWorks
ExamWorks Group is a leading provider of independent medical examinations (IME), peer reviews, bill reviews, Medicare compliance, case management, record retrieval, document management, and related services. Clients use independent medical review services to confirm the veracity of claims by sick or injured individuals. We help our clients in the U.S., Canada, the United Kingdom, and Australia manage costs and enhance their risk management processes by verifying the validity of claims, identifying fraud and providing fast, efficient and quality IME services. We provide IME services through our medical panel of credentialed physicians and allied medical professionals. Custom portals, applications, workflow enhancements and systems integration are part and parcel of our service.




IAA
We've been a leader in the automotive auction industry since 1982 with a live auction model and global marketplace that connects sellers' vehicles with the buyers who need them. When we're off the auction block, we cultivate relationships in the communities where we live and work.
With a talented team of more than 3,300 employees, IAA is committed to providing customers with the highest level of service in the industry. We place special emphasis on nurturing strategic partnerships and transforming our product offering to be much more than a salvage auction. From our line of Total Loss Solutions products that help speed up the claim settlement process to developing a global marketplace that connects buyers to the right vehicles to leveraging our business model to turn donated vehicles into funding for charities, IAA is always innovating to provide comprehensive service solutions.




Liberty Mutual Insurance
Liberty Mutual's purpose is to help people embrace today and confidently pursue tomorrow. The promise we make to our customers throughout the world is to provide protection for the unexpected, delivered with care.
In business since 1912, and headquartered in Boston, Mass., today we are the fifth largest global property and casualty insurer based on 2017 gross written premium. We also rank 68th on the Fortune 100 list of largest corporations in the U.S. based on 2017 revenue. As of December 31, 2018, we had $41.6 billion in annual consolidated revenue.We employ nearly 50,000 people in 30 countries and economies around the world. We offer a wide range of insurance products and services, including personal automobile, homeowners, specialty lines, reinsurance, commercial multiple-peril, workers compensation, commercial automobile, general liability, surety, and commercial property. You can learn more about us by visiting www.libertymutualinsurance.com.




MES Solutions
MES Solutions (MES) is a management service organization that provides the claims community access to credentialed physicians with expertise in conducting evidenced-based independent medical exams and peer reviews. Insurance lines served include auto, disability, liability, and workers' compensation as well as well as pharmacy benefit management. MES is HITRUST and URAC accredited and completes a SOC 2 ®Type II audit annually. MES offers it services throughout the U.S. through 14 regional service centers. The Peer Review and Disability Services units are located in Norwood, Massachusetts and Saddle Brook, New Jersey respectively. MES, founded in 1978, is headquartered in Woburn. Massachusetts.




Safelite AutoGlass
With more than 7,800 MobileGlassShops™ and stores in all 50 states, Safelite AutoGlass® is the nation's largest provider of vehicle glass repair, replacement, and calibration services. Yet at the foundation of our business is the power of a caring heart—fueled by our nearly 15,000 associates who are committed to bettering the lives of children and families in the communities where they live and work. That dedication, and our People Powered, Customer Driven approach to every day at Safelite, nicely positions us as a trusted expert to our customers. It all comes down to our purpose and why we exist: to bring unexpected happiness to people's everyday lives. We're proud of that. We're Safelite.




Worley
Worley was formed in 1976 to serve the needs of insurance industry clients. With office locations throughout the country Worley specializes in first party property and auto claims, third party administration, staffing solutions and managed repair services. Worley has evolved into one of the largest and most diverse claims service providers in the United States and is recognized for its quality service, customizable solutions and professionalism.
Thank You to Our Generous Sponsors!
Aspirational Sponsors
Copart
ExamWorks
Liberty Mutual Insurance
MES Solutions
Safelite AutoGlass
Visionary Sponsors
CCC
Enterprise Leasing Co.
Insurance Auto Auctions, Inc
Worley Co.
Diamond Sponsors
Caliber Collision
Stephanie & David Long
Platinum Sponsors
Anonymous
Aon
Cambridge Mobile Telematics
Choate, Hall & Stewart LLP
Cognizant
ISG
Kelly Family Foundation
LexisNexis
McKinsey & Company
NextGear Solutions
Opportune, LLP
Putnam Investments
Service King Collision Repair Centers
Solera Holdings
Wayne J. Griffin Electric, Inc
Willis Towers Watson
Gold Sponsors
Clearsurance
Deloitte
Dimension Data & Cisco Systems
Ernst and Young LLP
Eversource
Genpact
Terry and Tom Hamilton
JLT Re
Keystone Insurers Group
Lincoln Financial Group
Paul Davis Restoration
Praxis Consulting, Inc
PwC
SIAA, Inc
SimCorp
Skadden, Arps, Slate, Meagher & Flom LLP
Tim Sweeney
TigerRisk Partners
Verisk
Sterling Sponsors
ABRA Auto Body and Glass
Accenture
Accurence, Inc.
Answer Financial, Inc.
Assurant Foundation
Asurion
Mickey and Bob Atchinson
Bank of America
BlackRock Financial Management
Bloomberg Philanthropies
Citi
Crum & Forster Pet Insurance Group
CUNA Mutual Group
Discovery
Donnelly, Conroy & Gelhaar, LLP
EagleView
Eastern Bank
Eurest
Gerber Collision & Glass
GreenPages
Havas Helia
iHeartMedia
J.P. Morgan
Lockton Companies
Marsh & McLennan Companies
Mintz
Molex
Optum/UnitedHealthCare
Rubrik
Rytech
Sedgwick
Sheppard, Mullin, Richter and Hampton LLP
Swiss RE
Telmon, Inc
THL and THL Credit
Bronze Sponsors
360PR+
Agero
Amazon Web Services
Avaya
Ayco
Blue Prism Software
BOLT Solutions, Inc
BNP Paribas
Boston Consulting Group
Bruso Family
Clearlink Insurance
Cleary Gottlieb Steen & Hamilton LLP
Compex Legal Services, Inc
Connell Limited Partnership
Constangy, Brooks, Smith & Prophete, LLP
CoreLogic | Symbility
DLA Piper LLP
Dowling & Partners Securities, LLC
Everest Re Group, Ltd
Goldman Sachs Asset Management
Goodby Silverstein & Partners
Goulston & Storrs
Anne Marie & Daniel Gross
GW & Wade
Hagerty
Homesite Insurance
HSBC Securities (USA) Inc.
Integral Consulting Services, Inc
Integration Partners – Juniper Networks
Iron Mountain
Itel
Ladder Now
Lee Hecht Harrison
Mainline Information Systems
McDermott Will & Emery
Mechanica
Medlogix
Mitchell International
Morgan Stanley
Sarah & Jeff Newton
OdysseyRe
Old Ironsides Energy
Palo Alto Networks
PAN Communications
PuroClean
Prince Lobel Tye LLP
Publicis Sapient
QuinStreet, Inc.
Russell Reynolds Associates
Stroock & Stroock & Lavan
TD Securities
Turner Construction Company
Urgent.ly
Willkie Farr & Gallagher LLP
Patron Sponsors
Bain & Company
Barclays
Credit Suisse
Docker, Inc
Donan
Melanie & Frank Foley
Google Cambridge
Greenberg Traurig, LLP
Hewlett Packard Enterprise
HUB International
Infoblox
Initiative
Susan & Jim Kelleher
LeadCloud
Lighthouse Computer Services
MadSky Managed Repair
Microsoft
MUFG
National General Insurance
National Restorations
NetApp
NETSCOUT
NICE
Chris & Lynne Peirce
Plymouth Rock Assurance
Qualtrics
RLI Insurance Company
SAS Institute Inc.
SCA Appraisal Company
Snapsheet
TRANSUNION
UPS
Verizon
Wiggin and Dana LLP
In-kind Sponsors
Barneys New York
Dav El/ Boston Coach
Davio's
Four Seasons Hotel Boston
InterContinental Boston
MGM Resorts International
Opportune, LLP
PLUMA
Saks Fifth Avenue
Stacey Kuehn Hair
West Point Thoroughbreds
Mass General is grateful for the support of its sponsors, but it does not endorse their products or services.