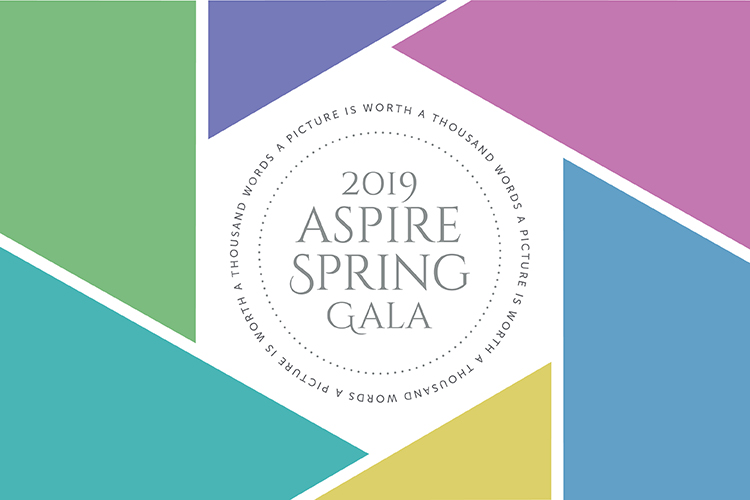 Aspire Spring Gala 2019
Join us for the Aspire Spring Gala on Thursday, April 4, 2019. Aspire helps children, teens and adults with high cognitive autism spectrum disorder and related profiles develop the skills necessary to be successful in their communities and workplaces.
Your support of the gala will enable Aspire to expand its internship program, provide financial aid to participants in need, and launch new programs to support young people on the autism spectrum. Last year's event raised more than $2.6 million – help us keep the momentum going in 2019!
To learn more about Aspire, please visit the Aspire program's web site. We hope to see you on April 4.
Sponsor the Aspire Spring Gala
Your sponsorship will ensure that Aspire's services are accessible for families in need and allow for the the expansion of program offerings.
---
---
---
---
For more information on opportunities to support Aspire, please contact Samantha Finlayson at snfinlayson@partners.org or 617.643.9218.
Play the Luxury Key Game
Win spectacular prizes selected exclusively for the Aspire Spring Gala 2019! You'll have the opportunity to purchase keys before and during the event to increase your chances of unlocking a Luxury Box.
Event Details
Please support our efforts by joining us for the 19th annual Aspire Spring Gala at 6 pm on Thursday, April 4, 2019. The event will be held at the Four Seasons Hotel Boston at 200 Boylston Street, Boston, MA.
Event Contact

Sponsorship Contact

Mailing Address

Aspire, Mass General Development Office
125 Nashua Street, Suite 540,
Boston, MA 02114

About Aspire
Helping Children, Teens and Adults on the Autism Spectrum Achieve Success
Aspire is a highly successful, therapeutically-based program that serves children, teens and adults with high cognitive autism spectrum disorder and related social profiles. Additionally, the program supports more than 15 area school districts and conducts workshops serving 700 education and private sector professionals each year.
Aspire works to develop participants' social skills and help them develop greater independence. Individuals on the autism spectrum often have difficulties in the areas of social skills, communication, academic achievement, sensory integration and behavioral regulation. The Aspire approach teaches social and life skills using the 3 S's approach: Social competency, self-awareness, and stress management. This approach not only allows staff to provide individualized coaching and support "in the moment," but also ensures an ideal environment for participants to learn new skills.
At Aspire, we work to help individuals on the autism spectrum achieve their full potential in all aspects of their lives and are committed to serving participants regardless of their economic background.
Aspire Programs

Summer Camp Program, Hale Reservation in Westwood (ages 5-15)
Aspire offers a fun-filled seven-week day camp for children entering first grade through age 15. Designed to model the traditional "summer camp experience," each camp day consists of recreational activities as well as therapeutic interventions.
Thank You to Our Generous Sponsors!
Aspirational Sponsors
Copart
Safelite Autoglass
Visionary Sponsors
Enterprise Leasing Co.
Insurance Auto Auctions, Inc
Platinum Sponsors
Choate, Hall & Stewart LLP
Cognizant
LexisNexis
Opportune LLP
Service King Paint & Body, LLC
Willis Towers Watson
Gold Sponsors
Dimension Data
Genpact
JLT Re
Paul Davis
Praxis Consulting
SIAA, Inc
Sterling Sponsors
ABRA Auto Body and Glass
Answer Financial
Citi
Eurest
Gerber Collision & Glass
Mintz
Sedgwick
Swiss RE
Telmon, Inc
Bronze Sponsors
BNP Paribas
Connell Limited Partnership
Dowling & Partners Securities, LLC
Ladder Now
Mechanica LLC
PAN Communications
Palo Alto Networks
Turner Construction Company
Patron Sponsors
Barclays
Hewlett Packard Enterprise
HUB International
MadSky Managed Repair
NICE
Plymouth Rock Assurance
SCA Appraisal Company