For more than a century, Alzheimer's disease has confounded scientists and drug developers. But new research from Massachusetts General Hospital has potential to revolutionize the treatment of Alzheimer's. Recently, a team of scientists led by Mass General brain imaging researcher Yakeel T. Quiroz, PhD, identified a genetic mutation that may protect the brain from cognitive decline and dementia. Dr. Quiroz — who oversees Mass General's Multicultural Alzheimer's Prevention Program (MAPP) — discussed the origins of her research, what the finding means for patients and why this latest discovery may just be the tip of the iceberg.   
What spurred your initial interest in Alzheimer's?
In my second year of college in Antioquia, Colombia, I joined Dr. Francisco Lopera's research group. They had discovered a group of families with a high incidence of early onset Alzheimer's disease in some small towns of the region.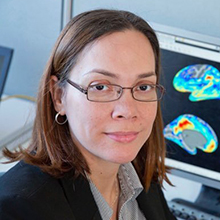 Together, we started visiting these isolated towns. We had to take mules to reach some of them. Because the trips took so long, we sometimes stayed with these families. I developed a real bond with many of them, so when I started to see family members losing their memories, it had a big impact. I committed myself to helping them. Twenty years later, I'm still working with some of the same families
What makes these families unique?
They carry a genetic variant, called the Paisa mutation which is associated with early onset Alzheimer's disease. Those who carry this mutation are destined to develop dementia later in life. They usually develop cognitive impairment around the age of 45, dementia around the age of 49, and they usually die by 60. I studied these families for my Masters and for my PhD. When I joined Mass General as faculty in 2014, and with funding from the NIH, I started the COLBOS Project to take this research to the next level.
What is the COLBOS project?
COLBOS is a part of the MAPP program. It stands for Colombia and Boston. It's a collaboration between the Universidad de Antioquia in Colombia and Mass General. Every month, I bring five family members from Colombia to Boston for advanced examinations. Each person undergoes neuroimaging and cognitive and genetic testing. They also have blood work so we can check biomarkers.
These families provide a unique opportunity to study cognitively normal individuals who are destined to develop dementia.
Why is it important to study these families?
These families provide a unique opportunity to study cognitively normal individuals who are destined to develop dementia. This allows us to study disease progression, improve measures for early detection of Alzheimer's and test potential treatments
The research seems to have paid off. Tell us about the finding.
In 2016, we met a woman from Colombia who was starting to have memory difficulties. She belonged to one of the families with the Paisa mutation, but because she was 73 it was assumed she didn't carry the mutation, and that what she was experiencing was the more common late onset Alzheimer's. But she tested positive for the Paisa mutation, meaning she should have shown cognitive symptoms in her 40s. When we brought her to Mass General, her brain scans showed high levels of amyloid — a toxic protein that forms plaques in the brains of Alzheimer's patients — but very limited amounts of tau — another toxic protein that forms tangles around the plaques.
Further testing revealed that she carried two copies of a mutation known as APOE3 Christchurch. That's ultra-rare. Everything pointed to that being the reason why she may have been protected. Our working hypothesis is that the Christchurch mutation was preventing the accumulation and spreading of Tau. That's a very promising development
This finding suggests that some people at risk for dementia can resist the disease.
What does your finding mean for patients?
This finding represents a new way to think about Alzheimer's disease. It suggests that some people at risk for dementia can resist the disease — that their brains can delay the onset of cognitive and memory loss. If we're right and we can find a way to mimic the effect of the APOE3 Christchurch mutation, we may be able to delay the onset of symptoms in people with Alzheimer's disease.
What are your next steps?
We need to do more experiments to understand this resistance and we need to study other outliers to see what they can teach us about how to delay Alzheimer's — because she's not the only one out there. She's just the first one we've identified. There are 6,000 individuals we've identified in Colombia with the Paisa mutation, but we've only scanned 80 so far. With more funding, we could increase the number of people we can bring here to scan and really make an impact on this disease
To learn more about how you can support Alzheimer's research at Mass General, please contact us.