Run to Home Base Florida | Saturday, January 18, 2020
The Run to Home Base Florida presented by ERI honors and supports Southwest Florida Veterans and their Families. All proceeds from this event will go directly to Home Base's Southwest Florida initiatives, including our Warrior Health and Fitness Program and the two-week Intensive Clinical Program.
This Run/Walk is a unique fundraising event through the scenic, tropical areas surrounding JetBlue Park – ending with the unforgettable experience of finishing the race by crossing home plate just days ahead of MLB Spring Training. Friends and family can watch you from the stands at Fenway South, with food and entertainment available throughout the day!
Participants can choose from a 5K run/walk or 1 Mile walk (optional fundraising). Kids are invited to run the bases on the field at JetBlue Park! All participants will receive a race medal, photos at Home Plate & the Finish line, Race T-Shirt (Performance Tech) and complimentary beverage!
Date
Saturday, January 18, 2020
8:00 am Opening Ceremony | 8:30 am Race Start Time
Location
JetBlue Park – 11500 Fenway South Drive | Fort Myers, FL 33913
Distance
5K Run/Walk
1 Mile Walk
Kids Run the Bases
Awards | Based on Gun Time:
Top Male and Female Overall Winners
Top Male and Female Masters Winners
Top Male and Female Grandmasters Winners
Top Male and Female Senior Grandmasters
Top Male and Female Military Winners
Age Group Awards based on Chip Time (male and female divisions):
11 & Under, 12-15, 16-19, 20-24, 25-29, 30-34, 35-39, 40-44, 45-49, 50-54, 55-59, 60-64, 65-69, 70-74, 75 and Up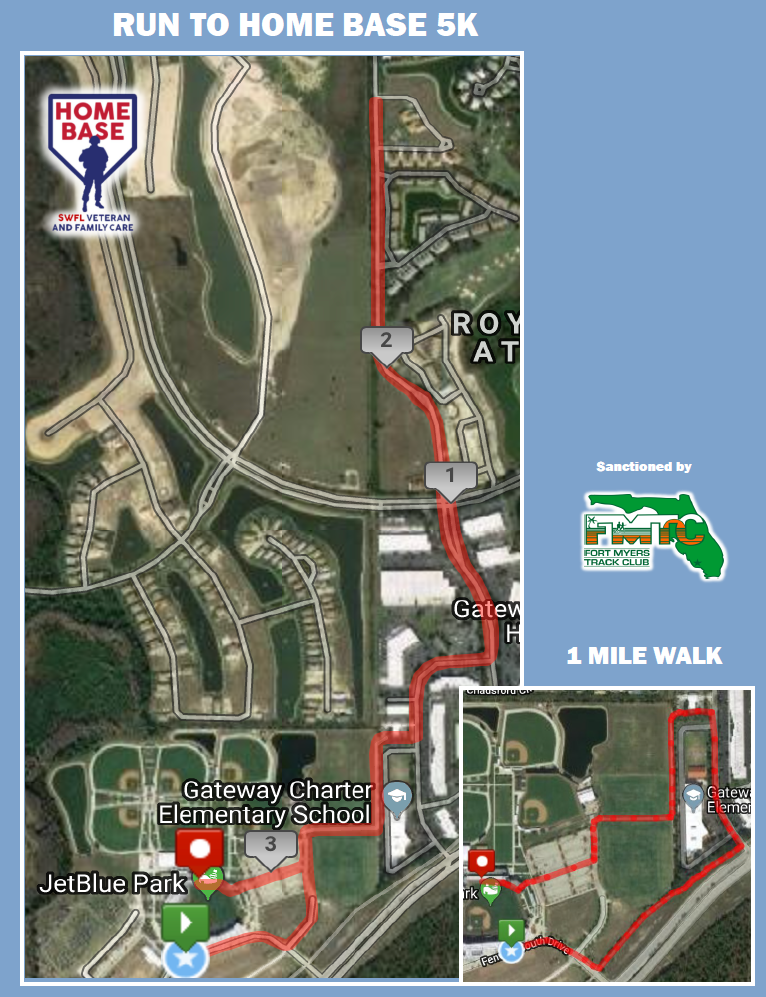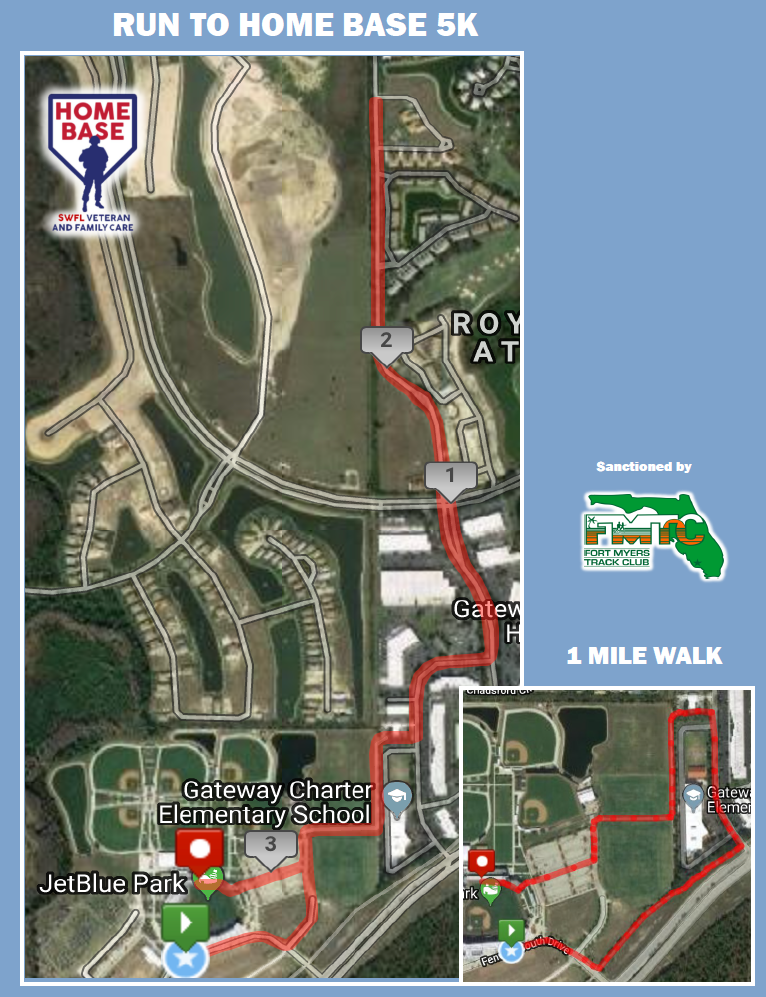 Bib and Shirt Pick-Up | Time and Location
Friday, January 17, 2020 | JetBlue Park Team Store
10:00am – 6:00pm
(11500 Fenway South Drive | Fort Myers, FL 33913)
You may also bib and shirt on race morning beginning at 7:00 am at JetBlue Park.
About Home Base
Home Base, a Red Sox Foundation and Massachusetts General Hospital Program, is dedicated to healing the invisible wounds for Veterans of all eras, Service Members, Military Families and Families of the Fallen through world-class clinical care, wellness, education and research. As a National Center of Excellence, Home Base operates the first and largest private-sector clinic in the nation devoted to providing life-saving clinical care and support for the treatment of the invisible wounds to include post-traumatic stress, traumatic brain injury and other issues associated with military service. Since its inception, Home Base has provided care and support to more than 21,000 Veterans and family members and trained more than 73,000 clinicians, educators, first responders and community members – all at no cost – ensuring a brighter future for the 21st century warrior and military family. Headquartered in the Charlestown Navy Yard in Boston, MA with a satellite location in Southwest Florida, Home Base is a nonprofit organization that operates on predominantly on the philanthropic generosity of a grateful nation. federal, state and local funding; foundation grants; and donations from individuals and corporations.
Since 2014, Home Base's Southwest Florida Warrior Health and Fitness program has provided over 250 local Veterans the opportunity to improve their well-being through supervised physical exercise and education about healthy eating, living, sleep hygiene and stress management. In addition to this program, Southwest Florida Veterans who  seek care for the invisible wounds can participate in Home Base's Intensive Clinical Program (ICP), a two-week, intensive, outpatient program where  patients are provided both evidenced-based therapy and complimentary alternative medicine. Since opening its door, the ICP has benefited 46 Veterans and Family Members from Southwest Florida.
To learn more about Home Base, please visit
homebase.org.
For questions about clinical care for Veterans, Service Members or their Families, please contact us at
homebaseprogram@partners.org
or call the clinic at 617-724-5202.
FREQUENTLY ASKED QUESTIONS
How can I sign up?

Can I create or join a team?

Is there a registration fee?

Do I need to fundraise in order to participate?

No. While fundraising is optional, you have the opportunity to win awesome prizes while raising funds in support of Southwest Florida Veterans and their Families.

Can kids participate in the 5K Run/Walk or 1 Mile Walk?

Yes, kids are able to participate in both the 5K and 1 mile walk, when accompanied by an adult.

Can I sign up on Race day?

Yes, you can register onsite before the event.

Will donors receive tax documentations for their donation?

Donors who make an online donation will automatically receive an email acknowledging their tax deductible donation for their records. Donors who send in a check will receive a letter acknowledging their donation within 10 business days. If someone gives you cash, you may place the sum towards your run, however we cannot offer a tax receipt, as the team charity did not receive those proceeds directly.

My account email and password won't work. What should I do?

Please complete the

recover password form

and your information will be emailed to you. If you are having problems recovering your user name, please contact us.

How do I submit an offline donation?

We encourage all participants to solicit donations via their web pages for the fastest donation processing and most up to date totals. In the case of offline gifts, checks should be made payable to "Home Base" with "2020 Run to Home Base Florida" and the participant's name in the memo field. Please mail offline gifts to: Home Base Southwest Florida - P.O. Box 422 | Estero, FL 33929. If you have question about offline donations, please contact us.

Can I make a donation anonymously?

Yes, you can choose to be anonymous when completing the online gift form.

Can I make a donation in honor or in memory of someone?

Yes. After selecting a donation amount, please check the box next to "I am making this gift in honor or memory of somebody" and fill out the tribute type and name.