Support the Benson-Henry Institute
for Mind Body Medicine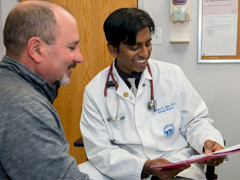 The Benson-Henry Institute for Mind Body Medicine (BHI) at Massachusetts General Hospital provides coordinated mind body care practices, conducts research into the value of integrative medicine and promotes the use of mind body medicine in healthcare systems. Studies show that more than 60 percent of doctors' visits are for stress-related conditions; BHI demonstrates that mind body medicine is a clinical and cost-effective way to treat and prevent stress.
Please make a contribution today to ensure that BHI's expertise in stress management reaches those who need our help.
Mass General is a 501(c)3 non-profit organization and depends on the support of the public. All donations are tax-deductible to the full extent of the law. Our non-profit tax ID is 04-1564655. Questions about giving? Please see our Frequently Asked Questions or contact us.