Your gift changes the future of neuropathy care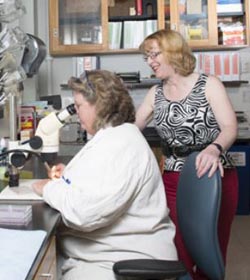 Under the direction of Dr. Anne Louise Oaklander, the Mass General Nerve Unit helps people with illnesses and injuries that affect their peripheral nerves. The Unit includes doctors who provide medical care for patients with neuropathy and researchers in topics ranging from basic biology to epidemiology and bioinformatics, all focused on improving the diagnosis and treatment of neuropathy.
Philanthropy allows the team to speed their search for new treatments for neuropathy while providing expert patient care. We are grateful for your partnership. For questions or more information about how you can support Dr. Oaklander and the Nerve Unit, contact Elizabeth Barberio at 617-643-9703 or ebarberio@partners.org.
Mass General is a 501(c)3 non-profit organization and depends on the support of the public. All donations are tax-deductible to the full extent of the law. Our non-profit tax ID is 04-1564655. Questions about giving? Please see our Frequently Asked Questions or contact us.