Maryanne Makredes Senna, MD, a dermatologist at Massachusetts General Hospital, is internationally recognized for her research on hair loss and advocacy for patients. Dr. Senna aims to increase awareness and resources to treat hair loss disorders, including alopecia areata.
What is alopecia areata?
Alopecia areata is a common, autoimmune hair loss disorder that can cause patchy hair loss on the scalp, face or body. In some cases, it can lead to complete baldness on the head and entire body. It often happens without warning — leaving patients shocked and distraught.
"Alopecia areata affects individuals of all ages, but is more common in younger people."
This autoimmune disorder affects individuals of all ages but is most common in younger people. While it can be genetic, patients do not always have a family history of alopecia areata. Factors such as major life stressors and other skin conditions, like severe eczema, can make some people more likely to develop alopecia areata.
What treatments are available?
About 50% of patients with very mild alopecia areata (only one or two patches of hair loss) will regrow their hair without treatment within one year. To treat adult patients whose hair does not regrow on its own, we use steroid injections into areas of hair loss.
For children, steriod injections may also be used, if the child can tolerate them, otherwise topical medications are often tried. More recently, newer medications, called JAK inhibitors, have been shown to regrow hair for patients age 12 and older with severe alopecia areata. When my patients begin using these medications after being bald, they tell me, "I feel like I have my life back. I feel like I have myself back."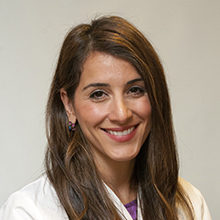 As an academic medical center, at Mass General's Hair Loss Clinic, we can do more than popular 'medi-spas.' Mass General is in the process of creating a new Hair Loss Center of Excellence, providing services to help patients with all types of hair loss. The goal is to provide comprehensive care to patients dealing with hair loss including expert medical diagnosis and treatment by board-certified dermatologists as well as holistic care through patient support groups, nutrition counseling and psychological therapy.
How does alopecia areata affect patients' lives?
Hair is important to our identity. Evolutionarily speaking, it is an indicator of good health and fitness. When patients lose their hair abruptly with alopecia areata, one of the hardest things for them is dealing with the diagnosis publicly.
When you don't have hair on your head or you don't have eyebrows, everyone can see it. Strangers ask you about it and people assume you are ill. This can be incredibly difficult for patients. I had alopecia areata as a dermatology resident, and I can tell you firsthand how hard this can be on a person. I spent a lot of time trying to camouflage it. I felt self-conscious. My hair did grow back, but the experience reaffirmed my commitment to helping patients with hair loss.
I've had patients who were stellar students and high school athletes, but after they lost their hair, they fell apart. One parent told me that her child sat in a car alone for hours instead of attending a family holiday gathering.
My group has recently published a study on the cumulative life course impact of alopecia areata and found losing hair to alopecia areata, especially during adolescence, leads to lost opportunities. Through patient interviews, we learned that alopecia areata affects many aspects of people's lives, including what jobs they obtain; how much money they earn; and whether they are more likely to be in healthy relationships.
How can philanthropy help?
There is a lot we don't know about alopecia areata and philanthropic support can help.
In 2016, a generous gift from a donor changed everything for my work.
In 2016, a generous gift from a donor changed everything for my work. The gift gave me the resources to hire staff and begin clinical trials. We got the attention of industry sponsors, which funded other studies. We published what we learned and shared our information with physicians worldwide.
That first gift allowed me to launch the Hair Academic Innovative Research Unit. Now, my goal is to establish a first-of-its-kind Hair Loss Center of Excellence to provide a continuum of care for all hair loss patients in one location and increase access to services and research. Donations could help make this happen. Donations could also help support a tissue bank for alopecia areata that could lead to new treatments, fund nutrition research and resources to educate more hair stylists to recognize hair loss in their clients.
While JAK inhibitor medications have revolutionized the treatment of alopecia areata, we still do not fully understand why people develop this hair loss disorder, nor do we have more targeted treatments that don't require oral medications that can suppress the immune system. Many questions regarding the cause and treatment are still unanswered and more research would help.
Our goal at Mass General is to do the best we can for our patients. We are experts in what we do. We're proud that people come to us. With philanthropy, we could do more to help patients regrow their hair and keep their lives on track.
To make a donation to support Dr. Senna's work and the Hair Loss Clinic, please contact us.