Sports concussions were not seen as a big issue when Richard Ginsburg, PhD, played and coached soccer and lacrosse 20 years ago. Then, players were commonly sent back on the field after a hit caused them to "see stars." "We didn't know much about concussions then and thought it meant loss of consciousness," says Dr. Ginsburg, who is now director of psychological services at the Massachusetts General Hospital Sports Concussion Clinic.
It is now known that most concussions don't cause loss of consciousness, but that even what seems to be a mild blow to the head can cause a concussion, a type of brain injury. In the past five years, every state except Mississippi has passed a "return to play' law ensuring youth and high school athletes get a medical go-ahead first. The MGH Sports Concussion Clinic was founded in 2011 to meet the burgeoning need.  Indeed, an estimated1 in 10 young athletes will require medical care for a head injury.
The Benefits of Specialized Care
A concussion is a head-rattling strong enough to cause headaches, dizziness and other symptoms, such as difficulty concentrating and impaired balance. No helmet can protect against a sports concussion. Typically, children heal faster following most injuries compared to adults, but that is not the case with the brain after a concussion. The younger the patient, the longer the recovery takes. The brain is especially vulnerable if hit again soon after.
"About half of patients will be fine in two weeks with rest and headache medication, but the other 50 percent may benefit from more specialized care," says Dr. Peter Greenspan.
As medical director of the MassGeneral Hospital for Children and a practicing pediatrician, Peter Greenspan, MD, understands that pediatricians at a certain point need to bring in "outside eyes" when a patient has a concussion and symptoms are not resolving. "About half of patients will be fine in two weeks with rest and headache medication, but the other 50 percent may benefit from more specialized care," says Dr. Greenspan, who is one of the founders of the MGH Sports Concussion Clinic. Although some youth are referred to the clinic within days of injury, most come for a comprehensive evaluation to see why healing is taking longer. This may be because it's the student's second or third sports concussion. Or there are complicating factors.
Raising Awareness About Sports Concussions
"Sometimes the concussion isn't the central problem," says Dr. Ginsburg, who is a clinical psychologist and sports psychology consultant. "Perhaps, the child doesn't want to play hockey anymore and this is a way out, or the teen is overwhelmed with schoolwork or there are family conflicts," he explains. "In the process of evaluating someone who is struggling after a concussion, we can uncover other factors and help address them."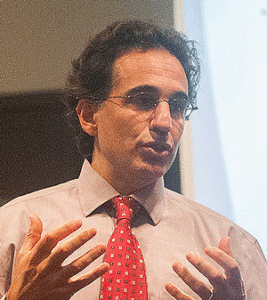 Educating parents, their athletes, school personnel and coaches is a strong component of the sports concussion program. Unique to Mass General's clinic is the hour-long, educational presentation Dr. Ginsburg runs on clinic days for all new patients. Clinic staff also hold educational sessions about sports concussions in communities with pediatricians, coaches, school nurses and others.
"The greater awareness about concussions is a positive thing," says Dr. Ginsburg. But he cautions against overreaction. One sports concussion is unlikely to produce chronic traumatic encephalopathy — a type of early dementia that some professional football players have acquired after repeated hits to the head. Resting at home away from school until sports concussion symptoms go away is important, but Dr. Ginsburg believes that total isolation from social connections and activities with friends and family goes too far. One challenge with concussions is there is no way to confirm a diagnosis with a test or brain scan or to predict when a concussion will lead to problems later in life. MGH's multidisciplinary clinic is working on finding answers to these unknowns through research.
Playing Safely After a Sports Concussion
 "The data suggest that the more concussions you have, the greater the chance of long-term cognitive problems," says Dr. Richard Ginsburg.
When is it safe to play again? The short answer, when all symptoms are gone. This can be a difficult decision. Just as there is no medical test to diagnose concussion, there is no test to show that a concussion has cleared. A baseline neurocognitive test, which is now required by many high schools for all students who play sports, is useful for comparison, but can't alone determine recovery.
Dr. Ginsburg recently treated a teen who had played soccer all his life, was good at it, and all of his friends played. But the teen had just had his third sports concussion.
"The data suggest that the more concussions you have, the greater the chance of long-term cognitive problems," Dr. Ginsburg says. "We had to make a family decision about whether it's worth taking the chance of another concussion, weighed against the downside of quitting a sport with all its satisfaction and health benefits."
Though the teen was devastated, in this case the family decided soccer was not worth the risks. That decision is becoming more common, as is the likelihood that coaches and student athletes abide by the advice: If there's any doubt, sit it out.