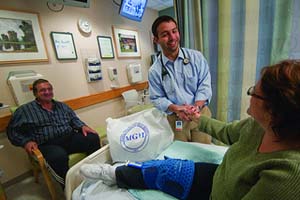 Mass General is in the vanguard of efforts to keep compassion and empathy alive in daily practice. Its pioneering Schwartz Center for Compassionate Healthcare engages clinicians in helping each other cope with the emotional challenges of patient care.
Its Empathy and Relational Science Program is breaking new ground in empathy training based on neurobiology and physiology. And through their affiliations with Harvard Medical School, Mass General physicians have created carefully tiered coursework, honed mentoring techniques and guided doctors-to-be in the often-overlooked art of reflection.
"Self-awareness and reflection are critical to the development of compassionate physicians," says Katharine Treadway, MD, a Mass General primary care physician deeply involved in medical education. "Our goal is to help students learn how to handle the gigantic emotional content of medicine, so they don't shut down."
Gene Beresin, MD, director of Child and Adolescent Psychiatry Residency Training at MGH Center for Mental Health and Media, says the pace of daily practice leaves little time for reflection, with doctors typically getting 15 minutes to see a patient, make a diagnosis and prescribe a treatment. "Some say compassionate care just happens," says Dr. Beresin, also a professor of Psychiatry at Harvard Medical School. "That's nonsense. Patients respond well to doctors who can make their 15 minutes a humanistic experience. It takes a lot of training and experience to do that."
The Emotional Demands of Medicine
Numerous studies show that compassionate care is better and more cost-effective care. Patients are healthier and more faithful to prescribed regimens when they feel their doctors care about them.
"Patients respond well to doctors who can make their 15 minutes a humanistic experience. It takes a lot of training and experience to do that."
And physicians skilled in handling the emotional demands of the profession are less prone to burnout, a growing problem. A study last year found that nearly half of all U.S. physicians reported at least one symptom of burnout, with the proportion rising to around 60 percent for primary care physicians and other frontline providers. Recruitment and retention of primary care physicians have taken on added importance as healthcare reform at state and national levels has opened the doors for more citizens to obtain basic care.
Students at Harvard Medical School don their new white coats while learning that there is more to medicine than mastering knowledge. Before beginning their first year, they spend two weeks taking a course entitled, "Introduction to the Profession." It was created and is led by Dr. Treadway, an associate professor of Medicine at Harvard. "We get them to understand that they are no longer just students," Dr. Treadway explains. "They are physicians-in-training, with a whole new set of responsibilities."
While with Dr. Treadway, students are immersed in stories and videos that explore the impact of a physician's behavior on a patient as well as what it means to have an effective relationship with a patient. One video shows a screaming match between an angry father and a doctor who has informed him of his young son's grave diagnosis. After Dr. Treadway and the students talk about that video, they watch a second one in which the physician lets the father vent and calm down. As the two talk, the father reveals that his other son had died the year before.
The students shadow senior physicians who demonstrate exemplary relationships. At night, they e-mail Dr. Treadway journal entries about what they are thinking and feeling. "Their journals are anonymous, but they introduce skills of self-reflection and mindfulness that are the foundation of being a good doctor," Dr. Treadway says.
Communicating Bad News
As the empathy training course concludes, the students interview patients, albeit not with diagnostic questions. Instead, they ask about what it's like to be ill or in the hospital. All are required to ask patients about how they can be better doctors. The resulting advice from patients rarely relates to competence or clinical knowledge. "Instead," says Dr. Treadway, "they hear, 'Be kind. Listen to me. Treat me with respect.'"
Disciplines of self-reflection and mindfulness are reinforced over the next three years through a series of required "Patient-Doctor" courses, which run concurrently with other courses in subjects such as physiology and human disease. In the first Patient-Doctor course, students study interviewing techniques. In the second, they learn how to take a medical history and conduct an exam while respecting patient privacy.
Every spring in the second course, the physician-professors and their students visit a community-based cancer support group. Its members take the role of patients as the students, in three brief role-plays, deliver a progressively more harrowing cancer diagnosis. In the process, students experience the impact of such news on a patient.
Acting as a primary care doctor, the student informs an unsuspecting patient of an abnormal lymph node, introducing the specter of cancer. Next, the doctor must advise the patient that a biopsy confirms lymphoma, requiring chemotherapy. In the third segment, the patient returns some years later with abdominal discomfort, and the doctor must advise that a CAT scan shows recurrence of lymphoma.
"The students don't have to talk a lot because, if they do, the patient won't hear it," says Diane Fingold, MD, assistant professor of Medicine and a Mass General primary care physician who has co-directed Patient-Doctor II with Dr. Treadway for 21 years. Instead, says Dr. Fingold, "They need to communicate that the patient is not alone, that they'll be with them through the journey."
In the third year, work on real hospital wards replaces role playing. At Mass General and three other Harvard-affiliated teaching hospitals, students rotate through a year of clerkships in medicine, surgery, pediatrics, obstetrics and gynecology, neurology, psychiatry and radiology. Students stay at the same hospital so physicians can closely evaluate their emotional and moral growth as well as their medical knowledge and skills.
Intimate mentoring is key to Patient-Doctor III, particularly for third-year students at Mass General.
Reading Nonverbal Cues
Throughout the third year, they meet bi-weekly in small groups with the same two senior physicians. In addition to medical learning, the 90-minute sessions explore challenges students are coping with such as ethical dilemmas, angry patients, dysfunctional medical teams, suffering and death.
"The major thrust of Patient-Doctor III is to help students become healers, not curers," says Dr. Beresin, who leads the course. "They are eager to get on the ward. Then they discover the power and the limits of medicine to save lives. The experience is overwhelming."
"Checking in around the table every two weeks with peers and mentors released a lot of emotion and helped us think through our problems," says fourth-year medical student Tomasz Stryjewski, recalling his tutorial sessions at Mass General.
"A young patient of mine died," he adds. "I struggled with questions of what I could have done to change the outcome. When I told my group, my classmates responded with an outpouring of similar stories. They had been silent about their distress. The sessions taught us to be reflective and frank with our peers. Since then, some of us have formed our own groups to discuss challenging situations on the wards."
The emphasis on reflection also had an impact on Ian J. Barbash, MD, now a senior medicine resident at Mass General. Clinical case conferences typically focus on the science of a patient's diagnosis and treatment. But during his third year of medical school, Dr. Barbash steered one such conference at Mass General down a different path.
"We're going to talk about a 17-year-old patient with incurable liver cancer," he recalls saying. "The first 45 minutes will focus on his disease and treatment. The next 45 minutes will be about the experience of treating a young man who is dying."
During his pediatrics rotation, Dr. Barbash had spent a significant amount of time with the boy and his family. The patient died shortly after returning to his home in New Hampshire. "Caring for the patient and family made me appreciate the magnitude of what we as doctors do and feel," Dr. Barbash says. "Acknowledging how our work affects us — not pretending we're unaffected — is a principle that guides the way I practice and teach today."
At Mass General, caregivers in all disciplines have a resource to help refresh their capacity to handle the emotional challenges of medicine. The only nationwide nonprofit organization dedicated to strengthening the patient-caregiver relationship, the Schwartz Center for Compassionate Healthcare has been an integral part of Mass General since 1997. Founded by a bequest from the late Boston healthcare attorney Kenneth B. Schwartz, the Schwartz Center is known nationwide for its flagship program, the Schwartz Center Rounds. Created by a team of clinicians at the Mass General Cancer Center, the program brings caregivers together on a regular basis to discuss emotionally fraught experiences with patients. Participants who attend multiple Schwartz Center Rounds sessions report that they are more compassionate toward patients and families, experience less stress and feel more appreciative of their colleagues' contributions. Schwartz Center Rounds programs now run in hundreds of hospitals and healthcare settings nationwide.
Countering the assumption that empathy is inborn, the Schwartz Center Rounds program demonstrates that it can be learned, a finding that has also been quantitatively proven by the groundbreaking research of Helen Riess, MD, director of the Mass General Empathy and Relational Science Program.
Toward Skilled Reflection
"Because compassionate care can enhance a patient's well-being whether or not cure is within reach," says Dr. Riess, "clinicians have an ethical mandate to behave in a caring way. Yet caregivers face increasing pressure to perform and document more tasks in shorter periods of time."
An associate clinical professor of Psychiatry at Harvard Medical School, Dr. Riess has developed and tested innovative techniques to enhance clinicians' empathy with patients. She recently distilled her instruction, which draws on neurobiology and physiology, into three one-hour modules that are available as a Web-based course.
In one empathy training lesson, participants learn to read and respond to a patient's nonverbal cues after viewing pictures of a face as it morphs to express a variety of emotions, including fear, contempt and happiness. In another segment, they watch videos and compare the dynamics of two contrasting patient-doctor encounters.
In one empathy training lesson, participants learn to read and respond to a patient's nonverbal cues after viewing pictures of a face as it morphs to express a variety of emotions.
The first presents an ideal patient interaction. Next, they see a tense exam room session while a graph tracks the escalating — and mutual — frustration of the doctor and patient. Participants gain tools to recognize emotions and handle charged encounters. Testing the effectiveness of the training, Dr. Riess conducted a randomized, controlled trial with Mass General residents. Those who took the course gained higher ratings in empathy and patient satisfaction.
Participants included Eli Miloslavsky, MD, a rheumatology fellow at Mass General. "Watching the 'good' and 'bad' patient physician videos, I recognized that the extra several seconds spent on listening and observing can go a long way toward improving the interaction," he says. "Now, I let myself listen and observe rather than think of the next question. That in itself allows more empathy."
Among the grateful veterans of Mass General's Patient-Doctor III training in mindfulness is Monica Hsiung Wojcik, MD, a 2011 graduate of Harvard Medical School. "Reflection is an important skill we carry forward," says Dr. Wojcik, now a pediatrics resident at Children's Hospital and Boston Medical Center. "The earlier we start the better."