Everyone itches. But there's a big difference between a tingle that a quick flick of the fingernail can remedy and a chronic and uncomfortable sensation for which deep scratching only provides temporary relief.
Some of the researchers' most intriguing questions involve how itch connects to the brain . . .
Two Massachusetts General Hospital dermatologists – Sarina Elmariah, MD, PhD, and Ethan Lerner, MD, PhD – are exploring the intricacies of that difference. In addition to better understanding itches from a patient perspective, their goal is to find more effective treatments, which turns out to be far more complicated than is commonly thought. Indeed, some of the researchers' most intriguing questions involve how itch connects to the brain and whether and how interrupting that connection might bring relief to patients.
For years, the itch was regarded as a nuisance with uncertain causes and few effective treatments. But Mass General's physician-researchers have a reputation for zeroing in on problems, especially when they seriously impact the health and well-being of patients like James Carlton, 82, of Sudbury, Mass.
James came home with a persistent itch after visiting his son in California in 2016. It spread from his arms to his abdomen, back and legs. He began waking up at night to scratch.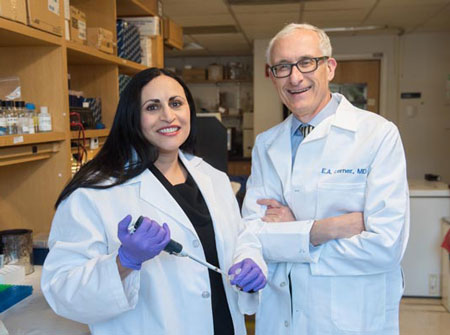 Looking at the Long Term
At Mass General, Dr. Elmariah determined James is allergic to propylene glycol, a synthetic organic compound that's used in a wide array of consumer products, including prepared foods. James also has to refrain from red wine and shellfish because both contain the preservative sulfite, another irritant. He began taking an immunosuppressant for relief.
James still itches throughout the day but not as frantically. He accepts Dr. Elmariah's advice that treatment will probably be a long path of trial and error.
"The key is to establish trust and earn respect," Dr. Elmariah says of treating such itch patients. "I might not be able to get the bottom of it right away but I will be doing what I can for the long term."
That's why, at Mass General, researchers like her and Dr. Lerner are trying to track such perplexing itches back to their very source.
Dr. Lerner says the view that itching is not a serious health problem fails to consider how chronic itching disrupts lives and livelihoods.
All Itching Not the Same
Of course, all itching is not the same. An itch can be a symptom of a skin disease, such as eczema or psoriasis. But itches can also signal problems far from where the patient is actually scratching. Kidney failure and certain liver conditions can spark itches. Itching also bothers lung cancer patients, and it might be an early sign of Hodgkin's lymphoma.
Despite those known connections between diseases and the skin inflammation that spawns itching, sympathetic doctors are still often puzzled by the exact origins of a patient's itch. Historically, they have had few helpful treatments to offer, save for antihistamines that might bring some temporary relief but fail to target the underlying cause.
Dr. Lerner heads a laboratory focused specifically on itching at Mass General's Cutaneous Biology Research Center. Part of the Department of Dermatology, the center's researchers aim to advance treatments and technologies that produce healthy skin and prevent diseases related to aging, cancer and inflammation.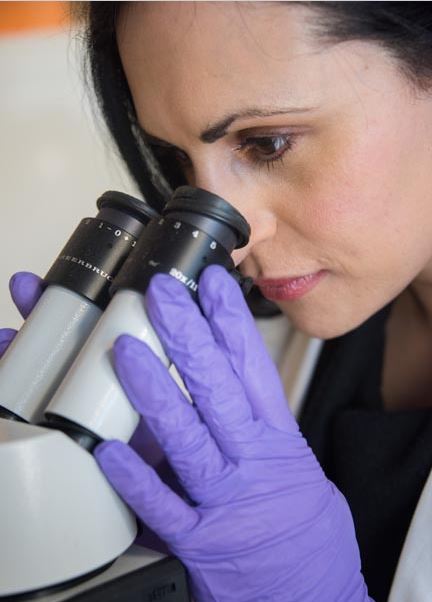 But Dr. Lerner's specialty is the itch. In 2013, he helped organize the 7th World Congress on Itch, in Boston, which drew 240 attendees from 17 countries.
The Neurology Connection
Dr. Lerner says the view that itching is not a serious health problem fails to consider how chronic itching disrupts lives and livelihoods. Sufferers can't sit still at home or work. They avoid socializing, and in some cases experience mental anguish. Some patients lose the will to live. "Itch has a tremendous impact on their social interactions. They can't concentrate, can't sleep. Some get divorced. They are consumed and no longer themselves," he says.
Medicine is starting to take the itch more seriously. That's largely because of the growing understanding of the relationship between neurology and itching. "It should not be surprising to us that the nervous system has an effect on the skin," Dr. Lerner says. "It has an effect, after all, on the heart, lungs, muscles and kidneys."
It's not an entirely new concept that the nervous system contributes to inflammatory skin diseases, but in recent years, researchers' understanding of the connection has deepened.
Mass General Momentum
Sensations such as cold and pain are communicated to the brain via tiny receptors in the skin. Signals from those receptors move through the sensory nerves to the spinal cord and then the brain. For many years, researchers thought the sensation of itching was a very mild form of pain but, beginning in the late 1990s, they discovered that some of the receptors in the skin reacted specifically to itchy substances.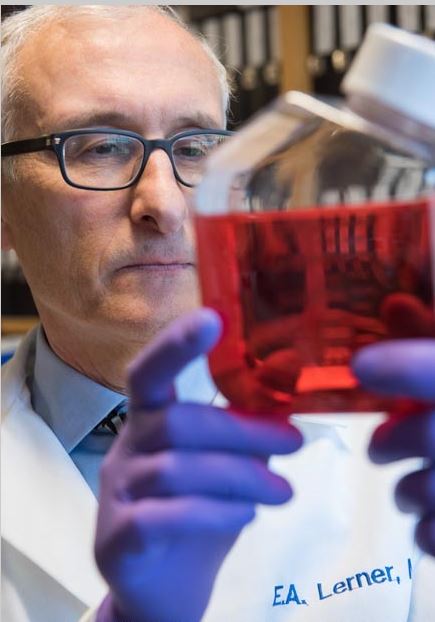 Progress at Mass General began to gain momentum in 2007, when Dr. Lerner's laboratory set out to determine what makes itching powder itchy. It was a fascinating approach since itching powder is a substance applied to the skin of an unsuspecting person as a prank or practical joke. Its active component is mucunain, a type of protein that the Mass General lab determined was a protease. Proteases break apart proteins to help digestion, blood clotting and other metabolic functions.
The Mass General researchers then asked whether there is a protease in the human body that behaves like mucunain. There is. It's called cathepsin S and, when put onto the skin, it has an effect similar to itching powder.
The Mass General team found that cathepsin S turns on a receptor in skin cells. It's called MRGPRX2. When activated, the receptor initiates a signal that's sent via the nervous system from the skin to the brain, which leads to the sensation of itch. The team found that other itchy things also use this receptor.
Those findings drive the lab's current quest to determine whether blocking the activation of MRGPRX2 – that is, blocking the signals that travel along a nerve to lessen or eradicate the skin inflammation associated with itching – can lead to a drug that prevents or relieves the sensation of itch. Various methods can be used to block a nerve signal, including the injection of a local anesthetic.
In 2015, Drs. Lerner and Elmariah – along with Ehsan Azimi, MD, a postdoctoral fellow at Mass General – published a study in the British Journal of Dermatology that highlighted the need to intentionally block nerve signals to reduce itching.
"In 10 years, we will have new treatments and new strategies," Dr. Elmariah vows. "We are dermatologists. We own this symptom."
Targeting Effective Therapies
Two new patent applications suggest that Drs. Lerner and Elmariah indeed have the understanding of itch in their sights, and that's why they'd appreciate the public's help. Through charitable giving, they would like to create an expanded itching research hub at Mass General, one that would combine related clinical care and research under one roof. In addition to treating patients, such a center would include a biobank that would collect and study patients' tissues with the goal of better targeting effective therapies.
For her part, Dr. Elmariah is confident that Mass General researchers and physicians will continue to help lead the way on itching. "In 10 years, we will have new treatments and new strategies," she vows. "We are dermatologists. We own this symptom."
To learn more about how you can support itching research at Mass General, please contact us.