A heart floats in the container held by Harald Ott, MD, of Massachusetts General Hospital. It looks and feels like a normal heart just beginning to contract, but this one is a regenerated organ, made using a process that the thoracic surgeon hopes will save the lives of people whose organs have failed and need replacing.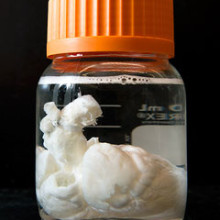 "Each of us has a 20 percent chance that during our lifetime one of our organs will fail," says Dr. Ott. We face an epidemic of end-organ failure, yet there is also a severe shortage of donor organs. Many waiting patients never get a transplant in time. And those who are fortunate to get an organ must remain on powerful immunosuppression medicines for life to stop their bodies from rejecting it
Motivated by the suffering he sees in his patients, attached to oxygen tanks, struggling to take a breath, Dr. Ott has focused the research in his Mass General laboratory for organ engineering and regeneration on finding options. About 10 years ago he discovered a method of essentially refurbishing organs that were otherwise not suitable for transplantation. In a series of dramatic findings reported since then, he has demonstrated that he can clean an organ of all its cells and use what's left as scaffolding for new functioning tissue that can be regrown from a patient's own stem cells. Because they are created by using a patient's own cells, such regenerated organs won't be rejected as foreign tissue by the body.
Path Toward Regenerated Organs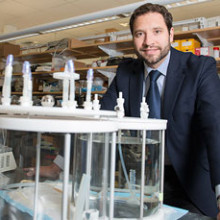 Dr. Ott's research builds on a long history of advances in tissue engineering at Mass General, pioneered by Joseph Vacanti, MD, along with Robert Langer, PhD, of the Massachusetts Institute of Technology. Very simply and elegantly, Dr. Ott's method leapfrogs over major stumbling blocks encountered in the 30-year-effort of scientists to artificially build functioning organs from scratch. Much effort has gone into creating three-dimensional artificial scaffolds and the blood vessel network essential for organs to function. Dr. Ott's cleaned organs are a natural scaffold complete with channels already in place for reconnecting to the body's bloodstream.
"These organs are so much like a real one that eventually the body should be able to maintain it," Dr. Ott says. They've demonstrated in animal models that the new heart can beat, a lung can exchange oxygen and a kidney can produce urine.
Principle Proven, Now on to Humans
He and his colleagues have recently scaled up their technology to work with human organs. With the lung, they are now at the stage of seeding human lungs with human cells. With the heart, they are also seeding human hearts with human cells. The kidney requires further work before they reach the stage of using human organs.
What at the beginning was Dr. Ott's "crazy idea" has sparked a new field of organ regeneration using the organs themselves as scaffolds.
What at the beginning was Dr. Ott's "crazy idea" has sparked a new field of organ regeneration using the organs themselves as scaffolds. There are many remaining hurdles, however, and Dr. Ott acknowledges that an attempt to actually transplant one of these organs in a person is perhaps a decade away. "But even if we don't get all the way to a fully functioning heart," he says, "I am optimistic that we may be able to regenerate parts for repairs, such as a heart valve or the trachea of the lungs."
He also anticipates other uses for these organ regeneration techniques in the interim. Human organ cells can be used to test new medications for therapeutic effect. His lab is also collaborating on an effort to use his techniques to personalize the treatment of lung cancer. If a patient has a cancerous portion of his lung removed, his lung cells can be grown in the lab and used to test treatment responses. "That way if we learn that the patient's lung cancer is resistant to x, y or z therapies, we can jump right to a treatment that his cancer does respond to," Dr. Ott says.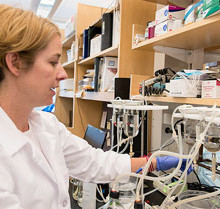 Plans to Speed Progress
Another advantage of using a regenerated organ is its potential to grow with a child. "The sad reality is that we can't implant heart valves that grow with a child and they need surgery again and again," Dr. Ott explains. A big effort in his laboratory is to better understand the biology enabling growth. By generating organ tissue as close to real tissue as possible, the organ may grow as well as function.
To create the infrastructure necessary to bring this research on regenerated organs as quickly as possible to patients, Dr. Ott would like to launch a Center for Organ Regeneration at Mass General. "We have 20 stellar researchers working in my lab now, but I would like to expand and bring in additional expertise," he says. With more stem cell experts and researchers working exclusively on the heart or the lung and other organs, progress can be accelerated.
"Every day I see patients suffering, which underlines the urgency," Dr. Ott says.
Philanthropic support is essential to make his plan to help them with regenerated organs a reality. To learn more about how you can support Dr. Ott's research into regenerated organs, contact us.