Several months after learning she had a rare and life threatening cancer, Diane Redington decided to stop dwelling on the disease. She believed the best way to fully live life was to start an ambitious fundraising and educational campaign focused on finding a cure.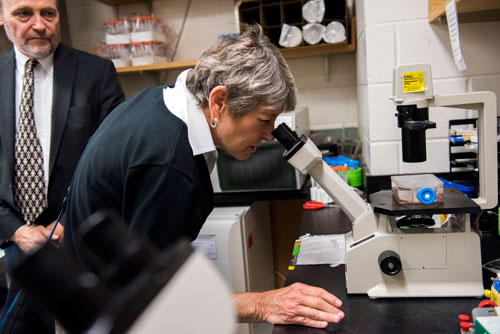 Diane has gynecological carcinosarcoma (also known as GCS), a uterine-ovarian cancer that, because of its rare nature, has not been the subject of much medical research. But that changed in April 2016 – a full year after Diane's diagnosis and six months after her epiphany. She detailed her new mission to her oncologist, Michael Birrer, MD, PhD, director of Medical Gynecologic Oncology at the Massachusetts General Hospital Cancer Center.
Diane, a nurse-practitioner, told Dr. Birrer, who also heads the Mass General Cancer Center Gynecologic Oncology Research Program, that she was frustrated by the lack of GCS research. She asked how to reverse that trend. Dr. Birrer had a one-word answer: "Money."
Targeting a Mysterious Disease
That's when Diane, a 64-year-old Park City, Utah, resident, started the GCS Project, a non-profit initiative that has raised $230,000 and quickly elevated the profile of the mysterious disease that affects the uterus, ovaries and fallopian tubes.
Because of Diane's efforts, Dr. Birrer has received messages from similarly diagnosed women around the world. And, even though Diane is still raising money to reach the GCS Project's initial $300,000 goal to finance research, Dr. Birrer and his team have already started two research efforts that are enabling them to better understand GCS and consider drugs that can potentially treat it.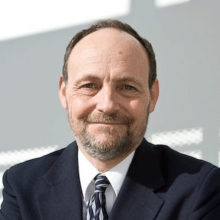 "We occasionally have patients' families step up with fundraising and awareness, but even in that context, Diane stands out as a remarkable person," Dr. Birrer says.
Research Aims to Uncover GCS
Fewer than 1,000 women are annually diagnosed with GCS, traditionally making it an overlooked candidate for research and new therapies. In comparison, more than 240,000 women are diagnosed each year with breast cancer. GCS is typically discovered after it has spread beyond the first affected organ; Diane was diagnosed at stage IV.
After learning she had GCS and conducting extensive web research, Diane believed she had only six months to live. Two years later, her condition has hardly changed. She's in relatively good health, fueling her determination to raise funds and explain the science of GCS on her website so that other women with the disease won't have to see only the phrase "rare and deadly tumor" as she often did.
Thanks to the website, Dr. Birrer has been able to run DNA and RNA sequencing on nearly 60 tumors, including Diane's.
Indeed, the GCS Project website is an understandable and insightful resource. Diane relays her history with GCS, and thoroughly and plainly explains the disease. She also details Mass General's research projects with succinct summaries and videotape interviews with Dr. Birrer and his team. Diane also asks others with GCS to donate tissue samples.
Because GCS is rare, collecting samples was difficult until Diane spurred action. Thanks to the website, Dr. Birrer has been able to run DNA and RNA sequencing on nearly 60 tumors, including Diane's. The sequencing, one of the team's two research projects, looks at what kind of molecular changes a gynecological carcinosarcoma tumor undergoes, Dr. Birrer explains.
Raising Funds and Hope
Early data from the second research project shows how the packaging of chromatin – a complex of DNA and proteins that forms chromosomes – is abnormal in carcinosarcoma tumors, Dr. Birrer told Diane in an interview she offers on the GCS Project website. This research holds the hope of treating GCS with chromatin remodeling drugs, rather than the current practice of giving patients drugs for other cancers, such as a typical ovarian cancer, that aren't always effective.
To illustrate how much about GCS is unknown, Dr. Birrer says that it's uncertain where Diane's tumor started. What is known, he says, is the relapse-return rate for GCS is high.
"My feeling is: They're curing other cancers. Why not mine?" Diane says. "The cure might be right in front of us."
Diane credits her husband, Roy Buchta, their son, Matthew Buchta, her six siblings and large network of friends with providing emotional support. Family and friends contributed the first $150,000 to the GCS Project. Diane also formed a friendship with Holly Dunn before the country singer died from GCS in 2016. Holly Dunn's family donated memorial funds to the GCS project, and a fundraiser for her was held in Tennessee on March 30 to support the initiative.
Every cent donated to the GCS Project will go toward research at the Mass General Cancer Center; Diane and her family pay for website operating costs. "My feeling is: They're curing other cancers. Why not mine?" Diane says. "The cure might be right in front of us. We just need to throw money at it."
To learn more about how you can support Dr. Birrer's research, please contact us.