Two weeks before attending Columbia University School of Social Work, Tangley Campbell Lloyd was visiting family in Winnetka, Illinois. While at the local library, she learned that in the late 1800s, her great grandmother worked at Hull House on Chicago's Near West Side. She worked alongside Jane Addams, the pioneer of modern social work in the U.S.
Whether that discovery preceded or merely reinforced Tangley's decision to follow a career of caring is unclear. But one thing is certain: despite encountering major bumps in the road of her life's journey, the pressing need and deep desire to help others is in Tangley Lloyd's DNA.
Mrs. Lloyd's passion for caring and strong sense of family inspired her creation of the Demarest Lloyd, Jr. Foundation. That same passion also begins to explain the foundation's recent gift to support pioneering research at Mass General in the genetic and environmental influences on mental illness.
Honoring Demarest Lloyd, Jr.
Tangley idolized the father she never knew, who was killed in action during World War II when she was just an infant. When she was 32, Tangley set up the Demarest Lloyd, Jr. Foundation in his memory, and became its chairperson and sole contributor. "The Foundation is my way of making my father happy if he were here on earth," she says.
Her passion for caring led her to Columbia "to get a second start" after having been married and raising two children. After earning MSW and LCSW degrees, Tangley worked at several organizations, including the Burke Institute in White Plains, which served people suffering from brain trauma, post-traumatic stress disorder, cardiac problems and stroke. Tangley then established herself as an independent psychotherapist for children and families.
"I love social work because it supplies the tools to link families to critically-needed resources. That aspect makes psychotherapy not only my career, but also my love and my passion." It's also a practice she extends by volunteering with the Red Cross as a disaster mental health worker.
"I've felt so cared for by the physicians at MGH," she adds. "They're concerned about so much more than prescribing a med."
Interest in Child Psychiatry
Although she has always held Mass General in high regard ("My maternal grandfather always advised, 'If you're sick, go to MGH!'), it was the experience of her daughter Demarest "Demi" Isenstadt and her grandson Henry that forged strong links between the Lloyd family and the Department of Psychiatry. With a home near Boston, all three of Demi Isenstadt's children were born at MGH. Despite "smooth sailing" with her first child, Demi's second child Henry had challenges. Afflicted with digestive and behavioral issues from infancy, he was diagnosed at age six with ADHD, combined type, and was referred to Timothy Wilens, MD, MGH chief of Child and Adolescent Psychiatry.
"Dr. Wilens charted a path and reassured us that, although complex, Henry's case is solvable, and that put our minds at ease. Now, three years since the diagnosis of ADHD, Henry is having his best year yet," says Demi, "and our fears about personality effects from medications are unfounded because Henry has remained true to himself.
"I've felt so cared for by the physicians at MGH," she adds. "They're concerned about so much more than prescribing a med. When I've needed to speak with our pediatrician, Dr. Qian Yuan or Dr. Wilens about anything, they've always been there to listen and help. There's such a human side to each and every one of the doctors at MGH, and parents need that type of care, too."
Lightening Strikes
Her relief in knowing Henry was in good and capable hands at MGH inspired Demi to help start the MGH Food Allergy Center at MassGeneral Hospital for Children (MGHfC), serve as the first member of its parent board and help host a range of events for patients' families.
It wasn't long before Demi's involvement piqued Tangley's curiosity in MGH, and, eventually, the foundation's involvement. "My interest has always been children and the underprivileged," says Tangley. "Prior to seeing Henry's problems and witnessing the amazing care he has received at Mass General, I typically looked for the foundation to help smaller organizations that were not well-known, such as the first Fresh Air Fund and those involved with domestic violence and abuse," she explains.
"But lightning strikes in everyone's life," she says, "and personal experiences lead you to a path that's different."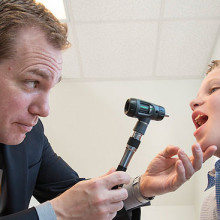 Shift Toward Research
One such bolt struck 10 years ago when Tangley was diagnosed with primary amyloidosis – an extremely rare and often fatal blood disease. The research-driven treatment protocols that resulted in a stem cell transplant saved her life.
"I'm a living miracle – a testament to medical advances through research," she asserts, citing that experience as the primary reason for changing the direction and focus of the family foundation toward research. "Both Demi and I are convinced that research is essential to improving health outcomes, and is where the funding needs to go."
At MGH, the Demarest Lloyd, Jr. Foundation has contributed funds to support work in food allergies conducted by Wayne Schreffler, MD, Dr. Yuan and Dr. Wilens' study of fish oils as a supplement in the treatment of ADHD.
Witnessing Surgery in Colombia
Tangley also somewhat famously won the bid at the MGHfC Storybook Ball auction in 2014 to fund, fly and accompany MGH chief of Plastic and Reconstructive Surgery William Austen, Jr., MD, in the operating room of a hospital in Cartagena, Colombia, where he and his team performed surgery on children with cleft palate and lip.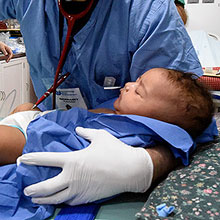 "Demi and I were in scrubs and gowns in the O.R. watching Dr. Austen perform surgical procedures that immediately change the trajectory of a child's life. After some of these, we held the children in our laps, and we could see hope in their eyes. When I returned home, the photos I showed to a Colombian friend brought him to tears of joy."
In June 2014, Tangley and Demi accepted invitations to join the MGH Leadership Council for Psychiatry, which is dedicated to expanding awareness of mental illness, diminishing its stigma, and advancing research and clinical care through the work of the department.
Deepening Involvement
"The Leadership Council helped us become more closely involved," says Demi. "It is so rewarding to see all the new and innovative efforts going on at MGH, and it also demonstrates the importance of philanthropy in supporting these initiatives."
"I know passion when I see it, and everybody at MGH from the top down has it. They all do amazing work and we're honored to help them."
At the council meeting in Palm Beach last February, Tangley heard Jordan Smoller, MD, ScD, speak about his research in genetic risk and resilience factors associated with mental illness. "I was so knocked over by his research proposal and what he and this amazing group of people are zeroing in on that I literally came out of my chair in support."
The research proposed by Dr. Smoller and his colleagues seeks to apply advances in genomics and bioinformatics to identify both the genetic and environmental risk profiles associated with mental illness and the resilience profiles of people at higher risk who do not develop a disorder. Achieving those aims would represent a key advance in developing personalized medicine for psychiatry.
"The 'heart' that MGH shows really hits home to me as a therapist," Tangley says. "I know passion when I see it, and everybody at MGH from the top down has it. They all do amazing work and we're honored to help them."