Inspired by her early experiences in countries without adequate medical care, Richelle Charles, MD, an infectious disease specialist at Massachusetts General Hospital, is developing a new, portable device to quickly diagnose life-threatening typhoid fever.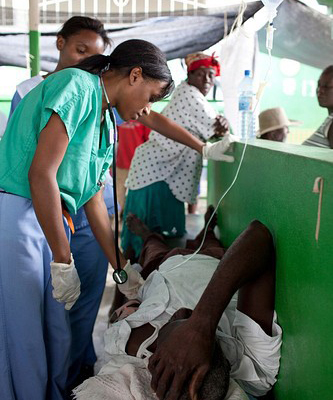 Typhoid fever causes a severe illness with fever, headache and abdominal pain. It is caused by bacteria often found in areas with unclean drinking water. It can be deadly. Typhoid fever and similar diseases, like cholera, pose an immense challenge in the developing world where sanitation is poor and medical resources are lacking.
Diagnosis is complicated. Even in the United States, where approximately 5,700 typhoid fever cases are identified each year, it takes several days and the use of sophisticated equipment to confirm a diagnosis.
No Good Rapid Tests
"The big problem is that there are no good rapid tests," says Dr. Charles, a physician at the Mass General Division of Infectious Diseases.
"The tests we have for infectious diseases are impractical in the developing world where these infections are most common," says Stephen Calderwood, MD, the division's chief. He has served as a mentor to Dr. Charles for her research in medically underserved regions of the world.
Dr. Charles became interested in diagnosing infectious disease while working in Kenya earlier in her career. She saw a woman whose symptoms suggested typhoid fever. But there was no quick test that could confirm her suspicion. The same symptoms are common to other bacterial infections.
Typhoid fever and similar diseases, like cholera, pose an immense challenge in the developing world where sanitation is poor and medical resources are lacking.
Fighting Typhoid Fever
She gave the woman a standard course of antibiotics that treats typhoid fever and similar diseases. Two days later, the patient died, still with no clear diagnosis.
The memory has stayed with Dr. Charles. "In some areas of the world, doctors have that uncertainty all the time," she says. "So working to make a better diagnostic test was one area where I wanted to contribute to the field."
To find a solution, she teamed up with Ralph Weissleder, MD, PhD, director of Mass General's Center for Systems Biology. They are working with colleagues to develop an inexpensive device, slightly larger than a mobile phone, that can diagnose typhoid fever. Devices to diagnose cholera and other infections are also in the pipeline.
Called "micro-NMR," the technology uses nanoparticles — tiny magnetic beads coated with DNA strands that recognize and bind to the target, complementary DNA strands of the typhoid bacteria. Currently being tested, the device is designed to instantly confirm the presence of the typhoid bacteria in a blood sample.
Childhood Experience Guides Work
The seeds for Dr. Charles' work were planted during childhood. Growing up in a middle class home in Maryland, her family often traveled to visit family in Trinidad. She saw relatives there suffer from the lack of medical care.
On one trip, her twin sister took ill and was hospitalized. "They didn't have enough beds so she was in a crib at the age of eight," she recalls. "There was not enough nursing staff. She had no one to take care of her."
Her sister survived but the experience set her on a path to medical school and eventually to Mass General. She looked for opportunities to work in underserved countries. Dr. Charles was one of the first responders to go to Haiti during the cholera outbreak that followed the 2010 earthquake.
Support for Infectious Disease Research
Infectious disease is best studied where it is most prevalent, says Dr. Calderwood. He co-directs research collaboration on cholera and typhoid with the International Center for Diarrheal Disease Research in Dhaka, Bangladesh. Dr. Charles has joined him there to study cholera, typhoid fever and other diseases.
"Unlike heart disease or other conditions, infectious disease travels. We see it all the time in people who travel here to the U.S.," he explains. "We need to be able to recognize it and treat it."
Needing funding for her work, Dr. Charles has been awarded a variety of small grants in recent years including one from the Transformative Scholars Program in the Department of Medicine, which provides the opportunity for outstanding young physician scientists at Mass General to pursue innovative, high impact work.
The need for philanthropic support for infectious disease research remains high, Dr. Calderwood says. "We can't go everywhere around the world to solve everything but this is one area where we can make a very large difference," he says.
For more information, or to make a donation, please contact us.