Extraordinary. Courageous. Outstanding. Powerhouse. Proud.
These were just a handful of the words repeatedly used to describe Massachusetts General Hospital and its staff on July 21, 2015, as employees, supporters, public officials and honored guests gathered in the Bulfinch tent to celebrate the news that Mass General had been named #1 in the nation on the U.S. News & World Report 2015-2016 Best Hospitals list.
The report recognized MGH in all 16 of the specialties ranked by U.S. News & World Report, the only hospital in the country to receive this honor.
The heat and humidity of the day did not deter attendees, and MGHers packed the Bulfinch tent to formally celebrate the announcement.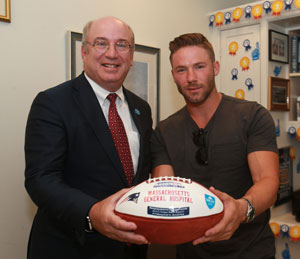 Leadership and Commitment
President Peter L. Slavin, MD, served as master of ceremonies. He pointed out that the magazine survey is the hospital report card most widely known by the public and healthcare organizations. In introducing Jeffrey Flier, MD, dean of Harvard Medical School, Dr. Slavin emphasized the importance of Mass General's relationship as Harvard's oldest teaching hospital.
David Torchiana, MD, president and chief executive officer of Partners HealthCare, credited Dr. Slavin for his leadership and commitment to the hospital. Henri Termeer, MGH board member and former president and CEO of Genzyme Corp., emphasized his tremendous confidence in Mass General as an organization, particularly with its careful attention to evaluating quality and safety.  Also speaking was Greg Pauly, acting CEO and chairman of the Massachusetts General Physicians Organization.
A Champion's Visit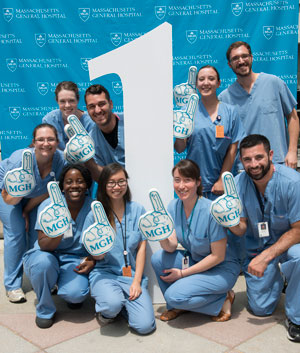 Several officeholders from Massachusetts sent congratulations including Gov. Charlie Baker, Boston Mayor Martin Walsh and Secretary of State John Kerry, Sen. Elizabeth Warren and Sen. Edward Markey. State Senate President Stanley Rosenberg and Speaker of the House Robert DeLeo presented honorary citations. Gratitude was a common theme. Many of the policymakers who spoke or wrote were patients themselves or had loved ones who received care at Mass General.
To the excitement of all in attendance, one final special guest appeared as well. Running into the tent and tossing a football to Dr. Slavin was New England Patriot Julian Edelman.
Working with the Best
"It seems only suitable for the #1 champions of football to present to the world champions of hospitals," Mr. Edelman said, as he presented Slavin with a special football on behalf of the Patriots and the Kraft family. "We're just here to say congratulations to your team," the Patriot standout said. "It's an unbelievable accomplishment."
After the ceremony, smiling and excited employees gathered on the patio to enjoy further celebratory festivities. "We are, because you are" commemorative cookies were handed out. MGHers lined up for some fun at the two photo booths, posing with MGH #1 foam fingers, a 6-foot tall "1" and white boards that they used to write personal tributes to Mass General.
"Thank you for all that you do day in and day out," Dr. Slavin told celebrants at one point. "I'm proud to call myself an MGHer and I'm proud to work with such wonderful people. Congratulations to the #1 staff at the #1 hospital."