Mass General is excited to announce the launch of BeCause: The Mass General Fundraising Community. This group of friends and supporters has raised more than $4 million to support the hospital by organizing and participating in events, social gatherings and online campaigns.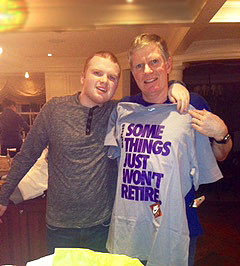 The program offers a social fundraising website and online toolkit that make it easy for fundraisers to share their story and raise money for their cause.
For the past 17 years, Bob Forlenza, a Boston-area investment executive, has been organizing a basketball tournament known as The Full Court Charity Challenge to support the Lurie Center for Autism at MassGeneral Hospital for Children, where his son is a patient. The event has raised nearly $1.5 million to support the Lurie Center.
"Seeing the expansion of services over the years and the incredible research taking place at the Lurie Center today, I feel great about playing a small part in making that happen," Mr. Forlenza says.
Mr. Forlezna is among the hundreds of BeCause Fundraising Community members who have been inspired by their experiences at Mass General and are motivated to take action. From cancer care to autism, around 300 unique causes have benefited from fundraisers' valuable support.
Help us get the word out to patients and their families! Every penny raised can go directly to the cause of their choice. Community fundraising helps to drive discoveries in clinical research that can transform patient care.
To learn more about fundraising for Mass General, visit because.massgeneral.org or contact us today.