Many research studies confirm that illnesses treatable by surgical interventions remain a top killer of the world's most vulnerable populations. According to a recent estimate, 13 percent of the world's disability is due to surgically treatable conditions. Despite this research, surgery has long been a neglected area of global health. In fact, studies show that more than 2 billion people worldwide lack access to basic surgical care.
In order to alleviate this unnecessary suffering, Massachusetts General Hospital's Department of Surgery is working in collaboration with the Mass General Center for Global Health in Uganda, Liberia, Colombia and many other developing nations. With the support of the MGH Fund, our multidisciplinary teams travel to these countries to help strengthen healthcare infrastructure and provide medical and surgical care to those in need.
Developing a Sustainable Model for Global Surgery
In response to the recognized need for surgical services in under-resourced settings, Mass General has recently launched the Global Surgery Initiative. This innovative program aims to harness the teaching skills and experience of our surgical faculty and our Harvard Medical School/Mass General surgical residents to teach surgeons in foreign countries to refine their clinical skills and finally to become trainers themselves.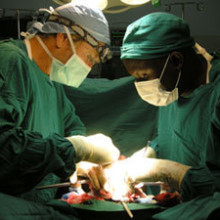 "Traditionally, U.S. surgical missions last one to two weeks," says James C. Cusack, MD, director of the Global Surgery Initiative. "Visiting surgeons tend to operate on patients for a brief period of time and then return home, without leaving behind much expertise or training." In these scenarios, health care workers are unable to expand care for new patients. "But today," he continues, "the Global Surgery Initiative is redefining this old model in an effort to train surgeons in-country, thereby creating a more sustainable model for advanced surgical care to be passed down from one generation of surgeons to the next."
Training and education are extremely important in developing nations, where there are so few health care professionals – and even fewer surgeons. According to research estimates, there is only one surgeon per one million people in Africa.
"We are creating a more sustainable model for advanced surgical care to be passed down from one generation of surgeons to the next," says Dr. Cusack.
"In Uganda, there is such a severe nursing shortage that family members become 'attendants,'" says Johanna Riesel, MD, general surgery resident at Mass General. "They clothe, feed, bathe, turn and monitor their loved ones. Many countries we work in also lack resources, so providers need to be creative and very flexible."
Ensuring Culturally Competent Practices
When training old and new generations of surgeons, Global Surgery Initiative residents and faculty adapt to their practices that are culturally sensitive – our teams learn from our peers, communicate effectively and develop trusting relationships with surgeons and health care workers in-country. Our goal is to work with what they have to fulfill their needs.
"While we may know more about effective surgical technique," explains Dr. Cusack, "we may know little about the traditional herbal medication the patient is taking, the food they are eating or the local customs. This data are all critical in diagnosing and treating illnesses, and without this knowledge, we cannot achieve optimal outcomes from the surgical procedures we perform."
"We see surgery as the next focus of global health care," says Dr. Cusack.
As Dr. Riesel states, "When we are in a foreign country, we are guests."
Looking to the Future
In collaboration with the Mass General Cancer Center, the Global Surgery Initiative is working with the Uganda Cancer Institute and the Mbarara University of Science and Technology to develop a national referral cancer center to serve approximately 11 million Ugandans. In Uganda, there are more than 27,000 new diagnoses of cancer per year. Sadly, these diagnoses are frequently made once the cancer is too far advanced for any treatment to be effective. More than 21,000 people in Uganda die from cancer annually, so this initiative is desperately needed.
The initiative's goal is to help more Ugandans get screened for cancer, ensuring earlier diagnoses and faster access to medical care and possibly lifesaving surgery.
"We see surgery as the next focus of global health care," says Dr. Cusack. "Through our work, we hope to help those people suffering from diseases that are treatable by surgery, especially in countries without well-established health care."