Professional disaster responders from Massachusetts General Hospital are on the ground in Haiti and the southern United States, helping victims of Hurricane Matthew recover from its devastation.
The powerful storm recently cut a wide swath of destruction through the Caribbean and parts of the United States, leaving more than 1.3 million people in need of assistance in all forms. The hurricane was especially devastating for Haiti, with predictions that deaths on the island nation could tragically climb above 1,000. The storm has left many more without the basic needs of shelter, food, water and care for injuries and illnesses such as cholera.
Five Mass General staffers are part of relief efforts in Haiti and ten more have been dispatched to areas of need in this country.
Mass General leaders say more well-trained volunteers from the hospital are ready if relief organizations ask for additional help. They emphasize that the related needs of Matthew's victims are likely to stretch far into the future.
Hurricane Matthew Impacts
"It's important to remember that we need to help people recover from this event now, but also in the days, weeks and months to come."
"The consequences will be far-flung," said Hilarie H. Cranmer, MD, MPH, director of the Office of Disaster Response, at Mass General Global Health. "It's important to remember that we need to help people recover from this event now, but also in the days, weeks and months to come."
In addition to relief efforts in Haiti, the federal DMAT MA-1 (Disaster Medical Assistance Team for Massachusetts) team has been deployed to areas in this country that were hit particularly hard. The Mass General Center for Disaster Medicine, led by Paul Biddinger, MD, works closely with federal agencies on such efforts.
To aid in the response to Hurricane Matthew, the Mass General Development Office has activated an emergency response fund that is used to provide social services support for emergency care, disaster relief and disaster preparedness training. Donations are being accepted online.
Supporting our Neighbors
"It is essential to think about supporting our neighbors in times like these and the simplest, most efficient and most direct way to do that is through money," said Dr. Cranmer, whose disaster relief experience includes running a field hospital in Haiti following the massive 2010 earthquake that killed hundreds of thousands and left many more in need of aid. "Mass General has a long tradition of supporting our neighbors who are in need through both direct contributions as well as by supporting staff and programs that continue the ongoing work with these affected communities."
Internist Lynn Black, MD, who has been active in many global relief efforts, was one of the first Mass General staffers to reach Haiti after Hurricane Matthew struck. She did so with the St. Boniface Haiti Foundation, which operates a hospital in hard-hit southern Haiti. Dr. Cranmer said Dr. Black's presence reflects the boots-on-the-ground approach that is essential for rapidly assessing needs in the first hours and days after a disaster. Such evaluation is critical to planning the next phases of relief, she added.
"The situation we found there was absolutely horrific and much worse than we thought," Dr. Black emailed colleagues back at Mass General soon after arriving in the storm-battered town of Les Anglais, located in the hot zone of impact on the southwestern tip of Haiti.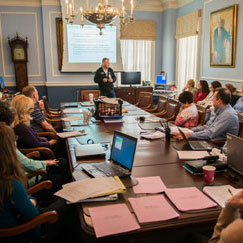 "The shelves of medications are virtually bare with not even gauze for bandages left," Dr. Black wrote. "They have had 25 cases of cholera and five deaths since Tuesday, including a man who was brought in dead while we were there."
Other Staffers Deployed
In Haiti, several other Mass General staffers are joining relief efforts through humanitarian organizations with whom Mass General has worked in the past. Naima Joseph, MD, OB/GYN and Joy Williams, NP, Radiology, are being deployed with International Medical Corps. Mass General staffers set to join a team with Project HOPE are Maya Ginns, NP, Internal Medical Associates, and Lindsey Martin, NP, SICU.
Ten Mass General volunteers are being deployed in this country via the federal DMAT MA-1. They are Lisa Anahory, RN, ED; Paul Biddinger, MD CDM/ED; Ellen Blanch, RN, SICU; Allison Curtis, RN, SICU; Robert Droste, RN, Burn ICU; David Mather, CDM; Craig Nally, PA, ED; Jacky Nally, RN, CDM; Eileen Searle, RN, MGH Institute; and Monica Staples, RN, CDM/ED.
Intensive Planning and Preparation
Backed by intensive planning and preparation, Mass General disaster response teams have a long history of responding to such catastrophes.
Backed by intensive planning and preparation, Mass General disaster response teams have a long history of responding to such catastrophes.
In the United States, Mass General professionals joined recovery efforts following Hurricanes Katrina and Rita, which affected the Gulf Coast in 2005, and Hurricane Sandy, which hit metropolitan New York and New Jersey in 2012. They acted in their own backyard after the Boston Marathon bombings in 2013.
After the 2010 Haitian earthquake, nearly 100 Mass General volunteers helped care for the injured, establish field hospitals and respond to a massive outbreak of cholera. In 2013, Mass General volunteers went to the Philippines after Typhoon Haiyan killed thousands and displaced about 600,000 people. In 2015, Mass General staffers represented more than 10% of the registered emergency medical responders in Nepal after its devastating earthquake in 2014.
Please make a donation to help the victims of Hurricane Matthew and support Mass General disaster-response programs that train and prepare medical professionals to aid communities in recovering from such disasters.