For just about most of her life, 10-year-old Olivia Silva has dealt with the pain and uncertainty of a brain tumor.
Despite lengthy chemotherapy treatments and other complications, Olivia has remained cheerful and optimistic …
Despite lengthy chemotherapy treatments and other complications, Olivia has remained cheerful and optimistic, inspiring those around her.
"She's totally the type of child who will not complain about it," says Olivia's mother, Stephanie Rosa. "Unfortunately, she doesn't know anything else. She doesn't even remember her first treatment. But she doesn't fuss at all."
Olivia has long enjoyed coming to Massachusetts General Hospital for examinations and treatment, Stephanie says, because of the kindness of doctors, nurses and clinical staff. For that reason, Stephanie will run the 2019 Boston Marathon® as a member of Mass General's Pediatric Cancer marathon team, raising money for cancer care and research initiatives that enhance the quality of life of young patients like Olivia.
A Bittersweet Time
Olivia – a resident of Lynn, Massachusetts – was just two years old in 2010 when an MRI at Mass General revealed she had a brain tumor. It was a bittersweet time for Stephanie. The diagnosis came on the day she was expected to give birth to her second child. Stephanie knew Olivia was sick but hadn't braced for such news.
The next day, Stephanie delivered a daughter. On the following day, Olivia underwent surgery for nearly 10 hours as doctors removed half of the tumor. "The remainder was close to the brain stem and too dangerous to touch," Stephanie says.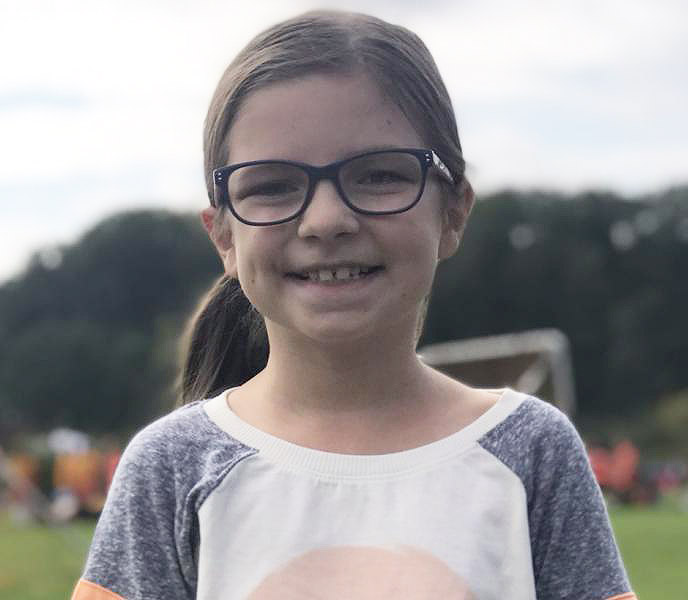 After surgery, fluid built up in the ventricles of Olivia's brain, prompting her doctors to install shunts to better regulate the flow of fluid. She'll need shunts for the rest of her life, and they often need to be replaced. In 2015, Olivia had six surgeries over a five-month span because of complications with each new set of shunts.
Smiling Through Discomfort
Olivia has also had two extensive rounds of chemotherapy. The first started after her surgery in 2010 and ended a year later after she became allergic to the treatment. Other than the shunt-related complications, Olivia was in relatively good health for several years following chemotherapy. But in 2017, Stephanie started to worry when Olivia became ill with the same symptoms that had led to the initial diagnosis years earlier.
Her annual examination showed the tumor had grown again, requiring another year of chemotherapy. Yet, persistent headaches and vomiting couldn't keep Olivia from smiling. To those who don't know Olivia, her mom says, they never detect she is sick.
"It's tough to see everything she's going through," Stephanie says. "But she pulls through."
Running to Give Back
With Olivia's tumor now stabilized, she was able to stop chemotherapy in December. She'll be monitored at Mass General with regular checkups and MRI exams.
She often has to adjust to the side effects of the tumor. Headaches sometimes force her to either miss school or come home early. She seeks comfort in the school nurse's office if gym class gets too loud.
Olivia says she likes going to Mass General because the staff always give her things to color, one of her favorite activities.
On her most recent Christmas wish list, one of Stephanie's stepdaughters asked not for toys but for Olivia to not have cancer anymore. Olivia's siblings can usually sense how she is faring. "She's the oldest, the big sister," Stephanie says. "They know when she's not feeling well and help her get better. And when she's feeling well, they want to play with her."
Everybody Knows Her
Stephanie, 35, jokes that she's not a runner. Her only lengthy official run was a half-marathon last year. Still, she's determined to run the Boston Marathon® as a way to thank and help Mass General's Pediatric Hematology Oncology department.
Olivia says she likes going to Mass General because the staff always give her things to color, one of her favorite activities.
"Everybody knows her," Stephanie says. "They make it a warm place so that kids are not traumatized. They're great."
To make a donation to the Mass General Hospital's Pediatric Cancer Team, please contact us.
John Hancock-Mass General Marathon Partnership is Powerful Source of Support
John Hancock's partnership with the Mass General Marathon Program continues to be a strong and unwavering source of key funding for hospital programs. For 22 years, John Hancock has provided Mass General runners with invitational entries for the Boston Marathon®, as well as an opportunity to fundraise on behalf of the hospital.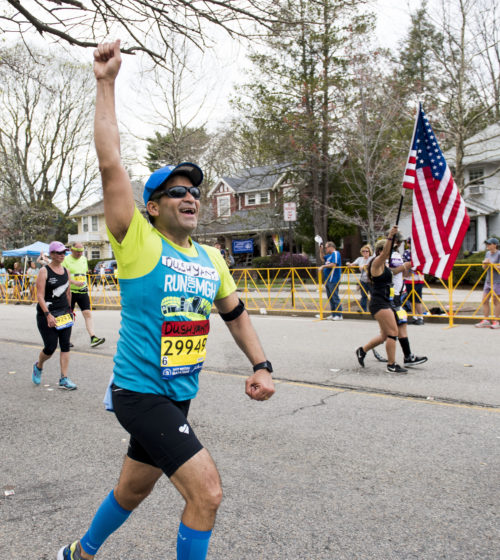 Mass General's Pediatric Cancer Team has raised more than $14.4 million since it was formed in 1998. Funds raised by this team – the hospital's longest running — support research and child-life activities for children with cancer.
In 2014, the Mass General Marathon Program expanded when awarded 40 additional entries to create the Emergency Response Team. These entries recognized the lifesaving response of hospital employees following the 2013 Boston Marathon® bombing. In the last five years, the ER Team has raised more than $1.9 million to advance the hospital's emergency preparedness and disaster medicine efforts.
Additional 2019 Entries
Thanks to John Hancock's support, Mass General has received 20 additional entries for the 2019 Boston Marathon®. Runners wearing them will raise funds to benefit the Home Base program. This Mass General-Boston Red Sox Foundation program helps veterans, active service members and their families deal with the invisible wounds of war.
Additionally, through the Run for MGH Team, runners who acquired their own entries for the Boston Marathon® raise funds for various Mass General programs that are near and dear to their hearts. Programs being represented by 2019 runners include: Caring for a Cure, Cystic Fibrosis, Down Syndrome, the Lurie Center for Autism and the Mootha Lab.
To learn more about the Mass General Boston Marathon® Program, please visit our website.