You are using an unsupported browser. Please use the latest version of Chrome, Firefox, Safari or Edge.
Million Dollar Match. Act Now.
Don't wait! Make your tax-deductible contribution to the MGH Fund, and double the impact of your support, before the December 31st deadline.
Community Fundraising
Take action. Change lives. Fundraise for your cause at Mass General.
What Cause Matters Most to You? 
Members of the community have all sorts of reasons for raising money for Mass General. Expressing gratitude for the care they or a loved one received. Honoring the memory of someone special they lost. Adding meaning to a personal milestone or event.
Whatever your reason, we invite you to be part of our BeCause community. The efforts of friends like you fuels life-changing and life-saving care, research and education at Mass General.
Every penny you raise supports the cause that's most meaningful to you. And we make it easy for you to give back.
How do you want to support your
You can start fundraising in three easy steps. You can choose from a variety of fundraising options. 
Let's get started!
Step 1
Choose a cause to support.
Disease area, care team, research project or other area — it's all up to you.
Step 2
Decide how to fundraise and create your page.
We offer a variety of options, including online campaigning, setting up a tribute page for a loved one, giving in lieu of gifts and training for a cause.
Step 3
Spread the word and raise money.
Let family, friends and colleagues know about your fundraising. All the gifts you receive are processed electronically via your BeCause page.
How You Can Fundraise for Mass General
Organize an event.
Support a great cause and have a great time doing it. Your fundraising event can be whatever you want it to be. Gala, silent auction, bake sale, golf tournament — the options are endless. And our community team is available to discuss your ideas and help find solutions to bring your event to life. Athi Myint-U's Hair-Raising 80s Dance Party supported a treatment at Mass General that helps cancer patients keep their hair during chemotherapy.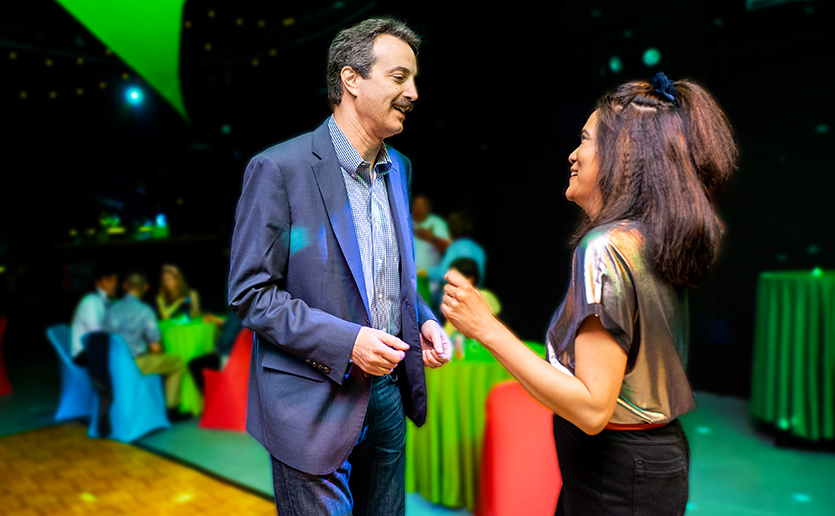 Celebrate a milestone.
Have a birthday, wedding or another milestone coming up? Encourage friends and family to skip the gifts and donate to your cause instead. That's how Erica and Michael Bishop mark their son Gavin's birthday each year. Their fundraiser supports the Patty Ribakoff Neonatal Intensive Care Unit and Special Care Nursery at MassGeneral Hospital for Children, where Gavin received care after being born more than five weeks before his due date.
Campaign for a cause.
Start an online campaign to create awareness and raise funds for your cause. We make it easy to create your personal fundraising page, share your story, collect and track donations and build a fundraising team. Joy Greene, a burn survivor who recovered at the Sumner M. Redstone Burn Center at Mass General, hosts an annual fundraiser to support burn research at the hospital.
Pay tribute to a loved one.
Holding a fundraiser in memory or in honor of a loved one is a thoughtful way to recognize someone who has inspired you while helping a great cause. Dan Moran organized a "challenge" fundraiser at a gym he co-owns to support Mass General's palliative care program. His efforts served as a fitting tribute to his late father, who received palliative care during treatment for liver cancer at the hospital.
Train with a purpose.
Do you want to make all those hours of training count for something more? Running, walking, biking, swimming, climbing — no matter what the physical challenge — you can make it count even more by fundraising for your cause. No application, fundraising minimum or registration fee. Tyson Sunnerberg and Paul Foti hold an annual obstacle course race and celebration to support Type 1 diabetes research at Massachusetts General Hospital's Faustman Lab.
Walk a mile, run a marathon, ride a bike, wash a car, design a T-shirt, wear an ugly sweater, throw a party, catch some waves, host an auction, sell cookies, go solo, go viral, raise awareness, raise money. The fundraising options are endless. The impact is unmistakable. It's up to you. Make a difference.
View Upcoming Events