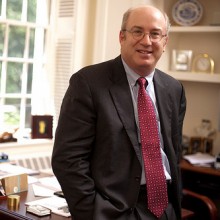 In 2011, we celebrated Massachusetts General Hospital's bicentennial. It was an exciting, eventful year for all of us as we commemorated 200 years since the signing of the original charter for the hospital.
The capstone of our celebration was the dedication of our newest and largest clinical facility, the Lunder Building. Staff moved into the new space over the summer, and patients are now being treated here. Numerous donors made this new facility possible, and they joined us on June 23, 2011 for a daylong series of "donor moments," where we dedicated individual spaces within the building. The occasion was also marked with tours, demonstrations and a reception in the Bulfinch Tent. We held the official ribbon cutting with Peter and Paula Lunder, after whom the building is named in appreciation of their extraordinary $35 million gift to the hospital.
The closing event of the bicentennial was the dedication of the Paul S. Russell, MD Museum of Medical History and Innovation. The museum is named after the accomplished, retired physician, who continues his affiliation with Mass General by serving as chair of the MGH History Committee. In addition to contributing his time and expertise, Dr. Russell generously supported the museum financially, along with many within the MGH community, including the Mass General Physicians Organization, clinical departments and individual physicians and staff. The museum is being funded exclusively with philanthropic support.
How fitting that on our 200th anniversary, we opened a museum that pays tribute to MGH's storied past, while reflecting on the organic nature of medicine and Mass General through a changing exhibit gallery, which will showcase the advances in medicine at Mass General in the future. The features in this issue reflect the forward looking culture of Mass General. This is a challenging time for health care in our country. The future portends even more demands as the population ages, the need for medical services rises, and the cost of new medical and technological advances increases. MGH is committed to maintaining and improving the quality of patient care amid these challenges, while reviewing what it does with an eye toward greater efficiency.
In this issue you will read about a simple, but compelling, plan to redesign diabetes and other types of care in order to make them more efficient, while enhancing quality. In the features on palliative care and simulation you will see that Mass General is an institution willing to re-examine medical traditions and innovate in the practice of medicine.
As we continue our Campaign for the Third Century of MGH Medicine, I want to thank you, our dedicated donors, for your generous support of Mass General and its mission. You truly are making a difference in the way medicine is practiced today and how it will be practiced in the future.

Peter L. Slavin, MD
President, Massachusetts General Hospital