Carolyn O'Gorman of Winchester, Mass., has never been to Uganda. But she feels compelled to raise money for a new Massachusetts General Hospital initiative to buy maternity supplies to stock a large hospital there. Her motivation: She is the mother of two, soon to be three.
Twice, Carolyn and her husband, Tom, have experienced the joy of cuddling a newborn. Both of their children were born by emergency C-section at Mass General. Carolyn and the babies benefited from the quick actions of her physicians and nurses.
But Carolyn understands the heartache of leaving the hospital with empty arms. Before the birth of her children, she had two late miscarriages, one at 21 weeks and another at 24. Carolyn was referred to Laura Riley, MD, of MGH's Vincent Obstetrics and Gynecology Department. She credits Dr. Riley with helping her bring healthy children into the world.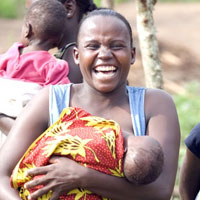 When Dr. Riley told Carolyn about conditions in the maternity ward at Mbarara Regional Referral Hospital, the main referral hospital in southern Uganda, Africa, Carolyn was appalled. Even women who are treated at the hospital must walk into the town of Mbarara to buy medical supplies for their own emergency C-sections. This can delay the operation — of critical importance to ensuring a healthy outcome for mother and child — by hours.
Mass General has been working with partners at Mbarara Hospital to improve health care, but the maternity ward remains severely understaffed by American standards, says Blair Wylie, MD, MPH, a researcher and obstetrician in MGH's Department of Obstetrics and Gynecology who often visits Uganda.
At Mbarara Hospital, Dr. Wylie has observed two obstetricians in training and a midwife or two handling the entire maternity floor. That tiny team delivers about 20 babies each day. There are no obstetric nurses to spend hours monitoring and caring for women in labor, as at Mass General. Some nights on the hospital maternity floor, there are 60 patients for every midwife. During many deliveries, the woman makes the final push on her own, with no health professional to help her or the arriving child. On average, a woman dies every 10 days or so. Stillbirths are even more common.
"As Americans, we think basic maternity care is a right that we should have. These women have no voice," says Carolyn O'Gorman, mother and fundraiser. Donate
"As Americans, we think basic maternity care is a right that we should have," Carolyn O'Gorman says. "These women have no voice."
Carolyn is grateful for her beloved Ava, 4, and William, 2, and for the care she is receiving as she prepares for the birth of her third child. She wants to help give women in Uganda and their newborns a chance for the same successful birth and life-changing love that a child can bring to a family.
So Carolyn has decided to raise money for Moms Helping Moms, a new initiative at the MGH Vincent Obstetrics and Gynecology Department. This is the first time the department has appealed to patients and families for support of the hospital's international mission. The department is partnering with the MGH Center for Global Health, which has programs in 40 countries and is tackling some of the world's most difficult healthcare challenges, including HIV/AIDs and maternal and neonatal deaths.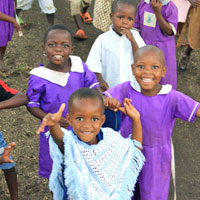 Moms Helping Moms is designed to give families an opportunity to make small or large monetary contributions that will help purchase supplies for the maternity ward at Mbarara Hospital. The MGH Center for Global Health has a longstanding partnership with Mbarara University of Science and Technology, which is affiliated with the hospital. MGH and the university are conducting research with the goal of improving care. Together, the two institutions are also providing career opportunities for healthcare professionals and, by training doctors to train doctors, building the long-term capacity of Mbarara Hospital and others to better meet the medical needs of Uganda's people.
Since 2012, three OBGYN senior residents have spent time at Mbarara Hospital learning about the challenges providers in Uganda face. They have offered suggestions for improving care, including ways to better communicate critical patient information when shifts change at the hospital.
Another initiative, led by Annekathryn Goodman, MD, of MGH's Department of Obstetrics and Gynecology, gives Ugandan providers an opportunity to review patient cases with MGH staff during monthly Internet teaching sessions. And, department members have developed informal mentorships and are working on research projects to employ technology to improve care.
Dr. Wylie and Dr. Riley would like to see systems developed at Mbarara Hospital to track stillbirths, maternal deaths and other data to monitor the quality of care as well as to partner with the hospital on other achievable changes.
Both doctors believe that the Moms Helping Moms initiative can make a difference immediately. In Uganda, the impact of a few dollars is even greater than in Boston.
The connection for patients and families at Mass General is natural, Dr. Riley says. "Most moms are so invested in pregnancy, I think many of them would be horrified to hear the stories," she says. "We're helping other moms."
How your donation helps
The goal of Moms Helping Moms is to provide supplies and support to Mbarara Hospital of Mbarara University of Science and Technology to make deliveries safer and more comfortable for mothers and their newborns. The hospital often runs out of supplies and a few dollars could make a huge difference.
$10 — would buy "mama kits," that could include cotton, gauze, a surgical blade, soap and cord used for vaginal births
$50 — would buy blood pressure machines used to detect life-threatening complications during labor
$75 — would buy supplies to perform one C-section
$750 — would purchase a cabinet that could be used to securely store essential supplies and drugs
$7,500 — would purchase a computer and provide a salary for a data clerk to track obstetric outcomes
$10,000 — would sponsor a Ugandan physician to attend an extensive training course in OB safety and quality improvement at Mass General
Support Moms Helping Moms, make a donation online today!
Learn more about the Mass General Center for Global Health at www.massgeneralcenterforglobalhealth.org.