When:
April 6, 2014 @ 10:00 am – 1:00 pm
Where:
Harvard University's Blodgett Pool
65 North Harvard Street
Harvard University, Boston, MA 02134
USA

Contact:
Andy Kitaeff
617-643-6006
E-mail

The MassGeneral Hospital for Children Cancer Center is proud to be a beneficiary of Swim Across America (SAA) Boston, an organization dedicated to raising money and awareness for cancer research, prevention and treatment through swimming.
In 2014, MGHfC Cancer Center will receive 50% of the funds raised through Boston events.
Be a part of Mass General's Swim Across America team and help make waves to fight cancer!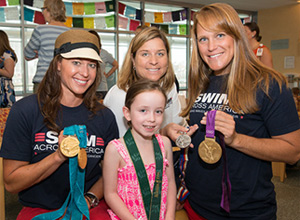 Sign up to swim with Mass General today!
Swimmer registration fee is $25
No age requirement or team limit
Teams will swim for two hours, with only one swimmer per team in the water at any given time
Mass General is also looking for interested individuals to volunteer at the event. Contact Andy Kitaeff at akitaeff@partners.org or by calling 617-643-6006.
Can't make it on April 6? Register to swim for Mass General this summer:
This initiative is a registered Mass General Community Fundraiser. Mass General does not enter into direct sponsorship of this effort, provide any financial support, or assume any liability for its conduct. If you have any questions, please contact the Mass General Community Fundraising Team.