When:
May 11, 2014 @ 9:00 am – 11:00 am
Where:
32 White Rock Hill Road
Bow, NH 03304
USA

Contact:
Elizabeth Woo
(603)361-2436
E-mail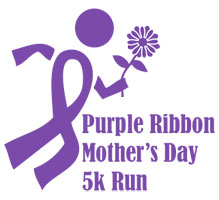 The Purple Ribbon Run is a 5k road race / 2 mile walk, begun by Bow High School students in 2003 to raise money for the Michelle Cadorette Fund for Malignant Thymoma Research at Mass General Hospital.
Michelle taught at Bow High School from 2003 to 2012, and coached X-Country as well as Track and Field. She was beloved by all, and inspired her students and colleagues to always live by her motto: "Live With Courage; lead with Hope."
For more information on her story and the stories of others, and to register for the race (now in its 14th year), please go to www.thymomahope.org.
This initiative is a registered Mass General Community Fundraiser. Mass General does not enter into direct sponsorship of this effort, provide any financial support, or assume any liability for its conduct. If you have any questions, please contact the Mass General Community Fundraising Team.