When:
June 9, 2013 @ 7:00 am – 11:30 am
Where:
691 Central Avenue
New Providence, NJ 07974
USA

N.J. Sharing Network 5K – Mitzvah Project for Elliot Cohen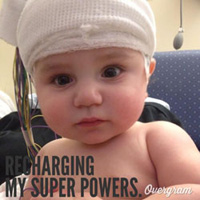 My cousin, Elliot Cohen, was diagnosed with Tuberous Sclerosis Complex (TSC) when he was 3 months old. On April 20th, he turned one year old. Our entire family is helping Elliot bravely fight this devastating disease.
TSC causes tumor growth on various organs. In Elliot's case, those tumors are on his brain, causing numerous daily seizures and developmental delays. He has undergone brain surgery to remove one of these tumors and is anticipating a second brain surgery in June.
As part of my Bar Mitzvah project, I wanted to honor Elliot by doing a fundraiser for TSC, and will be raising funds and awareness for TSC at the N.J. Sharing Network 5K. Please help us support Elliot and the foundation that he works with. Our hope is to help all children born with TSC. Elliot bravely fights this disease every day and is truly a Superhero to everyone who meets him.
Thank you for all of your help!
-Joshua Cohen
Support Joshua's Bar Mitzvah project by making a donation to the Herscot Center for TSC using our secure online donation form at give.massgeneral.org/mitzvah-for-elliot.