When:
November 9, 2013 @ 6:00 pm – 11:59 pm
Where:
Fenway Park
4 Yawkey Way
Boston, MA 02215
USA

Cost:
Contact us for details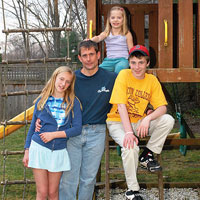 Julie Paige McAvinn passed away on February 25, 2004 at the young age of 40. She was diagnosed with ovarian cancer in November 2003 and died three months later.
Julie's life was short, but she lived it fully. She was an avid runner, completing the Boston Marathon in 1999 for the Leukemia Team in Training. She loved to ski and travel, but most of all she enjoyed her family and friends. Julie touched many lives with her energy, compassion and generosity. She was always available to lend a helping hand.
Julie left behind her husband, Peter, and three children, Christopher, Paige and Jillian, who reside in Wellesley. Because Julie worked hard to give Christopher, Paige and Jillian a strong foundation in their lives, they are thriving today despite the devastating tragedy of their loss. They miss their mother terribly but remember the lessons she taught them and the constant love and affection she shared.

The Julie Fund was established by Julie's family and friends in partnership with the Massachusetts General Hospital (MGH) and Partners Healthcare. The Julie Fund expects to impact three key areas relating to women's cancers:
Research
Funding of cancer research, including subsidizing the hiring of the most talented cancer research fellows and other major research-related expenses.
Patient/Family Support
Funding the additional non-medical expenses incurred by families of cancer patients. These include transportation, food, day care, temporary housing, and other exceptional expenses that are a result of cancer treatments.
Education
Funding educational programs for health care professionals and the general public in order to raise awareness of the symptoms of and treatments for women's cancers.
This initiative is a registered Mass General Community Fundraiser. Mass General does not enter into direct sponsorship of this effort, provide any financial support, or assume any liability for its conduct. If you have any questions, please contact the Mass General Community Fundraising Team.