When:
January 15, 2014 @ 5:00 pm
Where:
Starr Center, Massachusetts General Hospital
185 Cambridge Street
Charles River Plaza Shopping Center, Boston, MA 02114
USA

We're sorry online registration is now closed To register by phone, please call 617.724.3637
Join Autism Speaks and Mass General's Lurie Center for Autism for a special preview of the compelling new documentary, Sounding the Alarm, on Wed., January 15 at Mass General.
In 2001, the prevalence rate for autism was 1 in 250. Currently, that rate is 1 in 88. A recent government survey indicates the national rate of autism could actually be closer to 1 in 50.
"Sounding the Alarm" gives viewers a look at the profound changes in the lives of 12 American families after their children receive an autism diagnosis—attending countless therapy sessions, moving from state to state seeking insurance coverage for treatments, and struggling with the insurmountable financial burdens of providing care for their loved ones. The film's focus aligns with the Lurie Center's mission to provide comprehensive care and support for individuals with autism and Autism Speaks' commitment to improving the lives of families and individuals struggling with the disorder.
"Sounding the Alarm" features Bob and Suzanne Wright, co-founders of Autism Speaks, who discuss their grandson Christian's diagnosis nine years ago and their fight to make a difference not only for their grandson but for everyone throughout the world affected by autism. The Wright's daughter, Katie, is also interviewed about her experiences, and viewers are given a look at Christian's intensive daily therapies.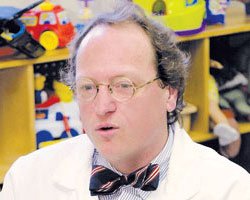 Also featured is Dr. Christopher McDougle, director of Mass General's Lurie Center, and Dr. David Amaral, research director of the UC Davis MIND Institute, who speak to the progress of autism research, autism risk factors and the lack of funding for resources and research. Joy O'Shaughnessy, Associate Director for East End Disabilities Associates, Inc., a nonprofit organization that provides a variety of supports and services to people with developmental disabilities, shares why these services are so vital and vulnerable.