Where:
California Pizza Kitchen
37546 West 6 Mile Road
Livonia, MI 48152
USA

Type one diabetes is a challenge every single day. Millions of people with type one diabetes are dependent on insulin to live. I was diagnosed when I was 20 years old, and though I'm extremely grateful that I didn't have to grow up with this disease, it has still been very challenging. When you are diagnosed as an adult you have to completely change the lifestyle that you're used to. You're no longer able to eat what you want when you want, without giving it a second thought. Another challenge you face when being diagnosed as an adult is having the memories of how things were when you didn't have type one.
I'm now on an insulin pump, Omnipod, and I love it. It makes life so much easier. However, I dream every day of not having the haul around supplies or have a gadget attached to me in order to survive.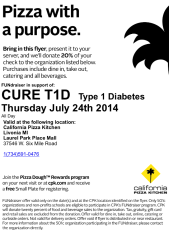 By making a donation you are bringing us one step closer to a life free of complicated calculations just to eat a meal, dangerous high and low blood sugars, risk of numerous complications such as neuropathy and the difficulties of feeling alone and different. Type one diabetes changes your life. Please help us to reverse it.
California Pizza Kitchen will donate 20% of sales on July 24 to the Cure Diabetes Now Fund–just click the flier at right, print, and bring to California Pizza Kitchen on the 24th. If you can't make it to the restaurant, you can still support the Faustman Lab using the secure donation form here.
This initiative is a registered Mass General Community Fundraiser. Mass General does not enter into direct sponsorship of this effort, provide any financial support, or assume any liability for its conduct. If you have any questions, please contact the Mass General Community Fundraising Team.