When:
May 26, 2013 @ 7:00 am – 2:00 pm
Where:
Seaport World Trade Center
200 Seaport Boulevard
Boston, MA 02210
USA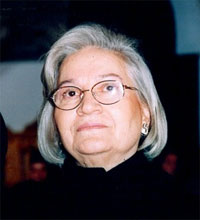 I had the great honor and pleasure of taking care of Mrs. Maria Efstratoudakis as her doctor. She was diagnosed with a rare and aggressive cancer, cholangiocarcinoma (cancer of the bile ducts), in February 2012 and fought bravely until the end on June 30, 2012. Maria was unforgettable. She had a strength and grace that was rare even for her generation. She took so much pride in her Greek heritage and often shared stories of her childhood that kept us laughing. To me, her children, Vaso and Stefano, were also unforgettable, as they took care of their mother in a way I wish I could if I am called upon.
Maria was the type to pay it forward, and I'm sure she is smiling up there knowing that her memory is inspiring a positive effort to help other people. 100% of the funds raised will go towards Cholangiocarcinoma Research at MGH to work towards curing this awful yet underfunded cancer. Thank you for your support!
– Dr. Lipika Goyal
Support cholangiocarcinoma research through Dr. Andrew Zhu by making a donation using our secure online donation form.