Support the MGH Charlestown Coalition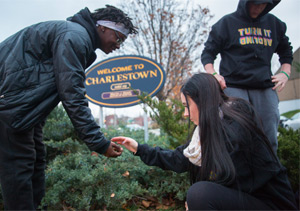 The Charlestown Coalition is one of the four community coalitions supported by the Mass General Center for Community Health Improvement. Originally focused on substance use, their work has expanded to include stable housing, healthy food, racial equity, and access to mental health services—issues often referred to as the social determinants of health.
The Charlestown Coalition is also home to Turn It Around – a group of young people seeking to better themselves and their community by promoting civic engagement, educational attainment, and professional development while making a difference in Charlestown and beyond.
For more information about how you can support the Charlestown Coalition, please contact Kirsten Pfister at KPFISTER@mgh.harvard.edu or 617.726.2200
Mass General is a 501(c)3 non-profit organization and depends on the support of the public. All donations are tax-deductible to the full extent of the law. Our non-profit tax ID is 04-1564655. Questions about giving? Please see our Frequently Asked Questions or contact us.
q