Before Tricia Stone was forced to make disease prevention a priority, she was too busy to worry about her weight. The 33-year-old professional recruiter from the South Shore worked extra hours to advance in her career and she and her husband often grabbed takeout and collapsed on the couch after a long work day. But last July, just a few months before their second wedding anniversary, Tricia began having debilitating migraines, nearly a dozen over a two-week period.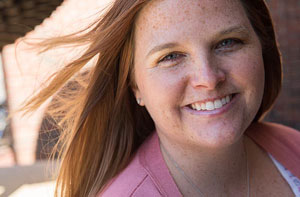 "When I noticed a weird floater in my eye, I went to my doctor, who took one look and told me I had papilledema, swelling of the optic nerves. He sent me to the emergency room at Mass General to make sure I didn't have a brain tumor," says the soft-spoken Tricia, whose easy smile barely hints at her determination.
Tricia was hemorrhaging in the back of her eye, and spent five nights at Massachusetts General Hospital as doctors tried to relieve the pressure on her optic nerve with lumbar punctures in her lower back to withdraw cerebrospinal fluid. She was diagnosed with intracranial hypertension (dangerously high spinal-fluid pressure in her brain) and was told that if the swelling on her optic nerve wasn't reduced, she would permanently lose her eyesight.
Prevention as Treatment
One of the most effective therapies for this condition is weight loss since a reduction in weight corresponds to a reduction in pressure. Tricia, like lots of people, says that over the years she tried to lose weight, but was never able to keep it off. In July, when she landed in the hospital, she weighed 217 pounds, a lot to carry on her five foot, one-inch frame.
"I knew I had to make a change," she says. "When my doctor recommended the Cardiovascular Disease Prevention Center, I was ready."
"Prevention as treatment" is the byword at the Cardiovascular Disease Prevention Center (CDPC), part of the Corrigan Minehan Heart Center at Mass General . The program offers a suite of services to help individuals make lifestyle changes that will improve their heart health. They include a Cardiac Rehabilitation Program to help patients recovering from a heart attack, cardiac surgery or angioplasty, and a Heart-Attack Prevention Program that evaluates and counsels patients at risk for developing heart disease because of their family history.
Leadership in Health and Wellness
The CDPC's efforts reflect a nationwide movement to save lives and control healthcare costs by strengthening programs designed to manage diseases at their earliest stages or prevent them outright. Mass General has been a leader on the health and wellness front, launching and expanding an array of prevention programs. The MGH Diabetes Prevention Program emphasizes lifestyle changes designed to keep high-risk patients from developing the full-blown disease. Meanwhile, in response to the obesity epidemic, one Mass General program is helping local communities get better access to fresh fruits and vegetables.
"Our goal is to be the best we can be for the patients and families we serve," Mass General President Peter L. Slavin, MD, said when announcing that U.S. News & World Report named Mass General the nation's #1 hospital on its 2015-16 honor roll. "True success means keeping them healthy, safe and, in fact, out of our #1 hospital."
"We know what the risk factors are for cardiac disease," Dr. Kathiresan says. "What we need to do is make it easier for patients to lower that risk."
With heart disease the leading cause of death for both men and women in the United States, and more than 735,000 people experiencing heart attacks every year, a high sense of urgency drives Mass General's efforts to reduce the impact of this devastating disease.
Researchers are exploring promising new approaches. Sekar Kathiresan, MD, PhD, director of Preventive Cardiology at Mass General and the new director of the MGH Center for Human Genetics Research, is using genome sequencing to sift out genetic mutations that protect against heart disease.
Lifestyle Issues and Disease
Meanwhile, he notes that 90 percent of cardiovascular diseases are caused by lifestyle issues such as inactivity, smoking or poor eating habits. "We know what the risk factors are for cardiac disease," Dr. Kathiresan says. "What we need to do is make it easier for patients to lower that risk."
Launched in 1979, the CDPC is home to one of the first cardio rehab programs in the country, and serves about 300 new patients each year, for nearly 6,500 visits annually in the Cardiac Rehab Program alone. Patients attend classes in nutrition, meditation and relaxation, as well as participate in personalized exercise programs in the CDPC gym for a flexible program that includes visits up to three times a week for as many as 36 weeks.
Kate Traynor, RN, MS, the CDPC director, says her program emphasizes teaching patients habits that will make them independent and able to manage themselves. "It's easier to add new behaviors than change behaviors," she says, "but making these adjustments – in exercise, nutrition and relaxation – can save people's lives."
Paul Huang, MD, PhD, a Mass General clinician-researcher, studies the links between diabetes and heart disease and leads the CDPC Cardiac Metabolic Syndrome Program, which launched in 2005.
Learn to be Lean
Patients in this program participate in "Learn to be Lean," a three-hour session that takes place every Friday for 12 weeks. In addition to the exercise, nutrition and relaxation programs, the group meets to talk about challenges and triumphs, providing the social support and structured feedback that makes the program effective over the long term.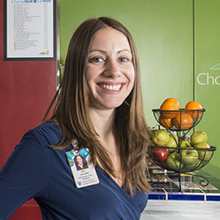 Although insurance covers some of the cost of the cardiac rehab programs, Mrs. Traynor says the Learn to be Lean program is "self pay." To encourage participation, however, she is committed to keeping the cost affordable. The 12-week program costs participants only $400, which represents only a portion of the full cost of running the program.
Dr. Huang says the multidisciplinary program helps participants to shift their mindset toward healthy behavior over the long term. It's not a diet, he says, it's an approach to healthy eating.
Mindful of Every Choice
Tricia Stone shed 14 pounds even before she started "Learn to be Lean," and although her weight loss slowed in the middle of the program, by the end, she had lost a total of 30 pounds.
"Through the program, I learned that I was eating mindlessly," she explains. "Now, I am mindful of every choice I make, and I focus on making healthy lifestyle choices."
In the gym at the CDPC, Tricia works out on the elliptical, singing a snippet from an Italian opera as she goes through her routine.
"I am a classically trained singer," she says, "and you are supposed to be able to sing when you work out to avoid overexerting yourself."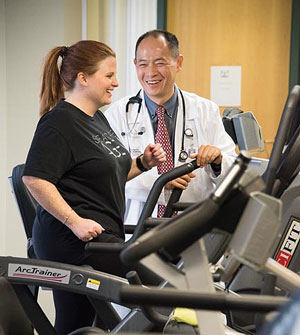 She moves from the machines to the weights, and then to a yoga mat to practice relaxation. The exercise program, tailored to her needs, includes a variety of exercises. The goal, Dr. Huang says, is to push people hard enough to break a sweat and get their heart rate up, but not push them so hard they become exhausted or discouraged. Tricia says that notion of pushing herself out of her comfort zone is a lesson she's brought into other areas of her life.
Setting Your Priorities
"I've always worked hard at whatever challenge I take on," Tricia says, "but I think that while I was good at recruiting, by focusing on a career that wasn't right for me I neglected my own health."
Tricia is shifting her career, building a marketing business out of her home and pursuing a career in real estate. "One of the things we talked about in our group meetings is setting your priorities. I would like to have a happy and healthy lifestyle while serving others."
Tricia's dire prognosis provided her with strong motivation to embrace the CDPC Learn to be Lean program, but she says she learned about much more than weight loss.
"I learned to focus on the things that are important, and believe in myself," Tricia says. "We all take detours in life, we all make bad choices. The goal is not to beat yourself up over it, but just get up and try again."
"This was the biggest challenge of my life. If I can tackle this, nothing will get in my way."
A Clean Bill of Health
Even a car accident in December, which left Tricia with whiplash, couldn't derail her determination to continue practicing the lifestyle lessons learned. Although she stopped exercising for a time, she soon resumed her carefully paced exercises, making modifications to protect her injured neck.
In March, Tricia learned her optic nerves are no longer swollen. She's been given a clean bill of health.
"It was a huge relief, but I'm not going to stop," says Tricia, who vows to lose another 25 pounds. "This was the biggest challenge of my life. If I can tackle this, nothing will get in my way."
To learn more about how you can support the Cardiovascular Disease Prevention Center, please contact us.