It seems odd that I can't remember her name. When you, quite literally, save someone's life, shouldn't you remember her name?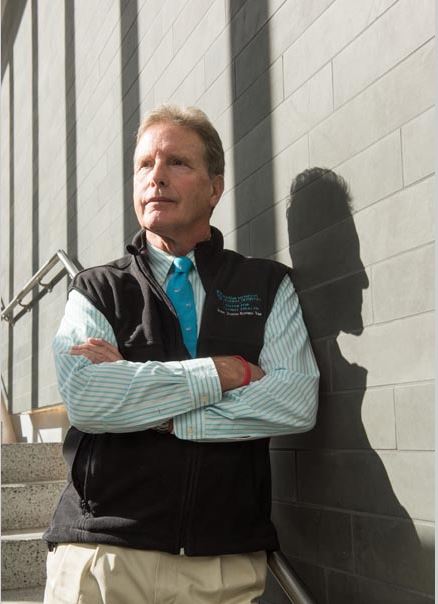 One of the nurses must have shared it with me, but I was probably too tired that night to remember.
I had been part of the relief effort in Haiti after the massive 2010 earthquake. I was stationed at L'Hôpital Albert Schweitzer in the village of Deschapelles, where cholera had broken out. I had never witnessed anything like it.
Scores of villagers near death were arriving on the rusted beds of pickup trucks, on the backs of donkeys and even on the shoulders of family members. Our makeshift team consisted of a few doctors from Haiti along with volunteer physicians and nurses from the United States, Switzerland and Poland. With every bed inside occupied, we treated incoming patients in sweltering heat on army cots in an outdoor foyer.
An internist at Massachusetts General Hospital, I was a volunteer member of the hospital's Global Disaster Response Team. Our group was deployed under the auspices of several large international humanitarian organizations. Haiti was my first experience practicing in the chaotic aftermath of a catastrophe.
Squalor of the Camps
When the cholera outbreak occurred, I had already spent several weeks at the refugee camps in Port-au-Prince, where the worst effects of the earthquake were manifest. The squalor there had abolished most of my hope that foreign volunteers could make a dent in the misery.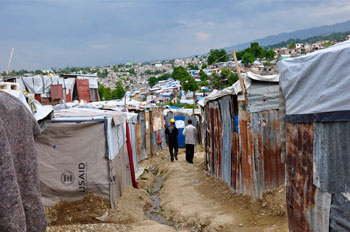 In communicating with colleagues at home, I found it hard to describe Haiti. You needed to smell the ubiquitous stench of festering garbage and overflowing latrines. You needed to see crumpled buildings that still encased corpses. You needed to hear the laughter of naked children playing in filthy sewage culverts
Yet, somehow humanity was surviving. There was still physical beauty, in the vibrant hibiscus and bougainvilleas and resilience and hope among the people, especially the children. I took pictures of the beautiful faces I saw. Many reflected a strange dichotomy of hope and despair.
Cholera's bacteria are ingested in contaminated water and produce severe diarrhea and vomiting. The disease typically clears in a few days, even without antibiotics, as long as an adequate amount of the lost fluid loss is replaced. But if the patients live far away or wait too long to come in, they can die of "circulatory collapse." Simply put, they no longer have enough fluid in their bloodstream to bring oxygen to the heart, brain, kidneys and the rest of the body.
Watching for Cholera Clues
Before Haiti, I had never seen a case of cholera, let alone managed a major outbreak of a virulently contagious disease. The challenge facing our small, improvised team was not only treating the sick, but devising strategies to prevent spread of the disease to everyone else around the hospital.
We learned to look for simple clues that cholera patients were becoming dangerously dehydrated. We knew they were in trouble if their eyes appeared sunken, their pulses were weak or their skin had lost elasticity. At that stage, one of us needed to find a way to get fluid back into the patient's bloodstream or bone marrow quickly or the patient would die.
By the time I arrived in Deschapelles, there was about a month left in the commitment I had made to Mass General. Port-au-Prince had been deemed too dangerous for us due to kidnappings. Every cell in my body was telling me to go home. Get to a place of safety, reliable hygiene, clean water and freedom from despair. What possible difference was my presence making, anyway?
I had been taught from childhood to honor commitments. But working up to 20 hours a day under harsh conditions, I wasn't sure I could make it. I found a calendar and began to check off the days until I could leave with my honor and self-esteem intact.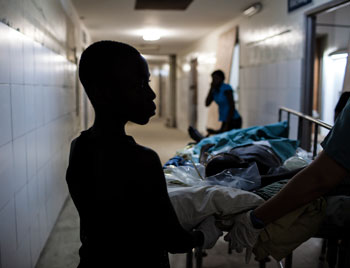 After about three weeks of battling cholera, my life had been reduced to a numb, mechanical cycle: Sleep for a while, put on scrubs, count new patients, try to start IVs, ration the remaining antibiotics, eat some beans and rice, tell another family that it had been too late to help its loved one, try to sleep again. I was too depleted physically, mentally and emotionally to feel much empathy for my patients or their families. I just wanted to go home.
Listening for a Breath
And then, at supper, just a few days before I was scheduled to leave, a Polish intern burst breathlessly into our little dining area. He asked if I would go to the clinic to help resuscitate a woman. Neither he nor the capable nurses had been able to get an IV line into her collapsed veins. Her blood pressure was dropping. She was about to die.
Rushing into the bleak concrete ward that reeked of vomit and diarrhea, I saw his patient at the end of a line of cots. She looked to be about 40. She was surrounded by family members weeping and chanting in Creole. I knelt at her right side and felt for a pulse. Nothing. I put my ear close to her mouth listening for even a tiny breath. Nothing.
I needed to demonstrate to the family, the nurses and the interns that no heroic measure, no matter how sure to fail, had been neglected.
The family gazed at me with desperation. The nurses, too, stared at me.
I knelt on that foul concrete floor in my filthy green scrubs and felt all those tense eyes on me. I was a primary care internist, not a trauma surgeon, not a doctor trained in emergency procedures.
But I realized that I had to do something. I needed to demonstrate to the family, the nurses and the interns that no heroic measure, no matter how sure to fail, had been neglected.
I asked for a large bore IV needle and catheter. To gain access to the patient's bloodstream, I decided to place a plastic catheter tube through a puncture in the groin into the large vein that drains blood from the leg. I had never done this myself and only seen it once or twice 30 years earlier during my residency training.
A Successful IV Line
The procedure is done by entering the skin with a large needle a centimeter or so to the inside of the pulse from the femoral artery. That artery courses through the groin on its path to the leg. Once the needle is positioned in the vein, a catheter is threaded into the vessel.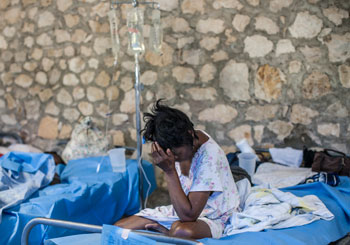 The woman, however, had no femoral pulse to serve as a landmark for me. But we needed to try everything. The weeping and chanting continued as I blindly pushed the large needle into the place where I hoped the femoral vein might be.
To my astonishment, blood vigorously flowed back into the catheter. Somehow, I had placed the IV line successfully.
Daring not to move, I directed Luka, one of the Polish interns, to attach a liter bag of IV fluid via a tube into the catheter I was pinching precariously. I watched in awe as the fluid passed easily into the catheterized vein. I ordered Luka to run the fluid "wide open," allowing the full liter to empty into the patient's circulation in about a minute.
And yet our patient did not breathe. She still had no discernible heartbeat.
I had Luka attach a second liter of saline and push it into the tube even faster, literally squeezing the bag. And the same with a third liter. Still there was no response. As Luka attached a fourth bag, I looked up wearily to tell the family that we were going to stop.
"You cannot change the world. You can try to give hope to one human being." — Albert Schweitzer
Startled and Bewildered
At that exact moment, the patient opened her eyes.
She looked around with a startled, bewildered expression. She coughed. A nurse announced that there was a pulse in her left arm.
After a few minutes, we slowed the infusion and carefully taped my IV in place. Tears flowed all around. I tried to hide the fact that I was the most stunned person in the room.
Walking back to the dining area later, I wanted to shout, sing and cry all at once. I had somehow done something that I didn't know how to do. Something that, realistically, had no chance of working.
What in the world had just happened?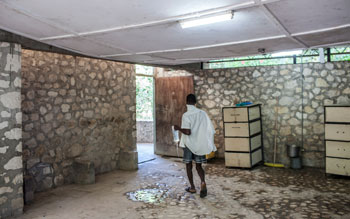 I saw our patient the next morning, waiting to go home. She was radiant. I am not sure I have ever seen anyone who looked healthier. Her son thanked me and took a picture of the two of us.
The next day, I took a final walk around the campus. Children were playing behind the clinic where families hung the laundry of their loved ones who were patients. I noticed a small bronze plaque for the first time:
You cannot change the world. You can try to give hope to one human being.
Two nights later, waiting to board the plane back to Boston, I knew that I had not influenced Haiti's overwhelming misery in any meaningful way.
But then I pictured the vibrant face of the woman with cholera, whose name escaped me. I tried again to understand the meaning of what had happened. Maybe placing that IV was pure luck. Or maybe it was something else. Could I have actually made a tiny dent in Haiti's hopelessness?
But it was equally clear to me, as the plane touched down, that a patient whose name I could not remember had, in turn, given hope to me.
Humble and Grateful
On the plane, through a fog of weariness, I was grateful that I had chosen a life in medicine, grateful that I was part of an extraordinary institution like Mass General and proud that I had volunteered for the Global Disaster Response Team.
As my flight prepared to land, and I took in Boston's familiar skyline, my heart was full. I wondered what would become of that radiant woman. I whispered to myself, "Steven, maybe it was worth it. Be proud of yourself, be humble and be grateful. You earned the right to say that you gave hope to one human being."
But it was equally clear to me, as the plane touched down, that a patient whose name I could not remember had, in turn, given hope to me.
To learn more about supporting Mass General's Global Disaster Response program, please contact us.