Bullying is unwanted, aggressive behavior. For school-aged children it involves a real or perceived power imbalance (physical strength, popularity, access to embarrassing information) that is repeatedly used to control or harm others. Bullying includes: making threats, spreading rumors, attacking someone physically or verbally, and excluding someone from a group on purpose.

Kids who are bullied, kids who bully others and even bystanders who witness bullying can have lasting problems including: depression, anxiety, sadness, alcohol and drug use. Government statistics show that 21% of students ages 12-18 experienced bullying.
Social Bullying and Cyberbullying
Social bullying is hurting someone's reputation or relationships. For example, leaving someone out on purpose, telling children not to be friends with someone, spreading rumors, embarrassing someone in public. This kind of bullying has been amplified by text messaging and social media use and is also called cyberbullying.
Victims are targeted online, sometimes anonymously. Examples include forwarding private photos or emails to a public site to embarrass someone, harsh or rude comments in a group email or text, fake accounts set up to harass and bully another student.
Being online allows people to be mean from a distance, without the personal interaction that could prevent such behaviors.
Being online allows people to be mean from a distance, without the personal interaction that could prevent such behaviors.
What to Do if Your Child is Being Bullied Online
Save emails, messages, texts, etc.
Try to talk to the other parent
Talk to the school guidance staff
If you sense that your child is in imminent danger, call the police
How to Prevent or Address Bullying and Cyberbullying
Talk with your children about cyberbullying and other online issues on a regular basis
Ask them if they have seen kids picking on other kids or if they pick on other kids or if other kids pick on them
Ask to "friend" or "follow" your children on social media sites
Ask your child to tell you right away if they or someone they know if being bullied
Be clear with your child about which sites are OK and not OK for them to visit
Tell your child not to post anything that would embarrass themselves or others
Remind your child that once something is posted, it's out of your hands and can be forwarded to anyone
Data for this article was obtained from the US Department of Health and Human Services, the National Center for Education Statistics and the American Academy of Pediatrics. For more information visit https://www.stopbullying.gov/
Caren T. Harris, RN, MSN, PNP, has been the Pediatric Trauma Program manager as well as nurse practitioner for the pediatric surgery service at MassGeneral Hospital for Children since 2006. Prior to this position, she was a nurse practitioner for pediatric primary care.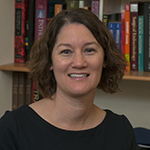 Toby Raybould, MS,
is the manager for the
MGH Trauma Injury Prevention and Outreach Program.
This program applies evidenced-base approaches to prevent injuries to children and adults and advocates for policies to improve the health and safety of our community.