The Vaccine and Immunotherapy Center (VIC) at Massachusetts General Hospital has a straightforward goal: It aims to speed up the development of new vaccines and treatments capable of combating cancer, diabetes and deadly infectious diseases. But for director and founder, Mark Poznansky, MD, PhD, and the researchers involved, that mission requires a level of nerve and determination that defies simple explanation.
Most of the potential breakthroughs that make headlines fade into footnotes before they produce an actual treatment. Tougher regulatory requirements have increased the difficulty of getting them from the laboratory to the bedside, a journey that can take 15 years and cost more than $1 billion.
Recent economic troubles have reduced the chances of lining up funding. The availability of grants for basic research has tightened. Biotech concerns and pharmaceutical companies have grown wary of investing in projects that aren't already far enough along to be ready for human testing. For every 5,000 to 10,000 compounds that enter the research and development process, just 250 successfully reach the stage of preclinical animal testing, where VIC typically considers projects. Of them, only about five move on to human trials. Some call the resulting gap in the process the "valley of death."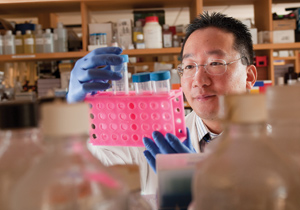 To cross it, Mass General's Satoshi Kashiwagi, MD, PhD, is relying on VIC. He is trying to boost the protective power of vaccines using laser light. The former Soviet Union once treated the underlying theory as a military secret. Dr. Kashiwagi's initial lab results have been promising. Even so, the thought of singlehandedly negotiating the development barriers ahead is daunting. "If I was just working alone in one laboratory at Mass General, I would be lost," Dr. Kashiwagi says.
VIC focuses on locating the most promising research and safely accelerating its transformation into new lifesaving products. VIC shepherds researchers through the early steps of the development process. The intended result is a more compelling investment for venture capitalists, pharmaceutical concerns, foundations and other entities that can support such a project through the final stages and to approval. "There is a great need for new vaccines and immunotherapies for  cancers and infectious diseases but the rate at which these are being developed is extremely slow," says Dr. Poznansky. "We are trying to accelerate that development by leveraging expertise broadly from both academia and industry."
A Sharply Defined Strategy
"There is a great need for new vaccines and immunotherapies for  cancers and infectious diseases but the rate at which these are being developed is extremely slow," says Dr. Poznansky.
Backed by a cadre of philanthropists that VIC seeks to expand, Dr. Poznansky has assembled a panel of physicians, scientists and business executives with deep experience in the process. Dr. Poznansky and the committee choose VIC's projects and guide the researchers involved. Their input ranges from market intelligence on competing research to advice on gathering specific safety data that can increase the chances of final approval. Their support can also include help in developing more effective delivery devices, such as handheld lasers or microneedles.
One objective is to make a sharply defined development strategy part of a research project's plan from the start. While some VIC projects have immediate commercial potential, others focus on so-called neglected diseases, such as cholera, which primarily impact impoverished people. In all cases, VIC selects projects it believes can have a significant and immediate effect upon the lives of patients. "Whatever we deliver out of VIC has to be broadly applicable," explains Dr. Poznansky, whose own career focuses on discovering previously unknown ways that the body fights infection and cancer and then using his findings to develop new treatments.
VIC underscores the array of assets Mass General can bring to the development arena, asserts Frances Toneguzzo, PhD, executive director, Research Ventures and Licensing for Partners HealthCare, the nonprofit healthcare system that owns the hospital. It's also reflects the missions of Mass General and Partners, she adds. "It is about helping people even when you know you are not going to make a huge financial impact," says Dr. Toneguzzo, who also serves on VIC's advisory board. "Primarily, we are about helping sick people."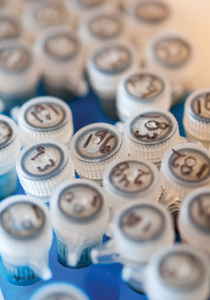 New vaccines are urgently needed to combat drug-resistant bacteria. Meanwhile, vaccines and immunotherapy continue to show promise against cancer. "VIC addresses both of those very real needs," says Eugene Hill, a managing partner of SV LifeSciences, a venture capital concern, and a member of the VIC advisory board. Mr. Hill and his wife, Joan, are among the center's key philanthropic supporters.
Tackling Regulation and Finance
Universities and academic medical centers still evaluate researchers based largely on their capacity to land basic research grants and write about lab findings in scholarly journals. Tackling development-related regulation and finance isn't typically required. Dr. Poznansky says VIC's researchers are highly talented scientists with important ideas. Professionally, it is inefficient for them to focus on the nitty-gritty of development. "The fact that they are willing to contemplate this is extraordinary," he marvels.
Jennifer Wargo, MD, has personal reasons. The Mass General surgical oncologist is working with VIC to develop a strategy combining genetic targeted therapy and immunotherapy designed to halt the growth of melanoma cells and make them more susceptible to the body's immune system. Cancer took the lives of Dr. Wargo's parents. A surgeon who was a beloved mentor in medical school succumbed to melanoma. Dr. Wargo's research received crucial philanthropic support from Leslie Schlesinger, a close friend who died in July. "Leslie was an inspiration. She lives on through all of us and through this work," Dr. Wargo says. Dr. Wargo is motivated through the care of her patients. "I am reminded daily that we need to do research to improve treatment options for people with cancer," she explains.
VIC researcher Edward Ryan, MD, feels the weight of numbers. As chief of Tropical Medicine at Mass General, he has devoted more than two decades to studying cholera, an acute diarrheal disease that strikes as many as five million people a year, most of them in high-poverty areas of Africa, Asia and Latin America. Dr. Ryan is co-leader with Stephen Calderwood, MD, chief of Infectious Diseases at MGH and Firdausi Qadri, PhD, at the International Centre for Diarrhoeal Disease Research in Bangladesh, of an effort to harness the memory power of the human immune system to develop a longer-lasting cholera vaccine that is easily administered.
Because a new vaccine isn't likely to generate enormous profits, Dr. Ryan hopes VIC can help stir interest among philanthropic donors. For a physician who has treated countless cholera patients, merely publishing studies feels like an inadequate response to a disease that continues to kills more than 100,000 people a year. "It's tiring to your soul to see patients with cholera rolling through the door again and again and again," Dr. Ryan says.
Jeffrey Gelfand, MD, former dean for research at Tufts University School of Medicine, and currently a physician and immunologist at Mass General, has an emotional investment in VIC's development efforts on behalf of the Jantibody molecule. Designed to make the immune system attack cancer cells in the same way they might try to reject a transplanted organ, the molecule is named for Dr. Gelfand's late wife, Janet, who died from ovarian cancer in 2006. "This is a deeply personal battle for me," says Dr. Gelfand who, as VIC's senior scientist, provides the center's other researchers with the benefit of more than 30 years of experience in navigating the obstacles involved in bringing laboratory breakthroughs to the bedside.
Dr. Gelfand was involved in a State Department effort to find peaceful pursuits for Russian scientists previously involved in research related to biological weapons. As a team leader for the Center for Integration of Medicine & Innovative Technology (CIMIT), a consortium of Boston universities and teaching hospitals that includes Mass General, Dr. Gelfand assessed once secret Soviet research.
At one hospital, he saw Russian researchers applying laser beams to the skin of cancer patients to boost the power of a tumor vaccine. The results were stunning and researchers also indicated lasers were effective in enhancing vaccines for flu and hepatitis B. Dr. Gelfand and his American colleagues were intrigued but cautious. "Not all of the research in Russia was well done," says Timothy Brauns, VIC's strategic planner. "It needed to be validated and in a disciplined way so that we could then find out how you build a device to do this."
Dr. Poznansky, Dr. Gelfand, Mr. Brauns and other VIC advisers are helping Dr. Satoshi Kashiwagi develop the laser treatment with the precision that can pass U.S. regulatory muster.
Real and Tangible Impact
Dr. Kashiwagi's initial studies, with laboratory mice, found that the protective power of the flu vaccine can be increased significantly by briefly focusing a narrow laser beam on the injection site. Dr. Kashiwagi is now working with hepatitis B vaccine and VIC, the project's sponsor, is seeking philanthropic support to begin related testing in humans. The work might one day be applied to various diseases. Indeed, Dr. Kashiwagi and Dr. Poznansky recently received a Gates Foundation grant to support the application of the laser technology to increase the effect of polio vaccination.
VIC has changed Dr. Kashiwagi's outlook. Rather than simply concentrating on how laser light interacts with the skin's immune cells to enhance a vaccine, he has also gathered safety data related to the machine that produces the beam. With VIC's help, Dr. Kashiwagi is working on the development of an inexpensive, handheld laser device, one that would be a safe and simple tool for use anywhere.
His goal is to embrace the development process and have a real and tangible impact on the lives of children and families. "I want to see that happen in my lifetime," Dr. Kashiwagi says, adding that VIC's support make such dreams achievable.
If you would like to learn more about ways to support the Vaccine and Immunotherapy Center, please contact us.