Ario Nour is committed to community fundraising for the Pediatric Oncology Program at Massachusetts General Hospital because, for him, the program has become something of a home away from home. Twice in the past six years, the 13-year-old has undergone extensive surgery, radiation and chemotherapy treatments after having cancerous tumors removed from his brain.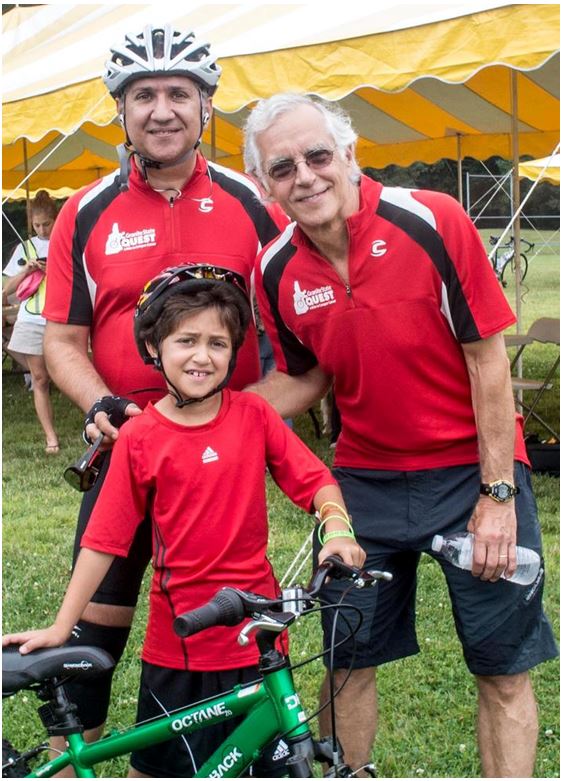 Ario has befriended doctors, nurses, specialists, support staff and fellow patients of the Pediatric Hematology and Oncology Unit at MassGeneral Hospital for Children (MGHfC). He believes he has the best support possible as he approaches the final stretch of his most recent round of chemotherapy treatment.
When he is home in Watertown, Mass., – and not busy attending the Atrium School, playing video games and building remote control cars – Ario raises awareness for MGH Pediatric Oncology's collective approach to treating cancer patients.
Granite State Quest
Wanting to promote his and his parents' appreciation of the Pediatric Oncology Program within the Massachusetts General Hospital Cancer Center, Ario has spearheaded several successful community fundraising drives.
Most recently, he participated in the Granite State Quest, a 50-mile community bike ride through New Hampshire. In all, Ario's efforts have brought in thousands of dollars to benefit pediatric cancer research at Mass General.
"It's more than a medical care center," Ario's mother, Zohreh Firouzabadian, says of the Pediatric Hematology and Oncology Unit. "It's a family. Everybody knows everybody. And for Ario and us, that helps us get through this."
First in 2010, at the age of 7, and again in 2015, when he was 12, Ario had neurosurgery to remove cancerous tumors. Proton radiation followed both surgeries, with chemotherapy after the second surgery. His most recent round of treatment is expected to conclude in February 2017.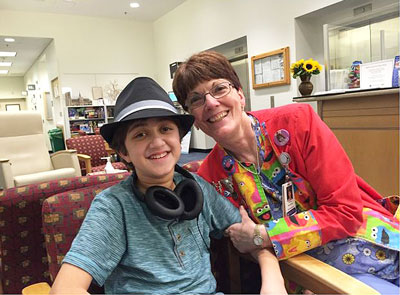 A Love for Challenges
The rhythm of treatment has become so familiar to Ario that nowadays, he tries to not think about having cancer. Instead, he follows the pace of whatever test or procedure he's scheduled for during a day's visit to MGH Pediatric Oncology. Through it all, he cheerfully interacts with staff or encourages other young patients. His goal during a long and trying day is to later enjoy a sushi dinner with his parents and play video games before heading to bed.
Despite fatigue, the eighth grader hasn't missed school, and he's planning to again run track. Running speaks to Ario's love for physical challenges and excitement – and not all of it happens on the ground.

On a whitewater rafting trip in Ottawa this summer with his father, Naveed Nour, Ario jumped off a high cliff and into water. "I like the risk. I like being scared," Ario said through a big smile on a recent day at MGH Pediatric Oncology, not long after an MRI and a doctor's consultation. He was tired but became excited when talking about outdoor adventures and the upcoming release of a favorite video game.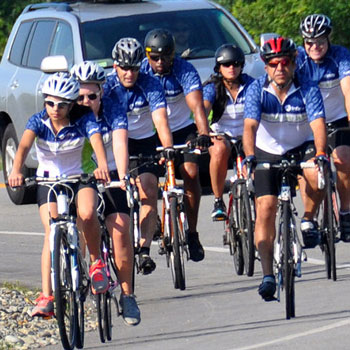 Inspiring Others to Take Action
Thrill-seeking is probably why Ario enjoys bike riding, a pursuit that has dovetailed into his participation with the Granite State Quest, a bike ride that raises money for pediatric cancer research at MGHfC.
In July, Ario biked the last 20 miles of this year's event route with Naveed and several friends, and he raised nearly $13,000 for MGH pediatric oncology research which, thanks to a generous donor, was matched dollar for dollar, increasing the total to almost $26,000. Including matching funds, Ario has raised $50,000 over the past five years through the Granite State Quest.
"There's no doubt about it. Ario is the perfect example of the spirit that makes this happen," says Bruce Taylor, who with Bonnie Monahan and other friends from the Timberland Company created the Granite State Quest in 2002, wanting to raise money for cancer research and treatment at MGHfC.
The Taylors' son, Alex, underwent surgery, radiation and chemotherapy at MGHfC to successfully treat a brain tumor at age 8. Alex, now 25 and healthy, volunteers at the annual bike event, which has raised $1.5 million, including more than $80,000 this year.
Pediatric Oncology Commitment
"Even though thousands of people come through these doors, we feel the staff of MGH Pediatric Oncology has a personal commitment to each and every patient," Naveed says.
Naveed and Zohreh are so grateful for the efforts of the Granite State Quest that they had a small trophy created to honor its organizers. They presented the trophy to Mr. Taylor and others after this year's ride. Later, it was placed at the reception desk of the Pediatric Hematology and Oncology Unit so that patients, their families and staff members will recognize they have the support of many people outside the hospital.
Mass General, in turn, recognizes Ario's kind spirit and commitment to fighting cancer. In 2011, he was chosen to be among the one hundred, a Mass General Cancer Center fundraising initiative that honors the people whose efforts to fight cancer inspires greater collective action.
"Even though thousands of people come through these doors, we feel the staff of MGH Pediatric Oncology has a personal commitment to each and every patient," Naveed says.
To learn more about how you can support pediatric oncology care and research at Mass General, please contact us.