A mouse that is helping to cure cancer and an international effort to discover the causes of childhood mental illness are just two of many forward-thinking projects being supported by the Massachusetts General Hospital Endowed Chair Program, now marking its fifth year.
The MGH Endowed Chair Program has grown rapidly to support the work of more than 80 highly-accomplished medical experts across a broad spectrum of disciplines.
Started as a way to honor and help fund the work of outstanding clinicians and researchers over the long term, the endowment program has grown rapidly to support the work of more than 80 highly-accomplished medical experts across a broad spectrum of disciplines. The total endowments from generous donors have surpassed expectations, reaching $154 million early this year.
Donors who choose to endow a chair know that their contributions create a lasting legacy of support for compassionate doctors doing the best work in their fields.
An MGH Endowed Chair represents the highest honor the hospital can bestow on a doctor.
"Honor is important here," says W. Gerald Austen, MD, chairman of the MGH Chief's Council, and one of the founders of the endowment program. "It's important to have your work recognized. People don't come to work at MGH to get rich. It's all about doing great science and improving the care of the patient."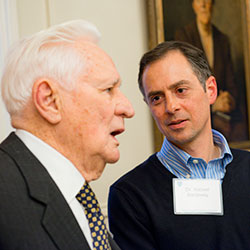 Building a Better Mouse
It wasn't long ago that few investigators were studying pancreatic cancer, one of the deadliest and most complex forms of cancer. That's when Nabeel Bardeesy, PhD, a young researcher from a small town in New Brunswick, Canada heard about the disease from a colleague whose two family members had succumbed to it.
"I decided I was going to engineer mice that had the combination of genes for pancreatic cancer," recalls Dr. Bardeesy, a geneticist who now heads a genetics laboratory in the Mass General Cancer Center. The result was the first genetically engineered mouse for pancreatic cancer. Developed in partnership with close colleagues, this invention unleashed an explosion of research on the topic. "Now there are hundreds of researchers around the world using these mice," he says.
Dr. Bardeesy, who was selected in 2012 as the first incumbent of the John R. Gallagher III and Katherine A. Gallagher Endowed Chair in Gastrointestinal Cancer Research, continues developing genetically engineered mice to gain a better understanding of pancreatic cancer and closely-related bile duct cancer.
The endowed chair, he says, makes it possible for him and his colleagues to do the kind of early-stage, cutting-edge research that is less likely to be funded by major sources such as the National Institutes of Health. "The endowment," he says, "has made a tremendous difference." The Gallaghers have since endowed a second chair, this time in Clinical Nephrology with Leslie Shu-Tung Fang, PhD, as the first incumbent.
Solving Childhood OCD
Daniel Geller, MD, works with children who have recurrent fears and worries that become so stressful they resort to extreme or repetitive behaviors to try to control them. The condition is known as pediatric obsessive compulsive disorder (OCD).
"Most commonly, they fear that something is dirty or germy or disgusting or gross," explains Dr. Geller, director of the MGH Pediatric Obsessive Compulsive Disorder and Tic Disorder Program. In response, the child may wash, clean or avoid things thought to be contaminated. Magical or superstitious ideas may lead to repeating certain rituals, hoarding or collecting things to calm their anxieties. "Kids really do suffer quite a lot with their fears," Dr. Geller says.
Arriving in the United States from Australia as a pediatrician, Dr. Geller trained in general and pediatric psychiatry. At Mass General in 1992, he founded the Pediatric Obsessive Compulsive Disorder Program. While working with patients over time, he began trying to unravel the combination of genetic, social, and other factors that lead to the development of OCD in children.
By building close, longstanding relationships with patients and simultaneously exploring the environmental influences and genetics related to the condition, he became uniquely qualified and helped found the international collaborative of genetics researchers investigating the causes of OCD.
In 2013 he was named the first incumbent of the Michele and David Mittelman Family Endowed Chair in Child and Adolescent Psychiatry in the Field of OCD and Related Disorders.
But the causes of OCD "are less than half genetic," Dr. Geller says. With the help of the endowed chair, he is also studying other contributing factors such as trauma, depression and the role of infection and inflammation in the brain.
Endowed Chair: A Lasting Legacy
For donors, endowing a chair is different from making a donation to a particular cause. It allows the donor to target an area of medicine and, with the approval of the department head and the oversight committee which selects the incumbent, provide lasting support as the endowment generates a long-term income stream. The selection of the incumbent is for a five-year term, renewable at the discretion of the department head.
The minimum needed to endow a chair is $2 million. That sum may come from a single donor or a combination of sources. There is also the option to endow an MGH Endowed Scholar for more junior faculty through a gift or gifts totaling $1 million.
To learn more about the MGH Endowed Chair Program, please contact us.