Created and supported by the Massachusetts General Hospital Cancer Center, the one hundred is an awareness and fundraising initiative that celebrates hope in the cancer community. Each year, we honor 100 Everyday Amazing individuals and groups — caregivers, researchers, philanthropists, advocates and volunteers from around the globe — whose commitment to the fight against cancer inspires us all to take action. This story highlights the contributions of one of the 2016 honorees.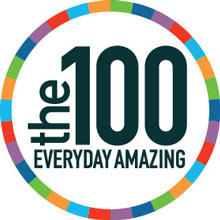 With her sixth sense for bringing out the best in everyone, Ellen Murray Silvius, RN, BSN, has transformed the Pediatric Hematology/Oncology Unit at MassGeneral Hospital for Children in the three short years she has been clinic manager.
Ellen's leadership skills have improved the clinic's quality and safety performance and strengthened teamwork among the staff. She combines a talent for cultivating an upbeat atmosphere with a laser-like focus on delivering the highest standards of care. Since her arrival, patient satisfaction scores have consistently measured in the top percentile, and the department has won several awards, including one for staff helpfulness.
Personal Experience with Cancer
"Our clinic is a very stressful environment," says Howard Weinstein, MD, chief of the Pediatric Hematology/Oncology Clinic. "Ellen has a magical way of caring for all of our staff. She will pitch in as nurse or medical assistant whenever she senses that an extra hand will be helpful. Our physicians, nurses, child life specialists, front desk folks, and art and music therapists all sing her praises."

Much of Ellen's ability to relate to her patients and staff comes from her own personal experience with cancer. Her sister, Ann Murray Paige, an honoree and keynote speaker at the one hundred in 2013, died of breast cancer in 2014. Ellen has donated 100 copies of Ann's book, "Pink Tips: Breast Cancer Advice from Someone Who's Been There," to the Yawkey 8 Infusion Unit at the Mass General Cancer Center.
To help advance discoveries and change how we fight cancer, please donate to the one hundred.