Created and supported by the Massachusetts General Hospital Cancer Center, the one hundred is an awareness and fundraising initiative that celebrates hope in the cancer community. Each year, we honor 100 Everyday Amazing individuals and groups — caregivers, researchers, philanthropists, advocates and volunteers from around the globe — whose commitment to the fight against cancer inspires us all to take action. This story highlights the contributions of one of the 2016 honorees.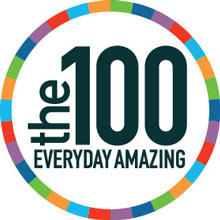 Catherine Dooley may be the only 10-year-old on the planet who can speak fluently, intellectually—and from personal experience—on the advantages and disadvantages of photon beam and proton beam radiation therapies. For her recent presentation on the subject, she won top place in the BRAINways competition at the University of Queensland, Australia.
A native of Brisbane, Catherine was diagnosed with a brain tumor at the age of five. Surgical removal was not advisable, and conventional photon beam radiation therapy would have proved too damaging to the healthy developing brain cells of a young child. She would have been at risk of hearing and vision loss and diminished IQ.
Cancer Treatment Advocate
Catherine's parents researched alternative therapies and learned about proton beam radiation therapy available at the Mass General Cancer Center. As Catherine explained to her rapt university audience, unlike photon "waves," proton particles release little energy until they reach their target and do not damage healthy tissue either on entry or exit. Catherine came to Boston and underwent six weeks of treatment. Three months later her tumor had disappeared.
"Catherine's grace and maturity enable her to channel her experience to inform others."
"Catherine is an incredible example of one so young taking adversity in stride and both educating others and becoming an advocate herself," says Torunn Yock, MD, director of Pediatric Radiation Oncology at Mass General, who successfully treated Catherine at age five. "Catherine's grace and maturity enable her to channel her experience to inform others. Her strength and bravery during and after her treatment continue to inspire and amaze me."
To help advance discoveries and change how we fight cancer, please donate to the one hundred.