Created and supported by the Massachusetts General Hospital Cancer Center, the one hundred is an awareness and fundraising initiative that celebrates hope in the cancer community. Each year, we honor 100 Everyday Amazing individuals and groups — caregivers, researchers, philanthropists, advocates and volunteers from around the globe — whose commitment to the fight against cancer inspires us all to take action. This story highlights the contributions of one of the 2016 honorees.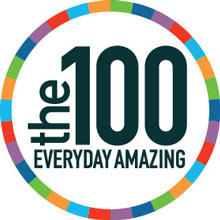 When patients describe Mary Ellen Berman, the word sunshine comes up a lot: as in Mary Ellen is a "burst of sunshine on a cloudy day." As patient services coordinator in the Department of Radiation Oncology at Mass General, Mary Ellen is often the first person patients meet on their first day of radiation treatment—a stressful circumstance for most.
Patients arrive with questions, concerns, anxieties and fears. Mary Ellen greets each of them warmly and sensitively guides them through the unfamiliar environment of the treatment clinic. She helps make them feel cared for, connected and safe.
Constantly Exceeding Expectations
Mary Ellen also takes the time to communicate the special needs of each patient to the clinic's nurses and doctors, making their jobs easier and ensuring patients receive optimum care. Because she constantly exceeds the expectations of her role, the Department of Radiation Oncology honored Mary Ellen last fall with the Excellence in Teamwork Award.
"She had a wonderful mix of compassion and competence. I came to admire her very much, and I am grateful for her."
On nominating Mary Ellen, patient James Weiss wrote, "At first, I was bewildered by all the people I had to check in with, the different offices I had to visit…but Mary Ellen had a very reassuring effect. She was never too busy to exchange some pleasant conversation, but she also didn't keep people waiting at her desk. Sometimes I watched her deal with people who were clearly disoriented—whom to see next? which floor to go to? She had a wonderful mix of compassion and competence. I came to admire her very much, and I am grateful for her."
To help advance discoveries and change how we fight cancer, please donate to the one hundred.