Gayle Chatlosh can't imagine not running the Boston Marathon for the Mass General pediatric cancer team, something she's about to do for the 11th time. Though she had never run before she trained for her first marathon, "now I'm hooked," she says. "I run to give back to Mass General for saving my son's life."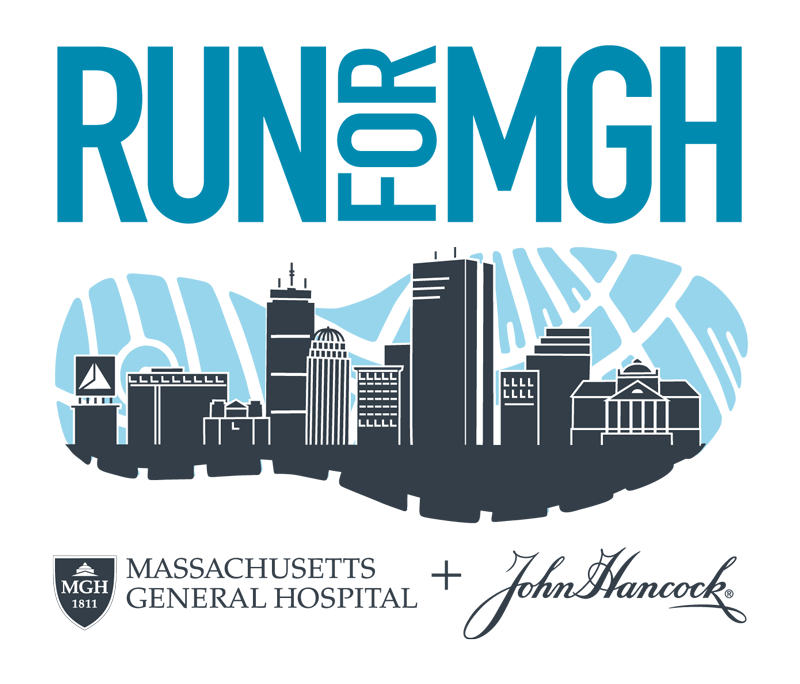 Now 27 and healthy, her son Kris was diagnosed at age 16 with severe aplastic anemia, a rare blood disorder in which the bone marrow doesn't make enough blood cells for the body. Kris had numerous blood transfusions and immunosuppressive drug therapy, which after a year and a half, finally stopped his immune cells from damaging the bone marrow.
"There were tough times, but his doctors had a nice way of saying things that empowered us," Gayle says. "What I rave about and love about Mass General is not only their unbelievable care for the child but of the whole family."
Recalling Unbelievable Care
Everyone at Mass General seemed to know Kris's name, she recalls. Whether he was in isolation during treatment or sitting with tubes hooked up all over his body for blood transfusions, someone would peek in and chat with him about his favorite subject at the time, sports. "Every person there was so cheerful and encouraging," Gayle recalls. "After a procedure, Kris would often leave with tickets to a Red Sox game they gave him."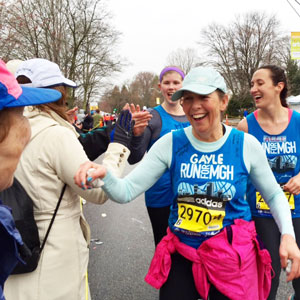 That first year of Kris' care, Gayle wanted to run with the Boston Marathon team but it was too late to start training. She was ready the next year, 2005, despite having asthma and no running experience. "The first time I ran it took me 18 minutes to make a mile with 10 breaks so I could breathe," she laughs. At a marathon pace, she now does a mile in 10 to 12 minutes.
Gayle, 56, is a kindergarten teacher in her hometown of Concord, Massachusetts. Five teacher friends have run with her on the Mass General Boston Marathon team in recent years. Twice a week, a handful of them join her for training runs. She also runs with the Mass General team once or twice a week.
Toughness in Perspective
It's not always easy to fit training into busy days, though. With last year's record snow, she sometimes had to run up and down her side street over and over until she ran 16 miles. When things get tough, she reminds herself that "children and adults with cancer are going through something much harder."

Her kindergarteners know all about her efforts. Giving them a feel for how far a marathon's 26.2 miles really are is an annual teachable moment. It's about 100 times around a quarter-mile track that the kids run around once for a turkey trot. Some of them come watch the marathon and hold signs cheering her on. Many student families back her cause.
Every year after the Boston Marathon, the first question her students ask is if she won. "I laugh and say that I just wanted to finish," Gayle says.
Boston Marathon Partnership
Since 1998, John Hancock has provided Mass General's Marathon Program with the bib numbers necessary to run the race. This has enabled the hospital to raise a total of more than $11 million to support research and child life activities for children with cancer and, for the past two years, nearly $700,000 for the hospital's emergency preparedness and disaster training.
In addition to the pediatric and first-response teams, 32 individuals who obtained their own bib numbers for the Boston Marathon will run and raise funds for the Miles for Mass General program. It raises funds for hospital programs that are close to their hearts – including cystic fibrosis, pediatric palliative care, Caring for a Cure, the MGH Cancer Center, the Lurie Center for Autism, and Huntington's disease research at the MassGeneral Institute for Neurodegenerative Disease.
Please support Gayle and the other dedicated runners raising funds for the pediatric cancer team.