Created and supported by the Massachusetts General Hospital Cancer Center, the one hundred is an awareness and fundraising initiative that celebrates hope in the cancer community. Each year, we honor 100 Everyday Amazing individuals and groups — caregivers, researchers, philanthropists, advocates and volunteers from around the globe — whose commitment to the fight against cancer inspires us all to take action. This story highlights the contributions of one of the 2016 honorees.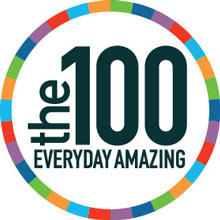 In the fall of 2013, Jason Farley, a stage IV metastatic melanoma patient at the Mass General Cancer Center, had a fervent wish—to celebrate one more Christmas with his parents, Brenda and Gary, and brother, Matt.
Tests showed a fist-sized tumor in Jason's lung posed an immediate threat to his life. The 30-year-old chose to undergo a radiation treatment that presented its own risks because of the tumor's proximity to his heart. The finely calibrated procedure succeeded in shrinking his tumor, and Jason got his wish to spend the holidays with his family.
Supporting Melanoma Research
Prior to Jason's death on Jan. 28, 2014, he had another wish. He wanted his family to support melanoma research and to increase awareness about the harm of extended sun exposure and indoor tanning devices. Jason had been a frequent user of tanning salons from the age of 16. In his honor, Brenda and Gary established the Jason Farley Melanoma Foundation, also known as "All in for a Cure."
All in for a Cure has donated $25,000 to support the melanoma research of Jason's doctor, Helen Shih, MD, MPH …
All in for a Cure has donated $25,000 to support the melanoma research of Jason's doctor, Helen Shih, MD, MPH, associate medical director of the Francis H. Burr Proton Therapy Center; two truckloads of toys to pediatric radiology patients at MassGeneral Hospital for Children; and a skin cancer detection machine to Central Catholic High School in Lawrence, MA, Jason's alma mater.
Brenda and Gary have also lobbied successfully to ban the use of indoor tanning devices for people under 18 in New Hampshire and were a driving force behind similar legislation recently passed in Massachusetts.
To help advance discoveries and change how we fight cancer, please donate to the one hundred.